Here's what Leeds clubs are doing to keep you safe
Many have introduced additional searches and free drinks covers
Following the recent rise in reports of spiking, students have been speaking out to encourage clubs to do more for their safety.
Campaigns such as 'Girls Night In' have pushed for giving bars and clubs the cold-shoulder until the issue is taken more seriously, with the group encouraging a Leeds-wide boycott of the establishments on October 27th.
Reports from clubbers have included a lack of bag searches on the door and bouncers refusing re-entry to those assisting spiking victims – so what exactly are clubs doing to help?
Beaverworks
Beaverworks has reported one case of drink spiking since the start of the academic year.
Despite a Facebook post detailing the club's increased safety measures such as increased bag searches, a spokesperson for Beaverworks told The Tab Leeds that "you could search people more thoroughly and I don't think it would stop someone intent on spiking."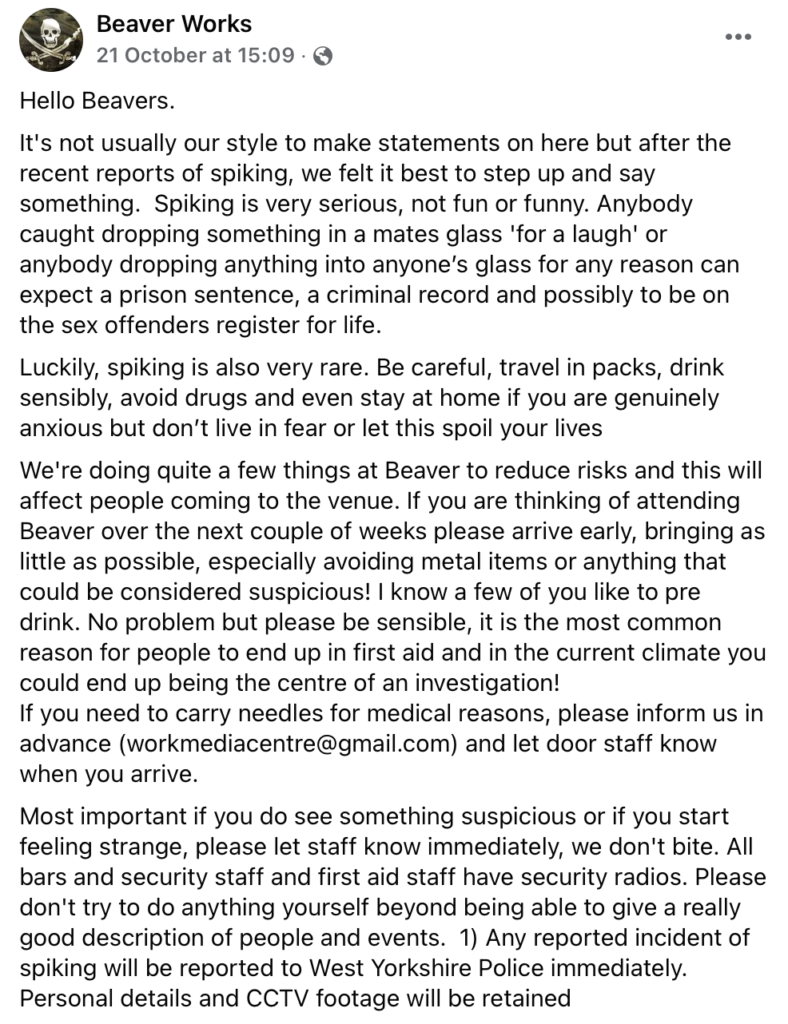 The club also referred to the coronavirus pandemic as leaving inexperienced clubbers unsure on whether they have been spiked or not, describing an "increase of people being frivolously drunk very early in the evening", leading them to "think they've been spiked and obviously they haven't."
However, they are looking into installing cameras on the bars.
Beaverworks later added that "There will be bag sizing holes at entrances, these will be 150mm x 100mm or 6″ x 4″ If a bag is larger it will need to be put in the cloak room free of charge. We are really sorry to implement this. Normal service will resume when we feel it is safe to do so."
HiFi
HiFi has announced its full support for the Girls Night In initiative and is to introduce increased bag searches plus free of charge drinks covers at the venue.
The club has also pledged to ban anyone caught spiking drinks "for life" and "hand them over to the police," with an added nod to their CCTV, which "is in place to keep you safe."
In an Instagram post detailing their precautions, they urged anybody who feels unwell during their night out to "seek out a member of staff or security," who are trained in first aid.
"We, like all of you, have been extremely concerned by the recent reports of an upsurge in drink spiking across the country," the post's caption reads.
"As a venue we are absolutely committed to ensuring our space is a safe environment for everyone."
Pryzm
Pryzm has announced via Facebook the closure of it's Antics night on Wednesday the 27th "in solidarity with the nightlife boycott."
The post also details their "commitment to guest safety at all nightlife venues," including offering free "anti-spiking devices," a "100% search policy and entry via security arches" and extra security staff "with body cams."
Their staff will be fully trained alongside a "specialist welfare team" inside the venue, which includes two on-site medics who will manage the club's medical room.
Mint Warehouse
Mint Warehouse claims it is "disturbed" by the increase in spiking incidents, and has added extra security to its team – including 'female door supervisors'.
They are looking to provide their staff with body cameras as an "extra deterrent," and asks for customers' patience upon entry so they can "make sure full searches are carried out" for their safety. The club has also pledged to hand over anyone caught spiking to the police.
However, the venue will not be offering any drinks covers for its customers.
A recent Facebook post from the venue also suggested clubbers try to "stick with friends," "do not leave drinks unattended," and "don't accept drinks from strangers."
Space
Space has claimed it "will carry out thorough searches on all trading nights", and assures that they have "retrained & re-educated"  all of its staff. Much like Mint Warehouse, it will not provide drinks covers.
The club also encourages visitors to report any suspicious behaviour, which they will do "everything in their power"  to deal with "immediately."
Space's Instagram post also detailed key ways to recognise that a drink has been spiked, including "foggy appearance" and "excessive bubble", but warned that "this isn't always the case."
The statement also included a list of ways to help a friend that you suspect has been spiked, and a list ways to "try to avoid drink spiking."
Distrikt
Whilst reporting that they have had no instances of spiking themselves, Distrikt has "briefed staff to carry out more checks and searches." They claim their security is "proactive" in "searching and looking for suspicious activity."
All staff in the venue are first-aid trained, and anybody caught spiking or attempting to spike will be removed from the premises, receive a lifetime ban and handed over to police. The bar also has CCTV in operation.
Fruity
Leeds University Union reminded students that it "takes its duty of care very seriously" and  works closely "with the university, police and other authorities every year to try to prevent these incidents happening to anyone".
The union is now
Good Night Out accredited
, which trains staff on "
Understanding and Responding to Sexual Harassment and Assault in Licensed Premises" and offers a "quarterly check with advice and encouragement" for any of its accredited premises. They have also trained staff in the 'Ask for Angela' scheme.
 "Additional searches" will also be introduced on their club nights.
The Warehouse
The Warehouse has also implemented the Ask for Angela initiative in the venue.
Reminding visitors of the "safety measures that have always been in place", they are also carrying out "increased searches on entry", including being "on the lookout for any paraphernalia associated with this topic", as well as briefing security on 'how to handle anyone found unwell'.
Female staff will be "on hand" throughout events too.
Old Red Bus Station
Old Red has described that it is "committed to maintaining a safe environment for our guests and staff", and has had 'extended meetings' with its security  and on-site medical team to ensure they are 'doing everything' to keep clubbers safe. As well as "rigorous checks in place at the door" and partaking in the Ask for Angela scheme, the venue will be training staff and will be releasing 'in-depth guidance around the venue to raise awareness' in the coming weeks.
They stated they are "happy to respond to any questions that you may have" and encouraged anybody with concerns to reach out via direct message or by emailing
[email protected]
Related stories recommended by this writer