Academic sues Leeds Beckett after cutting ties and branding her as 'racist'
Aysha Khanom claims that LBU 'will essentially be arguing to uphold white supremacy' in the legal proceedings
An academic is suing Leeds Beckett University for discrimination after cutting ties with her due to her personal organisation labelling a mixed-race conservative commentator a "house negro" on Twitter.
Leeds Beckett stated that her language was "racist," but she insists that her comments were "anti-racist" and that the university were discriminating against her background in critical race theory and Black radicalism.
Aysha Khanom was previously an advisor at Leeds Beckett before getting sacked in February when her organisation The Race Trust tweeted: "does it not shame you to be a house negro?" at political commentator Calvin Robinson, following his expression of right-wing beliefs on Question Time.
Robinson is notoriously against the messages of BLM and claims that "anti-racists are the new racists" on various social media platforms.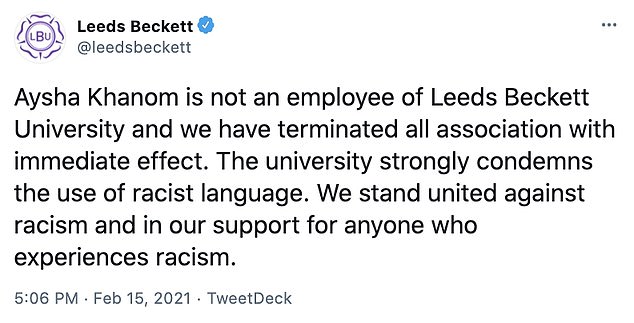 Ms Khanom's legal claim argues that critical race theory and Black radicalism are protected beliefs under the Equality Act, and her organisation's comments on Twitter fit under these terms as opposed to being a "racial slur" as stated by the university and Robinson himself.
Aysha appears to be thoroughly educated on racial issues as she founded The Race Trust, an organisation facilitating "racially literate" conversations amongst teachers and young people to empower ethnic minorities in schools.
Her claim is stirring up controversy from all sides of the political spectrum. A number of antiracist organisations have supported the legal claim in an open letter lead by Professor Kenhinde Andrews at Birmingham City University.
The letter criticised the university for siding with "cancel culture" in dismissing Khanom's role at the university without an investigation, and traced the origins of the "house negro" comment to Malcom X, whom utilised the term to refer to black people who did anything to please white people.
Aysha Khanom told The Leeds Tab: "I am fighting this case as it will support anti-racism. Leeds Beckett will essentially be arguing to uphold white supremacy and curtailing independent black political thought and free speech.
"A metaphor for black and brown people based on characters in the slave trade used for hundreds of years is not for racists to control.
"Leeds Beckett's only prayer, and it's a solid prayer, is that they get lucky and the court are ill-informed on race. The only people who will benefit from them winning will be racists and the far right. In my view, either way they lose."
Speaking on GB News, Calvin Robinson responded to her legal claim by expressing that "she thinks she's the victim in this, she was abusing me racially" and that if "a white person made these comments, they'd be considered racist."
A spokesperson for Leeds Beckett University told The Leeds Tab: "We are unable to comment on ongoing legal proceedings although we can confirm that we will be presenting a detailed response against this claim.
"Leeds Beckett University actively opposes all racism and discrimination and stands united in its support for anyone who experiences either, which is clearly demonstrated by our Equality and Inclusion policy. We are committed to providing an ethical and sustainable working and learning environment that values equality and inclusion. You can read our policy in full here: https://www.leedsbeckett.ac.uk/our-university/equality-and-inclusion/."
Aysha Khanom's support for her organisation's comments has certainly divided commentators, but whether they'll be legally protected will be for the courts to decide at a later date. Aysha is currently crowdfunding the tribunal costs, with £1,965 out of the £5,000 needed being raised so far.
Related stories recommended by this writer
• Beckett cuts ties with editor who called a conservative commentator a 'house negro'
• Students are using LeedsFess to expose racism within the university community
• Leeds uni student was spat at and racially abused while at Royal Park Pub