Watch out Leeds, the police are coming for your DJ decks
One group of students are paying £500 to get theirs back
West Yorkshire Police have been confiscating DJ decks in Leeds' student area following reports of excessive noise pollution.
On May 11 the Leeds Anti-Social Behaviour Team, alongside police officers, acted on two "noise nuisance warrants" in both Headingley and Woodhouse.
In a post on Facebook, West Yorkshire Police shared photos of the seized goods, including a £250 Pioneer DJ Controller, which commenters were quick to point out only emits noise when connected to a PC/Mac.
Around eight speakers were also pictured, including a Sonos speaker worth around £500.
Harry Wood, a student at Leeds Beckett University and owner of some of the seized goods, told The Leeds Tab that his house had previously received a noise complaint, which was followed up by a letter, prompting them to stop having parties. However, his neighbours held a party, and the following day Harry was informed that the police had attended.
Due to the fact that Harry and his neighbours share a garden, it was assumed Harry's house had arranged the house party.
At around 10:30 AM on May 11, the police arrived with a van of officers, in addition to a police car of officers and three members of the Anti-Social Behaviour Team, at Harry's house on Rokeby Gardens, Headingley with a warrant to seize the decks and speakers. Harry described the number of officers in attendance as "quite excessive."
Harry and his housemates are now trying to prove that they were not the party hosts, however, the police are yet to respond to them.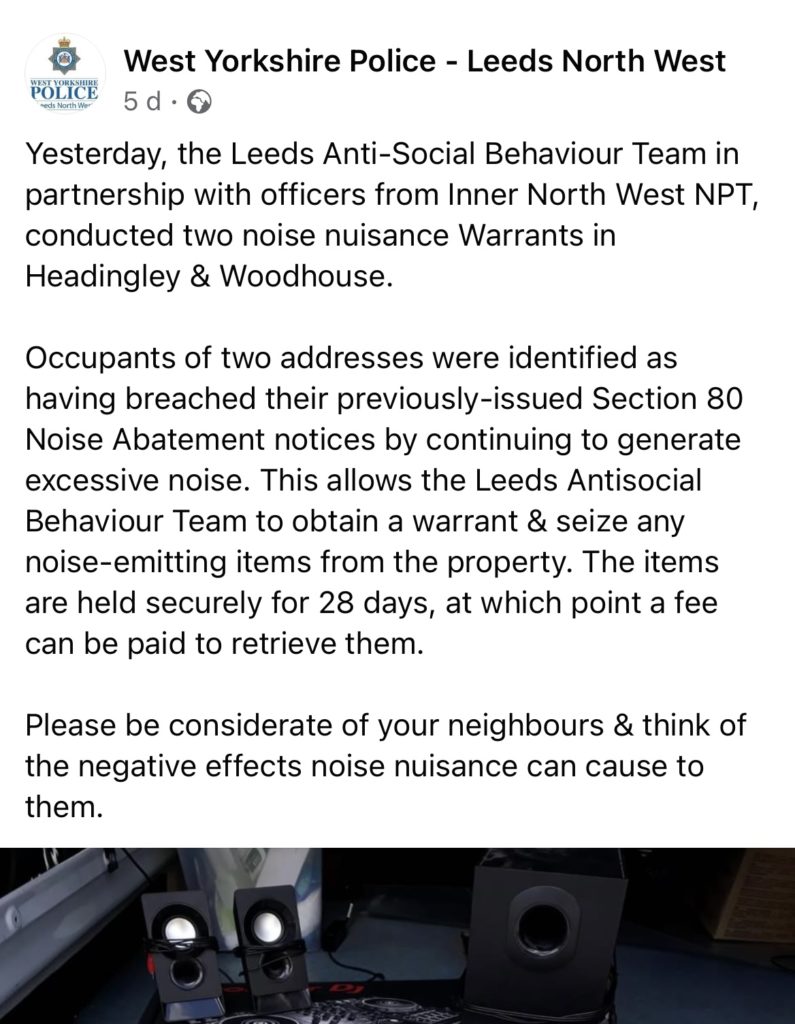 Coincidentally, Harry and his housemates are living with two members of the other student house who also had items confiscated.
In order to get their items back, Harry told The Leeds Tab that they will have to pay £250 plus £50 per tenant. Combined with the other house, this means the police will gain a whopping £1100.
Harry commented: "Hoping I don't have to pay £500 for my speaker and decks back, more the fact it was next door who breached the warning and they still took our stuff."
A spokesperson for West Yorkshire Police said: "Occupants of two addresses were identified as having breached their previously-issued Section 80 Noise Abatement notices by continuing to generate excessive noise. This allows the Leeds Antisocial Behaviour Team to obtain a warrant & seize any noise-emitting items from the property. The items are held securely for 28 days, at which point a fee can be paid to retrieve them.
"Please be considerate of your neighbours & think of the negative effects noise nuisance can cause to them."
Featured Image: Policeman: Credit: Shutterstock / Krakenimages.com
Related stories recommended by this writer
• University of Leeds has confirmed lectures and exams will be online next year
• The A to Z of all thoughts Leeds Uni students have had this year
• Two week celebration on UoL campus to take place instead of graduation