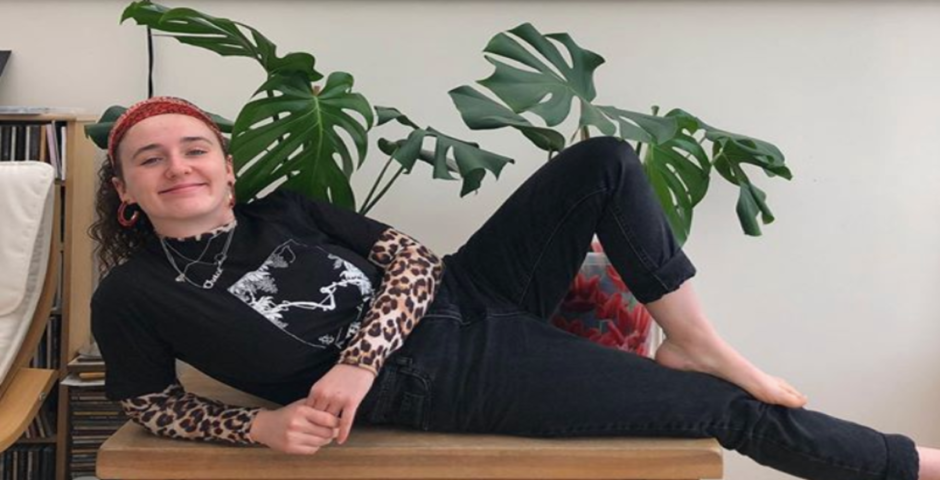 We spoke to the creator of 'I got dressed today': The Insta account sharing our questionable isolation outfits
Can you believe some people are actually wearing JEANS around their house?
| UPDATED
In amongst the coronavirus chaos, we're seeing more and more posts from fellow students at home basking in the freedom of being able to wear their sweaty 2015 leavers hoodies every day with no consequences. And tbh, what is the point in dressing properly? We only leave the house to put the bin out and the only person we'll see who isn't blood-related is our DPD driver.
However, to put a stop to this dangerous influx of gremlin vibes and keep the fashionable spirit of Leeds students alive, an Instagram account has been set up to inspire us with students' isolation outfits.
@i.got.dressed.today was created by final year English Literature and Spanish student, Andrea Loftus, who like many of us, is isolating at home with her parents. As well as encourage people to feel productive and to spark new joy in our old clothes, Andrea wants to remind us that we also shouldn't punish ourselves if we fancy wearing those crumby joggers for the sixth day in a row.
So far the page has accumulated almost 250 followers and over 120 posts in two weeks. The Tab Leeds spoke to Andrea about why she started the page, how dressing can help mental health and motivation, and how she feels our isolation wardrobes could improve our relationship with our old clothes.
Why did you start the page? What were you hoping it's impact would be?
"Whilst my housemate was packing up her room, we were trying to decide how in the hell we'd stay motivated in a home environment. Me and Hollie agreed that getting up and getting dressed like we would if lectures and seminars were still on would stop us living in a fleece and trackies – although that is a completely valid outfit combo.
"Originally, I created the page just to keep myself accountable but my lovely housemates got involved and shared it with their friends and here we are."
Andrea clarifies that "this isolation period isn't a creative retreat but a collective effort to minimise the impact on the NHS and keep as many people as possible safe, so I know there are more important things to think about than what we're wearing but the page provides a slice of normality when everything else is uprooted and I think that's what people have appreciated."
Have you been pleased by the response so far?
"It's ended up being really fun! I started the hashtag #IOOTD for people's isolation outfits of the day, but when my sister sent one in wearing her work uniform I decided to also share #KWOOTD for key workers, and have had lots of support shown for submissions from supermarket and NHS staff.
"Also, seeing people get dressed just to write their dissertation in their kitchen motivates me to crack on because we're in this together."
How important is getting dressed for motivation and mental health?
"Going from the throes of wonderful chaos that you can only find in a shared student house to the orderly home comforts I associate with holidays has really thrown my mindset. But I can't explain how much the page has kept me motivated during these strange times.
"The intention isn't to shame anyone who has been wearing the same t-shirt for a week, but when I feel a bit low sometimes a shower and wearing clothes that make me feel like myself can bring my mood right up."
Has the page made you more excited and creative with your wardrobe?
"Over the years I've collected clothes that I genuinely love and packing in a rush meant I left quite a lot of them in Leeds so I've had to be a bit more inventive with the back-catalogue of items stuffed in my home wardrobe.
"However, that's kind of the point of the page as for the first time in our lives we can't nip to the shop to grab some new jeans or a fresh pair of shoes, and ordering online from some big companies isn't a sustainable or even ethical option when they are cancelling back orders and the workers at the end of the chain are the ones losing employment and livelihoods.
"It's definitely an opportunity to find that old jumper you thought your sister stole or DIY those jeans that were always a bit too long on you."
Are clothes an important part of being a Leeds student and do you think there can be a stigma against wearing 'out of fashion' clothes at uni?
In classic student fashion, Andrea notes her wardrobe has taken quite the turn since being in Leeds: "Within the first week of first year I'd found the perfect vintage adidas jumper to go with my black skinny jeans as I tried desperately to fit in with the masses.
"However, fast-forward three years and I would describe my style as 'wearing a jumble sale but making it work,' appreciating slow-fashion and accepting that I may not have the budget to buy from Urban Outfitters, or the Alan Sugar mentality to become a top Depop seller. But if I'm happy with what I put on everyday then that's what's important."
How have you found leaving your normal wardrobe behind in favour of your 'home wardrobe', and do you think this recycling of forgotten clothes could encourage us against fast fashion?
"I no longer think of 'old clothes' as being synonymous with 'outdated clothes' and that's why I'm quite happy to whack out a skirt that I've had since I was 13 or sport a top I stole from my dad. I have been shopping at second-hand stores and charity shops for around five years now but I completely stopped buying fast fashion a year ago when I began to learn about the environmental impact.
"Straying from the pressures of restricted styles and sizes in high street stores helped me reform my relationship with my body image that stemmed from trying to dress like my friends. Although some of the outfits I wear might be a little unconventional, I much prefer finding a gem that I'll keep forever rather than buying a poorly made, cheap top online just so I have something new for a night out.
"Plus, I promise you'll never feel as smug as when someone stops you to ask where your dress is from and you tell them it was second-hand for only £2."
Has this been a good way to connect with other Leeds students while we're all separated?
"Submissions come from a mix of people, some of which I've never met in my life, quite a few are from mutual friends from Leeds. It's helping me to keep up with what people are doing with their time rather than just see what they're wearing, as a lot of people submit info about what they got dressed to do, be it work or going for a run during their precious daily dose of the outside world.
"People have said that sending in a picture of their outfit motivated them to get up and dressed and even try and rustle up some new looks, and honestly it's what has been motivating me to do the same.
"Ultimately, it's lovely that this supportive community mindset is what has manifested out of a conversation between two panicking final years in the middle of Hyde Park."
So, we've learnt it can be pretty motivating to share these outfit pics, even if they don't look like they're fresh outta Reformation and Urban Outfitters. In fact, that is exactly why we should share these pics. Making fashion less trend based by reusing your clothes is sustainable and creative, and during isolation, what else is there to do other than play with all your old clothes?
Not only this, but it might help us write our essays in the kitchen without feeling like massive slobs and it keeps us inspired by our fellow fashionable Leeds students when it's all too tempting just to wear PJs.
You can follow Andrea here.