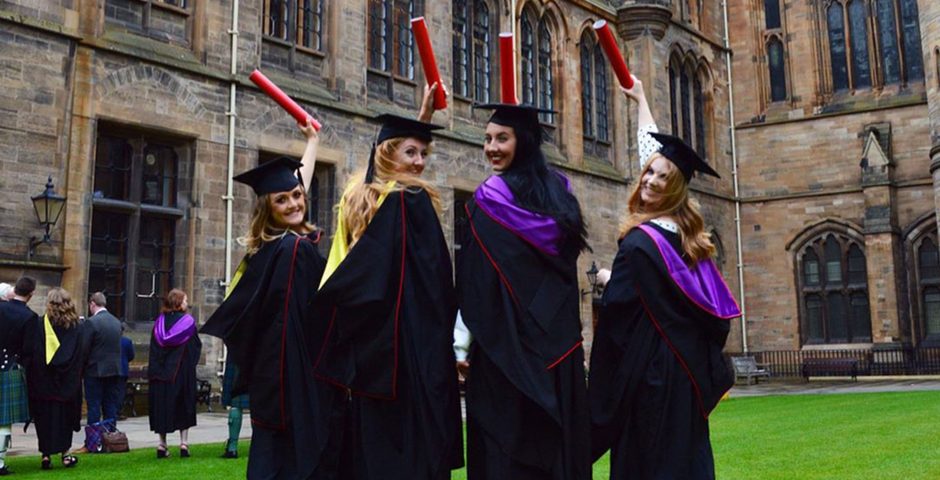 Get ready, here's what you're going to miss at Glasgow Uni as a graduate
Let's face it, COVID-19 has made some major changes to the every-day lives of those studying at Glasgow University, with most 1st and 2nd examinations being cancelled and the rest being moved online. But, in light of the recent announcement that saw all summer graduations being postponed, it's time to spare a thought for the fourth and fifth-year students.
Coronavirus has robbed us of many things, not just graduation. Our final year at university has come to an abrupt end and we will never get the opportunity to relive it again. To drown our sorrows even more, here is a definitive list of what you'll defo miss most about Glasgow University. Time to grab those tissues…
Beer Bar
Where do we begin with the phenomenon that is the 'Beer Bar'. I don't think I know anyone that has never paid a visit to that historic location and drink it's world-famous 'Pint of Fun'. No one, and I repeat NO ONE, was ready to say goodbye to this place so soon. This is the place where you celebrated the end of your exams, where you would be dancing on the tables with your friends on a Hive Thursday, where you had a blackout during St Patrick's Day, or even just had a cold one with the boys during the Monday evening pub quiz. The memories in the Beer Bar will never be forgotten and we will be sure to make a speedy return.
The Boyd Orr Building
We all pretend to hate the infamous Boyd Orr building, but let's face it, we all secretly love it. This building has seen more memes made in its name than Harambe and Keanu Reeves combined. Although we will not be able to see its finished look after months of rebuilding, we will always have a special place for Boyd Orr in our hearts.
BBQ Kings / 727
Two iconic landmarks in the West End of Glasgow, these late-night takeaways were the watering-holes for hundreds of drunk students after nights out in Sanctuary or Hive. Most leavers will recognise the owners of these cheap fast-food takeaways, or even be their best friends! They're the pillars of the West End and we will miss them dearly.
Library cafe cookies
There's just nothing like them. A library cookie from the cafe, whatever flavour, is one of the greatest creations made by man. These cookies have saved us in our times of need and given us our carb fix during library all-nighters, so thanks for the memories.
The Hive bouncers
It is inevitable after spending four years going to HIVE that you'd befriend one of the familiar bouncers guarding the two entrances to the GUU. Who could ever forget Fraser and least of all Paul? You are friends with them more than you're friends with your own course mates. Plus, we will never forget their excuses for turning us away from collecting our jackets. Good times.
Kelvingrove Park
It's safe to say that summer 2020 will not be the same and this year Kelvingrove park will remain empty, quiet and most of all student-free. This park has seen some incredible scenes, ranging from the Beast from the East turning the whole area into a ski resort in 2018, to last summer when Police Scotland arrested numerous school kids for throwing bottles of MadDog at each other. Kelvingrove Park had something for everyone, whether it was a morning run or a place to drink some tinnies and set up a cheap BBQ on the lawn. We will defo miss this place more than ever.
Your library crush
You'll plan with your mates to go to the library early, grab one of the red booths on Level 3 and do some work all day, but does that ever really happen? Definitely not. You'll see that same person every day sitting at the same computer, wondering if they were single and not a Fresher. Alas, now that the library is closed for the foreseeable future, you'll never see that library crush ever again. The world is a cruel place.
GlasKnow (and GlasHoe)
This is arguably one of the greatest university confession pages to ever grace Facebook. It was first created over a year ago, but GlasKnow rapidly became the most popular confessions page for Glasgow students (sorry Strathfess…) There have been fights, polls, debates, controversial opinions and some wild stories (who could forget the campaign to find Chris a wife last year?) GlasHoe was also the place to be if you were tired of Tinder and wanted to find that one person who took your breathe away in Hive. We will probably all unlike the page when we've moved on, but let's be honest…you'll never want to let it go.
BUCS Wednesdays
Glasgow University loves its sport and its no surprise that many of us will sorely miss playing with our teams every Wednesday. Some of us were cruelly robbed of our final matches of the year, including the annual Rugby Varsity against our rivals Strathclyde. Glasgow uni students are programmed to hate Strathclyde, Glasgow Caley and Edinburgh and it will probably never change. Most of all, we will miss celebrating our victories or drowning our sorrows in the sweaty Sanctuary nightclub. It'll be weird heading into the real world and getting a job without constantly shouting 'F*ck the Tech'.
Old School House
It's 10 pm on a Tuesday night, you're all watching Netflix and dying of boredom. The only way to entertain yourselves is to get your shoes on, grab your wallet and make a trip to the Old School House. This pub is another iconic landmark on the Glasgow uni campus, known for its spacious outdoor beer garden and constant streaming of live sport. No wonder it sponsored so many Glasgow University clubs and societies, they also had some pretty damn good deals on food and drinks. Now we're gone, it's simply just sad.
https://www.instagram.com/explore/locations/1026587969/old-school-house-glasgow/
The Stevie
The Stevenson Gym was not just a gym. It was the place to catch up with your pals, get the latest gossip, cure your hangover in the steam room, go for a 10-minute spin and then spend an entire hour floating in the swimming pool. There will not be another place to meet the squad and waste time giggling and chatting away whilst you pretend to do exercise. That sauna and steam room will be sorely missed.
There are probably many more things you'll miss about Glasgow Uni, especially when it has been our lives for the past 4 or 5 years. We've made some friends for life and unforgettable memories – but we just had to end it on such a bummer. Glasgow, you've been bloody great. Thank you for being you and to all the leavers, don't forget to wash your hands.