Meet the cheerleaders
Have you ever wondered who those girls on campus are with the bows in their hair and the black 'n' gold outfits?
Now, you can meet some of Glasgow's cheerleading squad and obtain an exclusive insight into their lives.
The team is split into the competitive team, game day squad and dance teams and all of them work hard all year round. From cheering on a National level to numerous socials all year round, it's all go for the cheeries.
Caitlyn, Psychology, Lauren, Anatomy and Lizzie, Dentistry
Caitlyn
– My favourite thing about being part of the club is the entire experience. It's like a big family. My most embarrassing moment as part of the club was when we were doing a photoshoot for GUSA and I had to do a toe-touch in the air. All you could see was my crotch!
Lauren – My favourite part is the competition and the feeling you get when you come off the floor after hitting all your stunts is amazing. Everyone in the club is really friendly. It's challenging but when you hit a stunt you get a major sense of achievement. My embarrassing moment was when we did a pub golf social a couple of weeks ago and were split into teams – I was the oldest on my team yet was the first to be sick in Jinty McGuinty's.
Lizzie – This is my third year of doing cheer. Everyone gets involved and I still speak to the girls I met through the club in first year. It's a family and it grows each year. We train really hard but everyone's aways laughing and having fun, even at the serious competitions. It was funny when we did pub golf and my team had to take an imaginative team photo, so we strolled into Iceland with our golf clubs and got a photo holding loads of random produce.
Jenny, Geography
My favourite moment was being captain of the pom dance team last year and coming second place at the national competition. I love the social aspect of the club because we have loads of themed socials and fundraisers. Cheer is quite a lot of commitment but worth it. My funniest memory was during pub golf and our team girl had to suck a randomer's finger and sing him a love song as one of the challenges.
Chloe, French
I've not been here very long, but my favourite memory so far was when I managed to get straight up to extension (a stunt where the flyer is extended full length into the air) on my first try. I was so happy. It's really easy to make friends because everyone is really nice. I'm looking forward to the Halloween vampire cheerleaders social on Wednesday.
Shuning, Medicine
Having to make up a dance and perform it on the street during pub golf has been my favourite memory so far. Everyone's really nice and I've found it so easy to meet people.
Lauren, Dentistry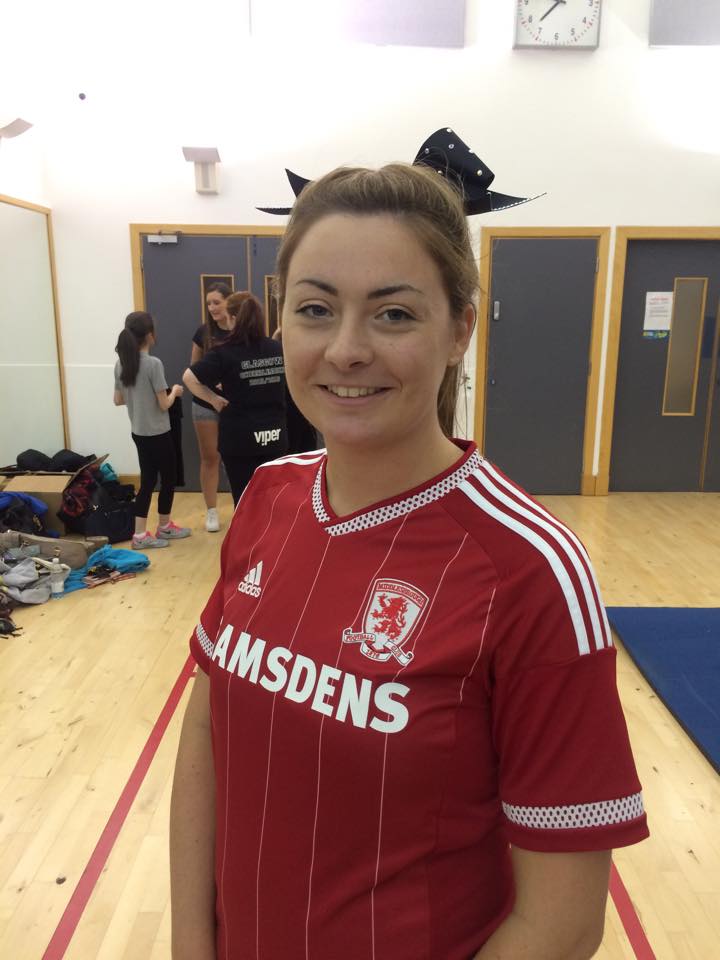 Making the team was a good achievement for me. The girls are all really nice, there's a good spirit and it's great having something to work towards. I can't wait to look like a vampire cheerleader for the Halloween social.
Rachel, Anatomy
Pub golf is a fun memory for me! The club is hard work but it's good as everyone is really motivated. I'm so excited to be a vampire cheerleader on Wednesday.
Emily, Microbiology and Rebecca, Psychology
Emily – My favourite memory was when we performed at the Glasgow Taxis Cup and I managed to do my one-legged stunt which took me all year to do. I love how nice everyone is, no one is bitchy and everyone is really supportive of each other. I used to do dancing and would come home crying because everyone wanted to be better than each other but in the cheerleading club it's not like that at all. My embarrassing moment was when I had to be carried home from Viper by my flatmate after our Disney social. I was insisting that someone should call me an ambulance.
Rebecca – A favourite memory for me is when I did my backflip during the competition. I love the social aspect of the club – getting to know everyone and making friends for life. My most embarrassing moment was waking up in Viper toilets after the club had closed.
Sarah, English Literature and Philosophy and Katharine, History
Sarah – My favourite moment was basing an extension stunt after breaking my elbow during practice last year. It's quite a small club so you get to know everyone unlike some of the bigger clubs and everyone ends up very close as it's a trusting sport. You know the socials are good when you can't remember them. Pub golf was so fun.
Katharine – Last year at the competition everything hit in the routine and all the hard work we put in paid off. Everyone is really hard working. There's that cheerleading stereotype but we're not like that at all – the club's really friendly. I don't really remember any of the socials, and I always wake up with bruises! Halloween was fun last year so I'm excited about vampire cheerleaders on Wednesday.
Danie, History
The competition was my favourite part of last year as well as meeting new people. You really feel like you're part of a team – they push you but it's fun. I loved the AGM social last year and can remember dancing on the tables in our booth in Viper. It's been my favourite social so far.
Diana, Dentistry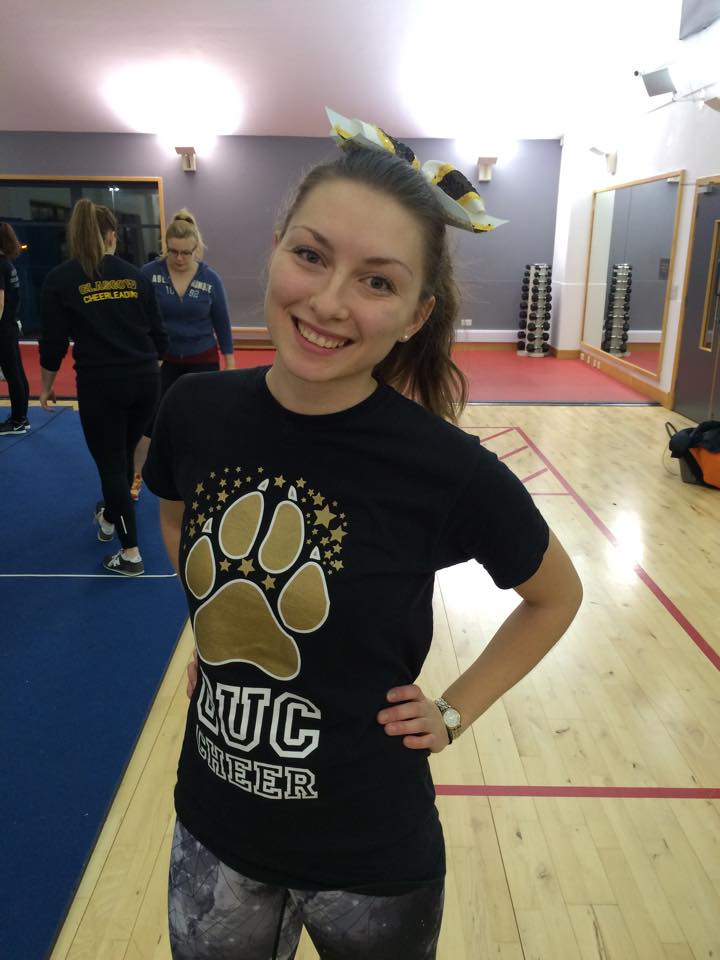 The competition last year was my favourite memory because we won. There's been loads of fun times at training and we've all bonded over the achievements, and failures, of the team. Everyone is really close and friendly and you never feel like you're not good enough. The club allows you to get fit and exercise but also be with your friends. I'm really looking forward to the Halloween vampire cheerleaders social.
Faye, Medicine and Millie, Economics and Sociology
Faye – My favourite memory was coming second at the ACDC competition and also all the friends I've made. Embarrassing moment? I never embarrass myself.
Millie – I loved the GUSA ball and I like how people of all abilities can excel in the club. My most memorable social was when I broke my foot yet still went to Viper in crutches and heels.
So there you have it – a club which masters the balance of training, competitiveness and socials while still looking cute. Non-members can get involved too: we'll see you in Viper on Wednesday in your best vampire attire, or at our Frat Party Fundraiser, also in Viper, on November 17th.