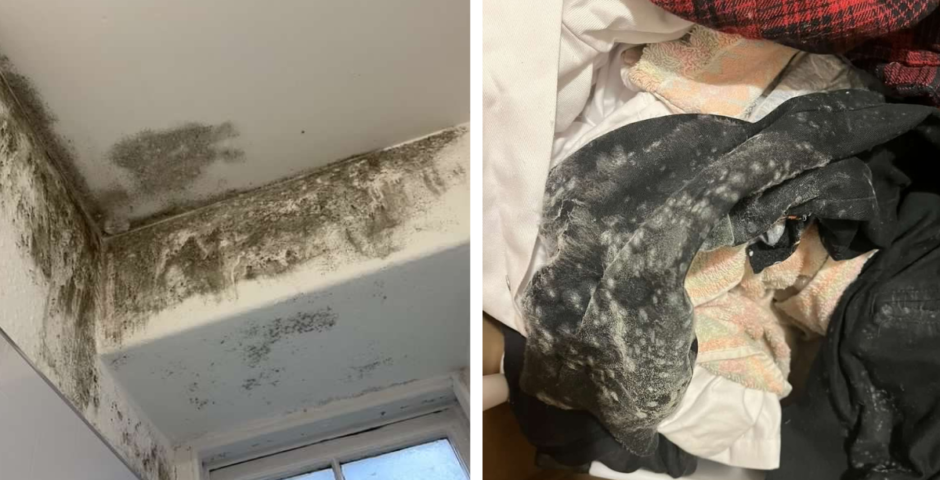 Pictures show Edinburgh student flats riddled with severe mould
'As a student, politeness seems to get you nowhere with landlords'
Students in Edinburgh are living in properties with extreme cases of mould and damp that are going ignored by landlords, The Edinburgh Tab can reveal.
Pictures show entire sections of bathroom and kitchen ceilings covered in black mould, as well as students finding their clothes and furniture becoming mouldy over time.
Numerous students have reported having to leave Edinburgh and return to their family homes during term time due to the impact mould has been having on their health.
The NHS says increased exposure to mould puts people at risk of respiratory or skin problems, particularly if they suffer from existing conditions including asthma and eczema. Although babies and older people are most at risk, anyone can be affected by mould.
Last month, it was revealed that two-year-old Awaab Ishak died in 2020 due to exposure to mould in his home in Rochdale. Since then, campaigners have been seeking to change the law so local councils are obliged to ensure their tenants do not live in unsafe mouldy conditions.
The Edinburgh Tab has spoken to students in the city to reveal the extent of mould in private rented properties, and how it's impacting their living situations.
Students are leaving their properties
Kyle*, who has highly sensitive skin, travelled home to visit a GP this year because all the practices in his Edinburgh neighbourhood were full. After seeing a GP and then being seen by a doctor in hospital, he was advised to "stay at home" because if he continued living in his Edinburgh flat, his skin rashes "wouldn't heal, no matter what creams I used".
The kitchen window in Kyle's flat does not open, and his bathroom is entirely windowless and without a working air vent. He says after having to convince his landlord to act, the mould is now being removed.
Charlie* suffered with a respiratory tract infection due to mould which "the landlord knew about" before they moved into their property in May 2020.
She said one evening, mould was growing so quickly on her ceiling she decided, mid-illness, to book "the next train home", and has now moved back into her flat's living room.
Alice's* flatmate had to move out due to unsafe mould, and the "letting agency is doing nothing to fix it", despite them having put in a number of complaints.
Her letting agency has sent someone to clean the mould away, but are not planning to fix the root cause.
Another student commented on the challenge of having to persuade landlords and letting agents to act, saying: "As a student, politeness seems to get you nowhere".
In pictures:
The tenants in this property have lived there for over a year. After complaining about this vast mould in their bathroom since the start of their tenancy, it is only now being seen to by the landlord. "It's been keeping us all ill for a long time", they said.
The occupant of the property with this leak-induced mould said their letting agency has done almost nothing to fix it.
This tenant first contacted their landlord on 20th October this year, after which a maintenance professional "came and cleaned [our bathroom fan] out, but told us it was in a terrible place so probably wouldn't do much even in it's prime".
They say the mould problem in their bathroom isn't getting any better, and it is now growing on the toilet.
The landlord of this property asked their tenants if they wanted a new sofa. "We were obviously grateful and accepted, only for it to turn up like this…"
The students renting out the property with this mouldy bathroom alerted their letting agent to the issue, who simply gave them a dehumidifier, which was later taken away.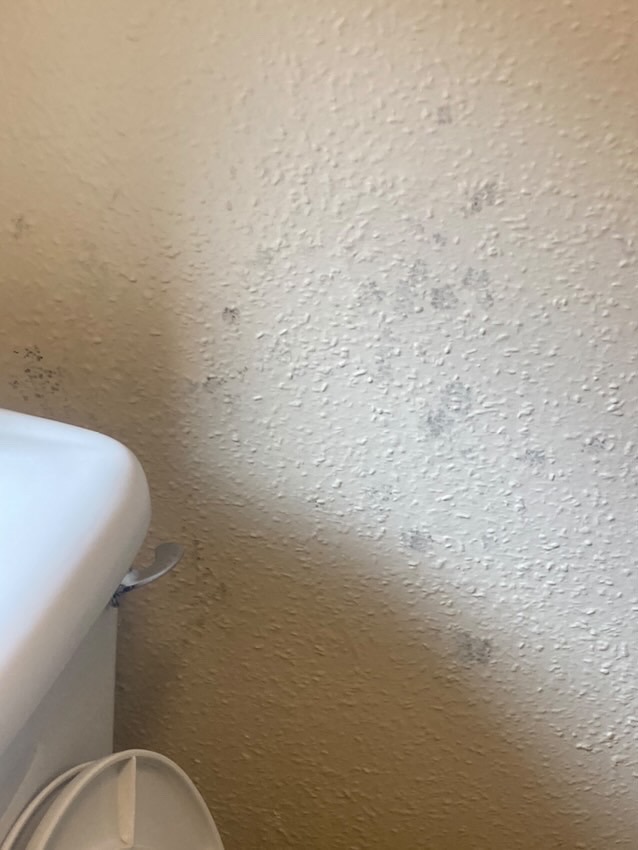 *Some names have been changed for anonymity purposes.
Related stories recommended by this writer:
• Students mock Edinburgh University for selling £825 signet rings
• 'Heartbreaking': Edinburgh students left without help during exam season due to unpaid staff
• Students launch campaign for one-off cost of living payment from Edinburgh University