What it's like visiting the Edinburgh Chihuahua Cafe as a cat person
PSA: They have a new puppy!!!!
| UPDATED
As an official member of Team Cat, I was fairly certain I'd make it through my four years at Edinburgh without ever visiting the Chihuahua Cafe. I'd been to its feline rival Maison de Moggy a couple of times, but had never really thought about going to the dog equivalent.
As a young child I was terrified of dogs, and even though I like them a lot more now, cats still had my heart.
However, that all changed last week when I got the chance to visit the Chihuahua Cafe on Frederick Street, and to meet their new arrival Jasmine.
The dogs
At the time of my visit there were seven chihuahuas in, including the new puppy. When you first arrive, you're shown the house rules and taken to a seat. Then, you put your belongings away and get comfy, ready for the girls to be unleashed.
I won't lie, at that moment my childhood fears did come back a bit. However, what happened next was honestly magical.
One by one they all trotted out, straight onto the sofa next to me. I can't explain the pure joy you feel when you have seven adorably small dogs jumping on you, you just have to experience it for yourself.
In a way, they're like the exact opposite of cats. Chihuahuas are sociable dogs and love being around people and receiving attention. They actively choose to come sit with you, whereas with cats you have to go to them, just for them to walk off anyway.
I didn't know much about chihuahuas before going, but the staff were so lovely and informative. They told me that chihuahuas can vary quite a bit in terms of size, fur length and colour, and face shape.
Even though the chihuahuas at the cafe looked very different, they were all extremely cute and soft. Interestingly, they also had an established pack order – and were named accordingly to reflect this. Ama is the pack leader, where as Hepburn (who comes last alphabetically, excluding Jasmine) is at the bottom of the rank.
It's hard to pick a favourite, but unsurprisingly the star of the show was Jasmine.
At only 13 weeks old, she's somehow even tinier than the already tiny chihuahuas. Everyone was cute, but she was definitely the cutest.
She fell asleep on my lap and it was the sweetest thing ever.
Another highlight was the "pack howl", which the chihuahuas showed off right before the end of the session.
They're only allowed to do it when commanded, but this is for good reason. Don't be fooled by their tiny size, they can make a big noise.
Overall thoughts
As I'd never been a dog lover, I wasn't really expecting much before visiting. However, I genuinely had the best time.
While one of the big reasons I adore cats is their rude disposition, these chihuahuas proved that sometimes it is nice to receive some love and affection back.
I still don't think I could be around them all the time, but a small dose of chihuahua left me with a big smile on my face.
Other than the dogs, the cafe itself was lovely. I had a cupcake and coke, although there were lots of other drinks to choose from too, and the staff were so friendly and helpful.
I never thought it could happen, but I definitely left with a new love for chihuahuas.
Don't get me wrong, I'm still Team Cat. But going forward, don't blame me if I make the occasional visit to the enemy camp.
A cat wouldn't care I was gone anyway.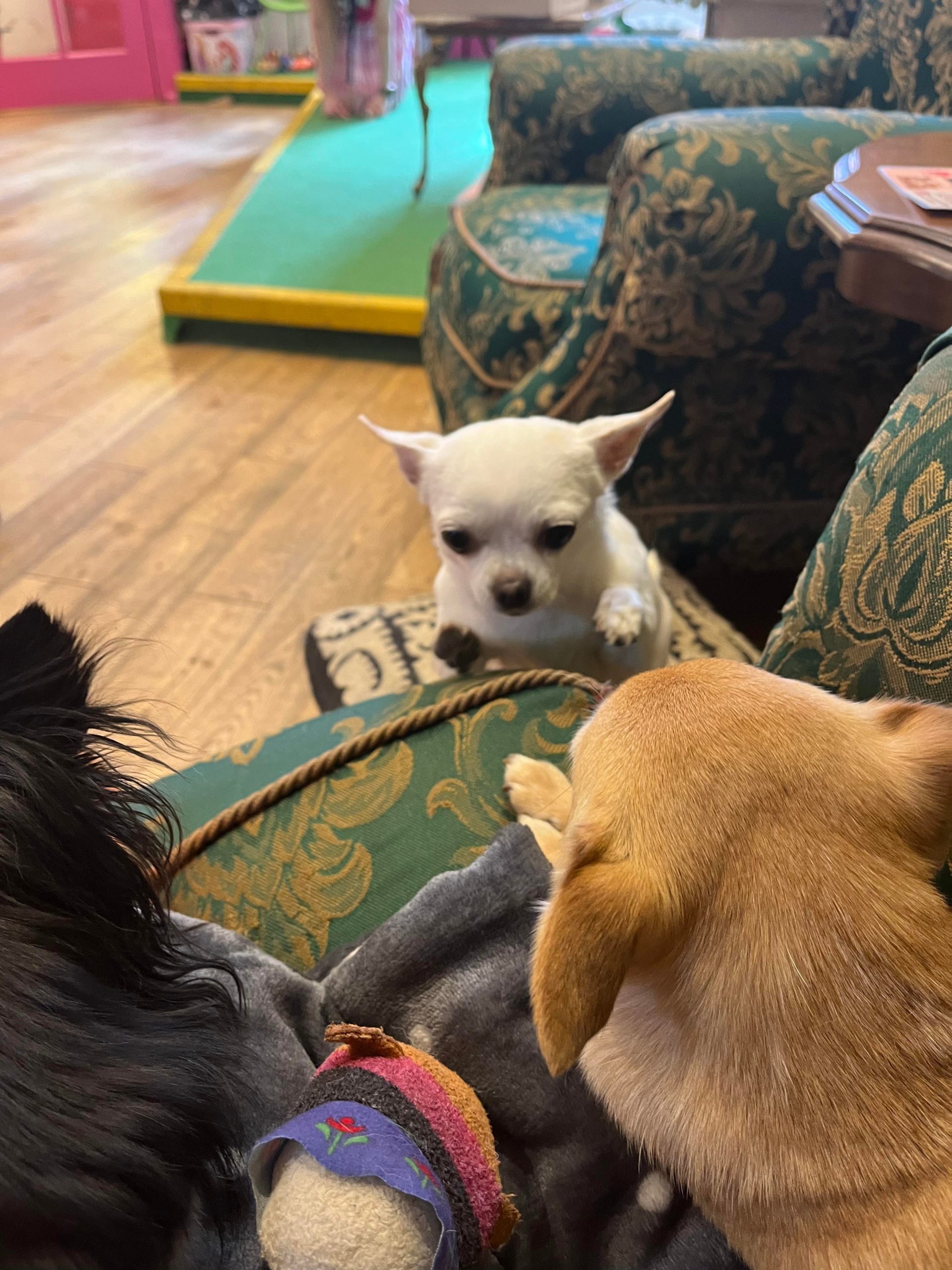 Recommended related articles by this writer:
• I tried to eat and drink my way into making a profit from a first class train ticket
• I was blessed by Mr Spock at 8am and it was the best morning of my life
• I bought a £1 cherry tomato plant from Scotmid to see if I could actually grow some tomatoes