I went to St. James Quarter and here's what I discovered
As I round the corner of the Royal Mile, I am greeted by the tip of the copper-coloured swirl. Nestled amongst the stunningly beautiful Georgian architecture, the building certainly stands out in its design. Bracing myself for the long queues to even get in, I mentally remind myself of the tasty food I will soon be consuming, making any long wait worth it.
However, on approach to the 'mall' (I mean Scotland and America aren't that different right) I am met by no queues. In fact, the only queue I encountered during my visit was for the Lego Store and Zara.
Zara life hack: if you go up a floor and enter by the kids and men's section, you can completely skip the queue!
For those who are uneducated in the matter (possibly just me), the copper whipped shape isn't part of the main shopping centre but actually one of its hotels, the 244 bedroomed 'W' hotel. So sadly, anyone wanting to experience the inside of the poop emoji first-hand will be left disappointed unless you're willing to book a room for the night.
While not all the shops are open yet, some of the one's you can expect to see are Victoria's Secret, Zara, Stradivarius, Pull & Bear, & Other Stories, Berksha, H&M, as well as a variety of restaurants such as Spritz Garden, Tortilla and Salerno Pizza all offering a variety of tasty meals and deals.
Many more shops and restaurants are set to open in the upcoming weeks, including Bross Bagels and 'H' by Harrods – a standalone Harrods beauty store and the first of its kind.
The Quarter was significantly less busy than I had anticipated, but if you really want a stress-free experience then I would recommend going midweek and either early or late in the day.  The quarters opening hours are 9am to 8pm on Monday to Saturday, and 10am to 6pm on Sundays.
As for the food, I can confirm that it was worth the long walk through the mall. I ate at Tortilla who were running a 'BOGOF' deal on their mains, and as an impoverished student I think we can all appreciate a good deal.
The service was super speedy and there were options for the vegetarians, vegans, and gluten free-ers among us. I ate just before 1pm and got a seat immediately, but when I went to leave there was a 15 minute wait. So if queueing isn't a hobby of yours, arrive just before the lunch rush for a streamlined experience.
The clothes shops were all pretty busy and only three hours after opening the shelves resembled a student's wardrobe, aka a messy tangled heap of various clothing items.
Zara was absolutely heaving and the fitting rooms are currently closed, so don't make a fool of yourself by marching confidently into a surprisingly quiet fitting room and start changing only for an assistant to come and tell you the rooms are closed and then have to pass everyone queuing for the tills as you leave in shame. I mean how embarrassing would that be, thank god I definitely didn't do that…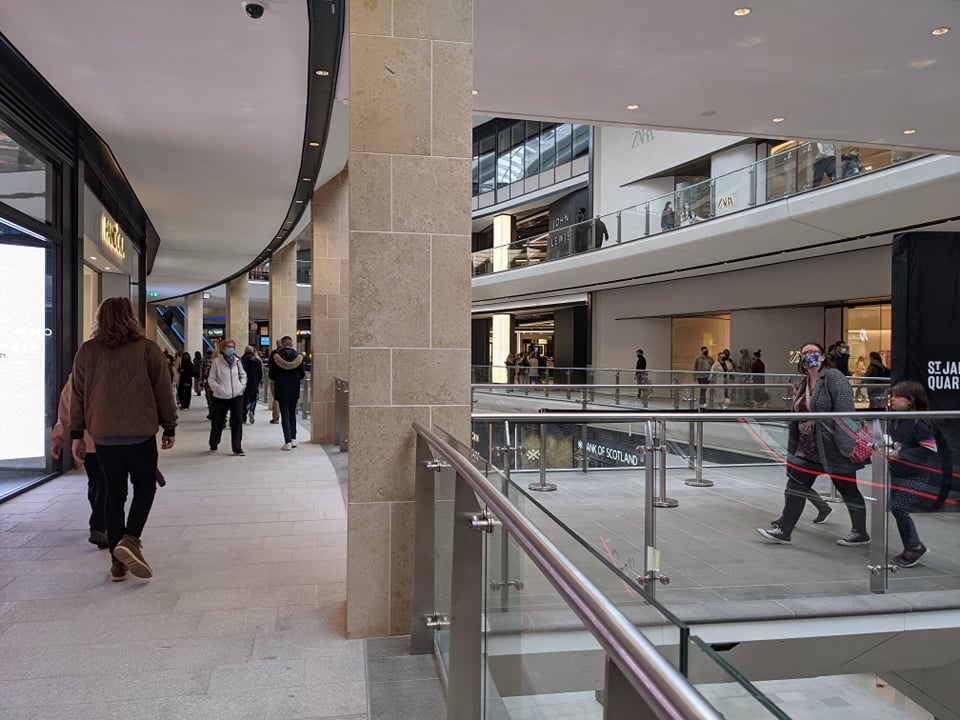 Overall, the ambience in St James Quarter was really lovely. It feels like so long since people have just been able to go out and enjoy things, and there is so much to enjoy there.
From looking at all the expensive pillows in John Lewis (£200 for a single pillow anyone?), to longingly gazing at the piping hot, freshly glazed donuts at Krispy Kreme, it's definitely worth a look around even if you're not in the mood to splash the cash.
Just remember to prepare for a fight if you're brave enough to face the depths of Zara.
Related articles recommended by this writer:
• 13 underrated things to do in Edi this summer
• From the James VI to 'the gayest Parliament in the world': A guide to Edi's LGBT+ history