This is what your trainers say about your Edi student vibe
Buffalo girls like to pretend their parents aren't Tories
There are a lot of things that make Edinburgh Uni just so special: signet rings, mullets, and Canada Goose puffas, to name a few. The one Edi fashion rule that just makes sense? The hierarchy of trainers that covers everything from basic Air Force 1s to a chunky Pollock fit.
Whether you're a fresher, or a well-established fourth year, this guide is absolutely essential to get to grips with the intricate and expansive world of trainer politics at the University of Edinburgh – from Buffalo girls to Yeezy boys.
The Veja
Either you are major wifey material and cook crumble for your flatmates every week, or you're the sort of girl who pretends you're the "mum" friend but secretly would shag your flatmate's boyfriend in a heartbeat if he had a signet ring and a big enough trust fund. The former probably studies history, geography or a language and spends their time studying and chatting in Caffe Nero or Humpit.
Both types of Veja girl are seen in George Square cutting about in chunky gold jewellery, leather jackets from Depop, and white jeans that they swear are second hand (but are secretly from ASOS). The latter loves to gaslight their mates and play "never have I ever" at flat pres so they can make fun of their friends for having less sex than them.
The Buffalo
Probably the most pretentious trainer you could wear on campus, let's be honest. But, we would be lying if we said we didn't love the immaculate Spice Girl vibes. If you're a Buffalo lover you are definitely under 5'5 studying art history, art or fine art, and you spent your pre-COVID evenings at Dog House or watching the Bristo Square skaters. Favourite nights out include Mash House and Church (or just any event that involves ket).
Eventually you will evolve into a Veja girl once you find yourself a potential husband from Harrow, Eton or Radley, but for now you're enjoying your Edinburgh student youth, and pretending your parents aren't Tories. You're highly likely to berate people who shop on fast fashion websites but not quite understand that not everybody's Dad is a banker.
The Air Force 1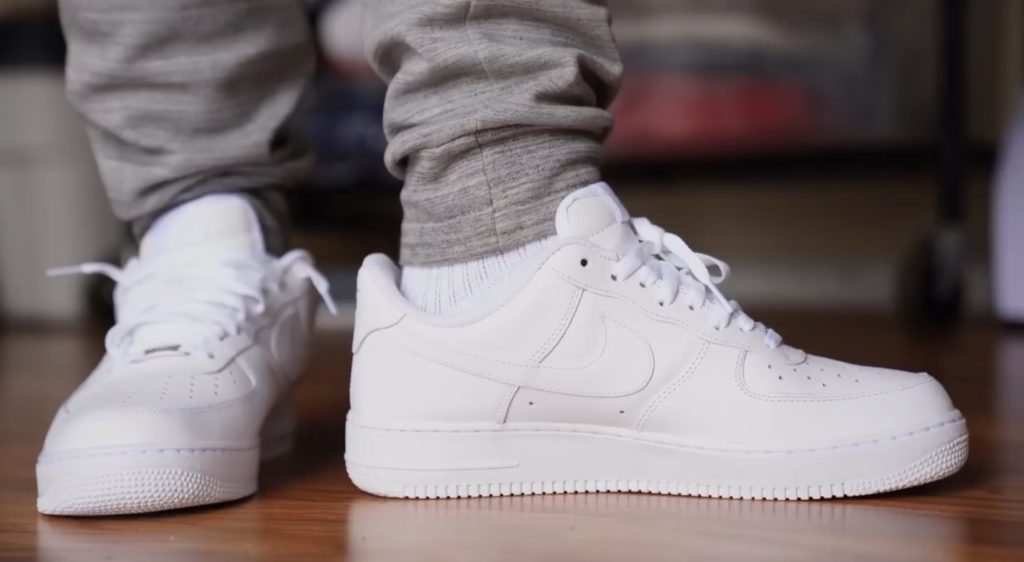 Just like the iconic, well-loved Nike classic, you're probably a pretty bog-standard student. Most likely to be studying a non-pretentious subject like business or sports science, although you probably turn up to lectures and think about getting a Greggs afterwards the whole time. You're always up for a night out at Subway, Bourbon or Big Cheese. Either in a steady two-year relationship or getting with three people on average per week – there's no in between. Overall, you've got a standard student vibe: going to three out of five of your weekly lectures and clubbing four days out of seven.
The New Balance
Either, you bought these trainers because they're durable, long-lasting and efficient (like you), or you saw a really specific style of new balance shoe on Pinterest and are now fixated with so-called y2k fashion and buying oversized jeans from Shein. If you're the former, you probably study a science and are a genuinely nice person – even though you're always blowing off plans with your friends to study. You also 100 per cent posted on the Freshers Facebook page before your first term with a 500-word bio about how you love "having fun", "music" and "Netflix" (awfully specific).
If you're the latter, you secretly want to drop out of uni and become an influencer, but your 2,000 Instagram followers just don't quite support you enough to live your Molly-Mae dream.
The Nike/Asics/Karrimor trainer
If you aren't on your way to the gym, you're probably on your way to Kings Buildings. Very similar to the New Balance, except just more stressed about uni work, with much pushier parents – an arts subject was absolutely not on the cards for you. In your spare time you probably post on Reddit about weird stuff your professors have emailed you. You're either pretty chill or extremely obnoxious (probably because you're American) and love to pair jeans from GAP, Topshop or boohooMAN (unless your mum bought them for you) with your trainers. Hobbies include gaming, being highly chaotic when drunk, and being stressed about coding.
The "scruffy, old, branded white trainer"
Deceptively scruffy, the generic, dirty white trainer is perhaps the poshest student vibe of them all. It does provide wonderful downtime from the loafers. If you wear a trainer like this, your parents definitely spent £30k+ on private school every year for you to just end up spending your university years at Jujus and Garibaldis attempting to pull someone with a double-barrelled surname to take back to Chancellors. You definitely turned up to Pollock breakfast at 10:25am and the staff all hated you, but its ok because next year, your dad's buying you a 5-bed flat in New Town for you and your chums.
Most likely to study a classic humanity or social science, or just any subject that has a high acceptance rate at Oxford – after all, that was the family legacy until you got rejected at interview. It's ok though, by fourth year you'll either have a job lined up at the family firm, or you'll have held onto a partner long enough to move into the family flat in London with them and get onto Made in Chelsea (that's if Mum's-friend's-daughter Verity can get you a spot).
The Yeezy
Most likely a male international student (or from Surrey) studying economics, politics or business. You love picking up the latest Supreme, Palace and OFF-WHITE pieces on StockX. Wearing a Supreme box t-shirt is the pinnacle of fashion, obviously. You probably have been involved in a pyramid scheme at least once and think that flipping your younger brother's old trainers on Depop is a genuine "side hustle".
You've undoubtedly at least once said the phrase "I believe in equal rights, yeah, but I'm not a feminist", and you simply love to speak over the women in your tutorials even though they understood the reading far better than you. In your spare time you enjoy football, watching the Sidemen on YouTube, and going to ATIK – probably to pull Air Force 1 girls. Favourite flavour of crisps are definitely either roast beef or ready salted.
Related articles recommended by this writer
• Go food shopping and we'll tell you your student vibe
• There are 8 types of second year flats and I'm about to tell you which one you are