'Draw influence from anything and see what inspires you': A chat with some of Edinburgh's BME artists
He just started painting in his room and look what it's turned into.
[iframe url="" width="700″ height="300″]
A glance at ECA's Alumni page and it is clear that the University of Edinburgh has produced some incredibly accomplished artists, creating art across a variety of mediums and receiving some of the highest accolades for their endeavours.
However, there is a also new generation of artists emerging at this University making their foray into the art world on their own terms, masters of their own work, exhibition and promotion.
We spoke to four members of the BME community who are producing art at Edinburgh, Kome Eleyae, Tobi Onafeko, Wami Aluko and Chris Robinson, about their work.
Kome Eleyae and Tobi Onafeko, two second year students both studying Architecture, work in the most traditional mediums out of the four. Tobi works in mixed mediums, pen, pencil, acrylic, and is currently working on some 3D modelling with wooden panels, whereas Kome, although having worked in printmaking and ceramics, is much more focused on paint, specifically acrylic and has cultivated a particularly unique style in the process.
What was your route into art?
Kome: A few summers ago I had a few shoulder operations so I couldn't really do any sport or music, so I just decided to pick up art, painting with acrylic.  I started painting my friends, and that's where all this came from.
Tobi: I just did Art for GCSE and A-Level, trying to find a hobby when I was about fifteen and that's just carried on into University studying architecture.
What inspires your work?
Kome: My art is driven 80 per cent by Music, stuff I'm listening to.  A lot of Old Skool Hip-Hop: J Dilla, Mos Def that sort of thing, but even go to some Quincy Jones produced stuff, some Jazz, Classical Music, just drawing inspiration from the cinematic qualities of music as well really drives my painting.  I'd also emphasise the importance of Motown and individuals such as Roy Ayers, Gil Scott Heron, and Tarantino films to my process.
Tobi's art is now available online, something that has only happened very recently, while Kome has been established online for much longer, building up an Instagram following of over a thousand people, taking a number of commissions, opening his own gallery spaces on Brick Lane and Edgware Road, and selling a number of paintings.
How did you progress from the more amateur level of producing art that many students find themselves in, to this somewhat more professional level where business begins to play a part?
Kome: Spreading the word really, friends telling friends, taking commissions and then developing relationships, asking for exhibition spaces, opportunities for young people.
Kome: Making it accessible to students is important for me too, I try and keep it under £100 just so you can sort of save for and buy it without it being too unreasonable and at the same time I don't think it devalues the art, and if I want to sell it at commercial prices (which I think are inflated anyway) I can do that with adults, who can afford it.
When I asked the pair whether they thought BME art was underrepresented at the University of Edinburgh, they erred on the side of caution when answering, feeling that they perhaps weren't qualified to give full enough answers without having viewed the full body of work at the University, or looked at any statistics, however Kome did say: "Tobi and I are in ECA this Semester, and there aren't that many black people."
Why do you think this could be?
Tobi: That could be a cultural problem.  I remember growing up in Nigeria back when I was around the age of ten and Art wasn't seen as much of an academic subject.  It was like 'study Maths and Physics instead, why are you drawing pictures?'  But I think now people are becoming more interested in Art and seeing it as something you can definitely move forward with and be successful at.
Kome: There was definitely a stigma about doing Art, one for boys, and two the Nigerian cultural element, but in hindsight I don't really feel that exists these days.  I think the reason there isn't as much black art out there is because it's not been included in the syllabuses in the same way, and not in the canon of art in Art History.  There's so many great black artists: Chris Ofili, Yinka Shonibare, Lynette Yiadom-Boakye, Kehinde Wiley and Peju Alatisep are all producing art now and who aren't being studied in schools.
Does this Nigerian influence manifest in your work?
Kome: There's an artist called Yinka Shonibare, who makes his own copies of Dutch Wax and Batik fabrics, including it in all his work from sculptures to drawings and I just thought that was such an elegant way of stamping your Nigerian identity on your work so I've been bordering my canvases that way ever since I started painting.
Kome received significant renown this summer after painting Frank Ocean. Major Twitter pages Complex (1.37 million followers) and Support Black Art (116k followers) both liked it.
Another artist who has received public renown for his work is Chris Robinson (Robinin MC), from Newcastle.
Chris: I've always had a great love for Hip-Hop music for as long as I could remember. When I was in primary school I used to recite the words to tracks like 'Jump Around' by House of Pain and pretend to rap battle a guy that was in the older class. Around the age of fifteen, some of my mates used to write lyrics and spit over instrumentals.
I wanted in but was too nervous to showcase any of my own material to my peers. When I arrived at Uni I met people who were able to write and produce their own music. This allowed me to have access to the necessary equipment to write and record. A lot of people liked my stuff, whether I was just rapping on the spot or listening to my Soundcloud.
What are the primary ways a young rapper showcases his work?
Chris: I mainly use my Soundcloud and my Facebook page to put out my material.  I've also had radio plays on BBC Introducing and Fuse FM, and organised live performances at venues such as Teviot in Edinburgh – where I performed for around 60/70 people.
Another artist who has taken full advantage of the opportunities social media affords young artists is Wami Aluko, a 2nd year Economics and Philosophy student from Lagos, Nigeria who has built a large online following with her photography and film.  When I asked her how she viewed her progression from a more amateur to a more professional level, she talked more of the creative process and how that shaped her artistic journey:
Wami: It's the thought that goes into a picture, the creative direction, the clothing, subjects, backgrounds, when you look at it as an artform that's when you differentiate yourself from anyone else taking pictures.
What's your greatest achievement to date?
Wami: I was commissioned to take some photos for Nasty Boy, a Nigerian magazine, that's probably my biggest achievement to date. I also feel a real sense of achievement every time I do a shoot and my vision comes to life.  It's really fulfilling.
Does your vision ever not come to life as planned?
Wami: Most times it's better, when it's worse I just don't use that, but now I think I've got to the point where I'm confident with the work I put out and every show I do now is kind of aligned to what I had in mind.
Is your work inspired by music at all?
Wami: I'm actually doing a documentary on Music right now that is coming out in December about the impact of music on the youth in Nigeria as I feel that that is something that isn't covered a lot. People also really inspire me, I like looking at other people's perspectives and telling other people's stories.
You've already achieved a lot, do you have any further ambitions?
I'd like to start a fashion photography magazine, probably next Summer, then eventually open my own gallery in Lagos, then maybe in London, focusing in the more more alternative side of Nigerian and African Art. A lot of the African Art you see in the mainstream media has to be afrocentric which isn't bad, but I feel like if it isn't stereotypically African they don't want to see it.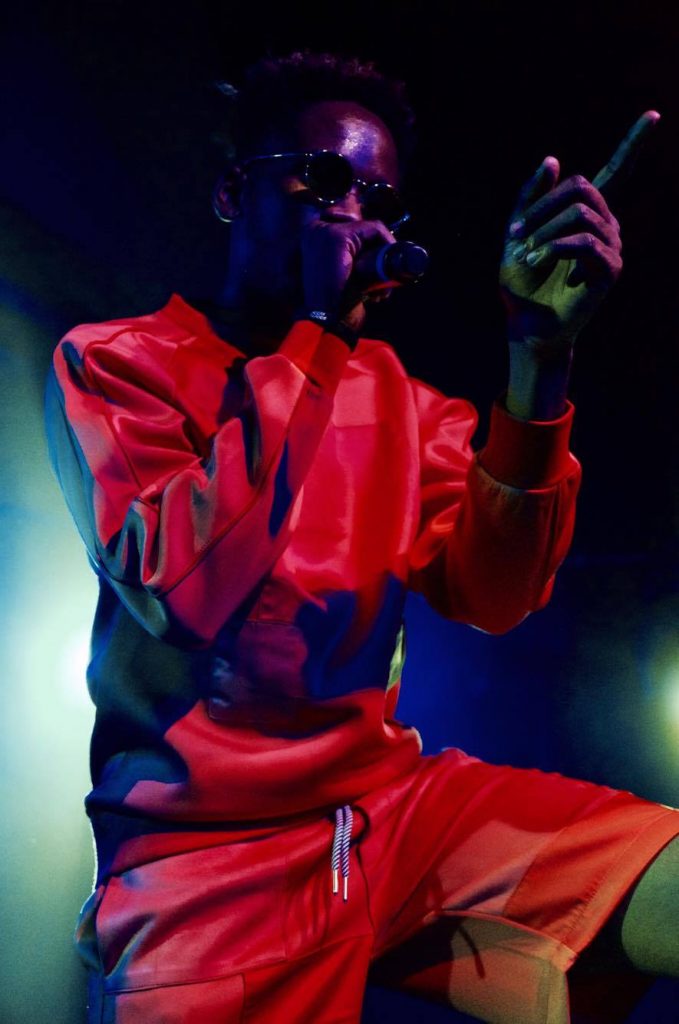 What advice would you give to young artists looking to achieve what you guys have achieved so far?
Kome: I remember at first I was nervous about even setting up an Instagram page.  Don't be afraid to put yourself out there and ask for opportunites.
Tobi: Push what you're interested in in any way you can.  Draw influence from anything and see what inspires you.
Wami: Meet people, network, work with your friends.  You don't always have to reach high, you can just work with the people around you and get honest feedback from the people close to you.  Keep emailing people and never stop trying.  Oh, and don't be afraid to promote yourself because you are your biggest fan.
You can find Chris' first live performance here.
His Soundcloud and Facebook pages here.
Kome's website, Twitter and Instagram.
Wami's website, Twitter and Instagram.
Tobi's Instagram.
Keep up to date with them all to see their work and find out about their performances, features and exhibition spaces.