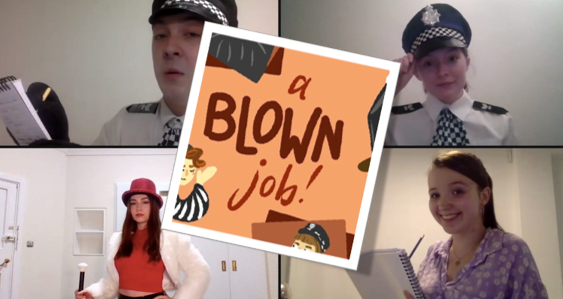 Interview: 'A Blown Job' on making musicals in lockdown
There are no hugs, but they do have a cat
A Blown Job is a comedy musical written by Thomas Cox and composed by Dominic Carrington, intended initially to be an in-person show, and adapted for the big screen (aka various laptop screens, due to theatres closing once again). The Tab spoke to Tom alongside Lucy Thompson, the director, and Dylan Evans, the assistant director, about what it has been like working on a production during lockdown.
A Blown Job's character-driven plot is about a group of ne'er-do-wells who try to rob a bank and the police officers who try to stop them. But, these criminals are frankly terrible at what they do, their plans fall apart and, predictably, hilarity ensues.
Although the production's cast and crew were disappointed that they wouldn't be able to do a live performance, Tom says that when asked if they wanted to do it in a different format, everyone said that, "Absolutely, yes I'd love to!"
That doesn't mean that the online format hasn't been challenging, especially when it comes to rehearsals. Tom notes that it has been tricky "to go through things with a musical director."  It has also been difficult to "build energy in scenes", says Dylan, and "notice the subtle things between characters that you'd normally be able to notice on stage."
Lucy draws attention to the difficulty of teaching choreography and finding space to rehearse, admitting that she has been doing "a lot of choreo rehearsals involving kicking my parents out of the living room, so thank you mum and dad!"
'We have an actual cat in it!'
"Don't worry," Lucy adds. "We've still got people falling over and that kind of thing."
With cast members scattered across the country and even overseas in Germany and Spain, logistics have been particularly tricky. Lucy says that producer Cerian Aela has been "mailing out costumes via Amazon Prime to literally the whole country." However, cast members being at home has provided some new prop opportunities. "We have an actual cat in it!" Lucy says.
Despite the challenges, the online format hasn't been all bad. Regarding video auditions, Tom says that it is "definitely a benefit to be able to re-record things." Lucy agrees, pointing out that in-person auditions are "a lot more nerve-wracking." Online auditions have been so successful that Dylan concludes that they "are definitely here to stay." Although the online format has been less of a positive for rehearsals, Dylan mentions that at least it is easier to get "everyone in the same place."
You might think that socialising with other cast and crew members would be difficult during lockdown, but Dylan says "I think we're doing pretty well." Lucy makes the point that "it still would have been hard" without the lockdown because of social distancing and Tom says "I'm getting to know everybody else involved as much as I would if it were in person."
'Sorry directors, this is your problem!'
Because A Blown Job was "a kind of lockdown project" for Tom who always had "coronavirus and social distancing in mind", the online format hasn't had a big impact on the script. Directing, on the other hand, is a different story. Tom says: "Quite a lot of the things in the stage directions would be 'So-and-so hugs so-and-so', and then in brackets it would be 'Sorry directors, this is your problem!'."
Acting too has felt the impact of lockdown, voice becoming "much more prominent", according to Dylan. Tom notes that the online format means that "the whole audience has got a front-row seat" and therefore they can "see everything that's going on" and "hear everything in people's voices."
Theatre during lockdown has been a learning process. "We've had to be quite flexible and adaptive," says Tom, especially given that people "are living in the same house as people who are working from home or might be at university in a room where they don't have a lot of space to move." The welfare of cast and crew members has really come to the fore and Lucy emphasises that this "welfare-driven perspective should be continued."
'You lose that magic of live theatre anything-could-go-wrong-ness'
Tom, Lucy, and Dylan are all really looking forward to theatre returning to normal. Lucy wants to spend her West End vouchers from cancelled tickets and says that "you miss the adrenaline" and "that buzz afterwards" that you get from taking part. Tom agrees, adding: "You lose that magic of live theatre anything-could-go-wrong-ness." More importantly, Tom says that he misses "just being able to go to an after-party and get hammered with everybody!"
Tom admits that "We're not going for high art here. It's called A Blown Job, this isn't going to be Shakespeare." It is an "opportunity for escapism", he says, and "a fun distraction from everything going on." Lucy admits that "it's been a challenge", but adds that "it's brought some advantages as well."
Tom, Lucy, and Dylan would like to thank Cambridge University Musical Theatre Society, their "amazing" video and sound editors, and all members of the cast and crew.
A Blown Job will be streaming for free via ADC Online at 8pm on Thursday, 4 March. To book your tickets, please click here.
Image credits: Tom Cox.