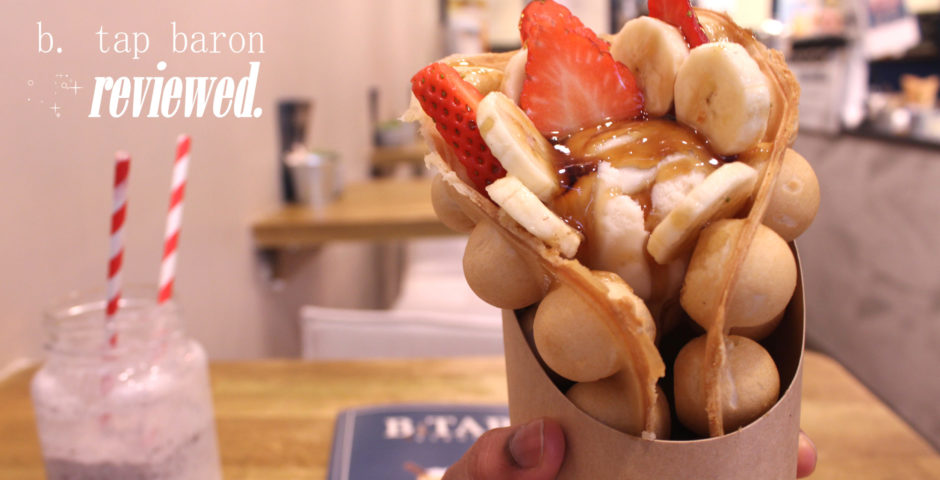 Cambridge bubble waffles review: B. Tap Baron
Sugar = brain fuel so eat dessert if you wanna top Tripos
If there's anything I'm good at (and, trust me, it is not my degree), it's eating. Specifically, eating desserts. That's why I decided to put my foodie skills to use and review some popular dessert places in Cambridge. This time, I'm reviewing B. Tap Baron.
B. Tap Baron is known for their bubble waffles, though they do sell other items on their menu such as freakshakes, frozen yoghurt, crepes and so on. Since the bubble waffles are the star of the show, really, I tried two set combos (one being vegan!!!), a freakshake, and some sorbet. I will be ranking these items out of 5 stars, according to appearance, taste, price (student budget, hello?) and overall recommendation. Importantly, B. Tap does a *15 per cent!!!!* student discount, so be sure to take advantage of that.
Let's eat.
Bubble Waffles:
THE HAWKING
Appearance: 5/5
How beautiful is this bubble waffle?! Definitely worth taking a minute to take a photo for your Instagram food highlight. It's not necessarily the easiest thing to eat, for sure, but as they say: you eat with your eyes first.
Taste: 3.5/5
This was really good. The strawberries were tangy, the Oreos were great, obviously, and the waffle was pretty good, too. The waffle was nicely crisp on the outside, though it could have been just a tad softer, maybe. The ice cream was strawberry flavoured and it was OK. I generally tend to not go for strawberry flavoured ice cream (though stay tuned for an ice cream review), since it can taste quite artificial and sickly. This ice cream was good, but it did have that artificial taste to it.
Price – £6.70: 3/5
Honestly, £6.70 for a waffle isn't awful. But I have had cheaper bubble waffles before. If you compare it to standard chain prices for crepes/waffles, it's on the expensive side of things. Having said that, B. Tap is an independent. And the portion size is pretty big so you are eating £6.70's worth of food. I've been here before instead of going for "proper" lunch (which would probably be around £10) and I am always full after. 3/5 means I don't regret spending the money and I would spend it again.
Would I recommend? Maybe.
It was yummy and I enjoyed it but, like I said, I'm just not a fan of strawberry ice cream. I think I'd either sub out the ice cream for a different flavour or just go the 'make your own' route.
THE LANGLEY (vegan)
Appearance: 4/5
It's maybe not as pretty as the Hawking, but it still looks good and I'd definitely still take a photo of it. Maybe mine could have done with a few more strawberries?
Taste: 4/5
I preferred the taste of the vegan waffle, if I'm honest. I was worried that it would be chewy or dry but the waffle was very soft – almost cakey in a good way! The fruit was standard – no complaints there, and the maple syrup did give the right amount of sweetness. The only thing I didn't enjoy as much was the vegan vanilla ice cream. It's hard to get vegan ice cream to the right texture so that's understandable, but it could also do with a bit extra vanilla flavour. Overall, really good.
Price – £7.70: 3/5 
Ouch. The vegan waffles are £1 more expensive than the original waffles (I don't know why) but since I really enjoyed this one, I kept the price rating the same. It's really up to you whether you're feeling a little more indulgent, I suppose.
Would I recommend? Yes, but maybe 'make your own'.
Again, the ice cream didn't exactly do it for me, but I really did prefer the texture of the vegan waffle more so maybe swap it out if you're not restricted to non-dairy. If you are vegan/lactose-intolerant etc., this is a great option.
Freakshakes:
COOKIES N' CREAM TEAM
Appearance: 3/5
It's cute and the striped paper straws are a nice (and eco-friendly) touch. Plus, I love it when drinks are served in jars like this. Not really much else to say here. It'd probably look more Instagrammable with whipped cream and some extra toppings, but that racks up the price a bit.
Taste: 3/5
I'm not a huge milkshake person. This was good and it wasn't overly heavy or sickly. However, the friend I brought with me to B. Tap did point out that it was a bit too thin and lacking in Oreo flavour. I'd have to agree – kind of like it was just milk + Oreo ice cream. I was told later by staff that customers tend to add extra Oreos & Nutella and prefer less thick shakes, so that is something to consider.
Price – £5.00: 2.5/5
I did like the freakshake, though I did not finish it because I was too full. Looking back on the price now, I wish I had. Again, it's not that bad of a price, but I think the bubble waffles are better value for money.
Would I recommend? Not personally, but you might like it!
It still tasted good, don't get me wrong. I just enjoyed the bubble waffles a lot more and am not too much of a milkshake person.
Gelato & Fro-yo:
MANGO & PASSION FRUIT SORBET
Appearance: 3.5/5
Again, not much to say appearance-wise but the ramekin is a really cute size, as are the spoons. No complaints.
Taste: 4/5
I love mango; it's the superior fruit. This sorbet did not disappoint on flavour and I thoroughly enjoyed eating it all (and I was extremely full at this point). It was refreshing, as sorbet should be, with the right amount of sweetness and tang from the passion fruit. I didn't give a full 5 because the texture was, at times, a bit icy rather than completely smooth.
Price – £4.00: 2.5/5
It was a sizeable portion of sorbet, especially considering I was so full I couldn't breathe, but I do feel like it is kind of on the steep side. Especially since the bubble waffles are not even 2x the price but a lot more substantial.
Would I recommend? Yes… if you've got money to spare.
If we're talking strict student budgeting, I guess it's not the smartest option on the menu in terms of value for money. That said, it is vegan, it is tasty and I finished it all. I'd say go for it. You can't really go wrong with sorbet.
Overall, eating at B. Tap Baron was an enjoyable experience. The food was great, even if there were some things I picked up on that could be improved. The atmosphere is really nice, the staff are friendly and the place is so cute. The aesthetics are spot on, from the mini table-top plants to the makeshift library. I've come here before several times with friends and each time I leave satisfied. It's a great place to meet with friends and catch up, or even to grab a table, get some food and study for a while.
B. Tap Baron can be found at Lion Yard Management, 22 St Andrew's St, Cambridge CB2 3ET, by the Grand Arcade. They are open everyday from 10:30 am, and their menu can also be found online.