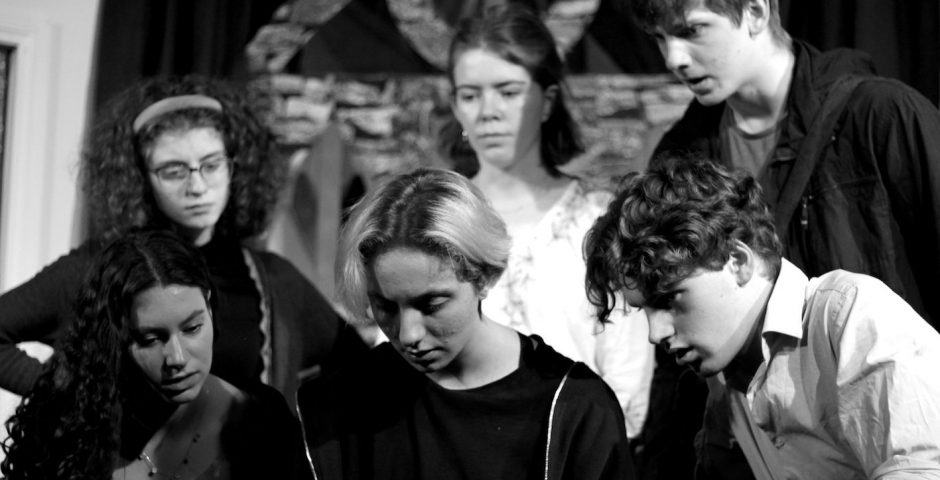 Review: CTRL-Z
A chilling, disturbing drama of online pasts
"Error 404: This picture has been removed." An intriguing promotion strategy on the part of the 'CTRL-Z' publicity designer, Zoe Matt-Williams, led to this message appearing several times on the Facebook feeds of Cambridge students, as cast and crew members changed their profile pictures to hint at the content of the play. Expectations of immersion in a world of uneasiness and paranoia were definitely met.
Our generation is gradually but completely submitting to the virtual world, allowing it to infiltrate every aspect of our lives. With this comes a preoccupation with surveillance – are we being watched? Jokes about FBI agents behind our webcams have been circulating for a while, and more and more people are taping over their cameras, as if this one small action will somehow solve a much greater problem. CTRL-Z tackles these concerns head on, with wit, irony and a deep sensitivity towards the diverse issues surrounding data usage and privacy.
This chilling original play by Georgie Newson-Errey transforms the Corpus Playroom into an eerie medieval church, where a group of five young people meet to discuss their right to be forgotten online. Some of the characters are aiming for 'VO' (Virtual Oblivion), while others simply wish to bury their past mistakes under obscuring layers of information, pushing them lower down the list of Google search results until they eventually become impossible to find.
The audience encounters the group as Rhoda (Izzie Harding-Perrott) joins them for her first meeting. Guy (Dominic Carrington), the group leader, is attempting to eradicate the evidence of his past political ideologies from the internet. Ray (Beattie Green) is apparently a corporate hacker, although his status becomes increasingly mysterious, both professionally and in his relationship to Guy. Lola (Jesi Bailey) is a former cam-girl, desperate to have videos of herself removed from the web, and Mark (Sam Drysdale) has been involved in a murky financial scandal which continues to haunt him – or so we are led to believe. All have their own reasons for wanting to remove traces of themselves from the Internet and, united in this goal, coalesce into interesting pairings over the course of the story.
These characters are paralleled with two older archaeologists – doddery, lovable Harry (Rory Russell) and eccentric Julia (Lydia Makrides) who are attempting to uncover the network of tunnels beneath the church and discover their original purpose. The generational gap between the group of five and the archaeologists ("Influencer? Sounds like influenza!") highlights the insanity of our current attitude towards social media, as the interactions between the younger and older characters produce concise, relevant observations from all perspectives. One particularly interesting discussion revolves around the difference between history and digital information – what counts as historical evidence, and what is merely noise?
Under the direction of Izzy Collie-Cousins – with Flo Winkley and Patrick Llewellin as assistant directors and Cerian Craske as producer – the drama builds to tense climaxes which have the audience hanging on the characters' words, before undercutting the tension with sharp one-liners and moments of comedy that make the play as entertaining as it is disturbing.
The Algorithm is personified with immense stage presence and impressively incisive line delivery by Ferdinand Holley, who makes occasional appearances, accompanied by masterful sound design by Samuel Macdonald, and sinister lighting by Ella Pound with a single blinking light bulb hanging from the ceiling as its focal point. The relatively small space of Corpus Playroom is used to the full through Charley Ipsen's set design, effectively transforming from church interior, graveyard and various other spaces with minimal use of props. Transitions between scenes were, for the most part, swift and went without issue thanks to effective stage management by William Ashton.
'CTRL-Z' is impressively executed and flows extremely well, with only a brief period around the middle when some repetition may fail to hold the audience's attention. However, it quickly picks up pace again and culminates in the ensemble gathered for a tense, unexpected ending. At first appearance, certain strands of the story seem to elude resolution, but on reflection this ambiguity perhaps serves the story well, with the absence of finality providing the message and challenge that we take from the play. Caught in this world of constant surveillance, what are we going to do about it?
'CTRL-Z' will make you leave the theatre wanting to go and delete everything you've ever put on the Internet, while painfully aware of the futility of such an action.
4/5 stars