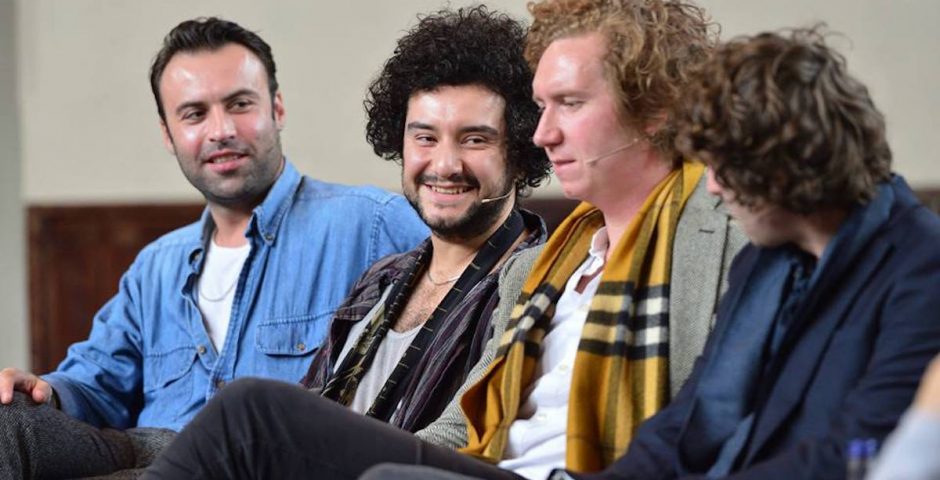 The Tab talks to The Kooks
Alexis Nunez
Cambridge
Hugh Harris
interview
Kooks
Luke Pritchard
Peter Denton
the tab
tour
Union
The band of our teenage heartbreaks comes back to their roots. Whether or not you liked their fourth album, their "Best Of… So Far" tour and coming album will have something for all fans.
For a band allegedly conceived in Primark, their dress sense is impeccable. Luke Pritchard (vocals), Hugh Harris (guitar), Alexis Nunez (drums), and Peter Denton (bass) show up in a delightful mix of denim, tweed, leather, and funny socks. Trying to maintain professionalism, we begin by asking about their musical rather than sartorial choices.
We asked about their opinions on their best tracks so far and the possible setlist for the coming show, they answered with confidence and enthusiasm.
Peter: Well it's a best of tour isn't it
Hugh: They are all great aren't they? Actually, having said that, a couple of songs that are my favourite to play live we're not playing. I like 'Runaway', I like, you know, all the B-sides that I wrote. Some of the quirkier, alternative B-sides that… that explore. Having said that, as well this tour is about playing what the crowd really like and that usually is the most commercially successful and we do that, purely for that reaction
Although they emphasise that the band was always about getting people moving they have never been afraid to experiment constantly evolving their personal style. After signing a contract with Virgin Records, barely four months after the band formed, their first record "Inside In/Inside Out" let them break into the mainstream. While "Konk" and "Junk of the Heart" that followed the first album continued to explore the cross-section of pop and rock, their most recent album "Listen" leaned much more strongly towards influences from hip hop and gospel – and on their coming album they are planning to not only draw from past experiences, but also create something distinctly new, perhaps shown in the newest single 'Be Who You Are'.
Luke: Well, we've nearly completed the new album and I'd say, we learned a lot from the fourth album. We did take some risks and we did put ourselves in some pretty much uncomfortable situations, like working with the guy that works a lot with samples and loops and things like that. But the new album has more like… We're definitely going more against the grain, we're trying to make something more like an album, we're not just trying to make songs… So it feels like maybe the most "band" record we've done for a couple of albums, certainly since the first one
I don't know about the title [of the single], probably afterwards you start thinking about that because it wasn't necessarily about the band, I guess it kinda ends up being like that. But it definitely was intentional to do that kind of song, going back to maybe the roots of the band
Following their announcement of upcoming arena tour this autumn, the Kooks reflected on their past experiences of life on the road.
Luke: We've been in like massive storms, and festivals where literally I think none of us are particularly religious but I think we were praying
Luke: Yeah, we had to cut the set short because all the lightning broke and stuff, started just bizarre
Hugh: And also, the thing is we had to announce it to the crowd, mid-Naïve, and I looked over, all swaying, and I think the stage manager come over to Luke's mic and just said to the crowd…
Luke: "Run! You laugh, but a month before in a gig like this a bunch of people got killed, all the same storm, that was crazy"
Later in the Union chamber, they also remarked on how the lifestyle has affected them.
Hugh: Is it still fun? It's harder now. Sleeping in a coffin shaped bunk on a bus with 13 men was for some reason wicked when I was 19 and now it's not.
The sudden success of their first album came when Pritchard was 21, and Harris barely 19.
Hugh: I don't think we did [manage it]. I think there's no other way to answer that question
Luke: A lot of drugs and a lot of booze"
Hugh: That was seen at the time as a solution, but it actually just made things worse. Having said that, we weren't exactly doing it that much different from any other 21-year-old, having a good time when they are young, partying every weekend, it's just that for us it was every day with no stability of a home, seeing friends and family, school. It was just mayhem non-stop for about two, three years
Al: Any regrets? I think alcohol, many times. We get to play at the venues, you know, it is what it is, but for me – I am just starting to learn it, how to go about it
They remain optimistic about what is coming. Although without specific long-term plans, the band emphasize that releasing a greatest hits album does not signal the end of the band.
Luke: I think it's been quite cool to do a tour where you're not pushing a new album because everyone knows what we're gonna be doing. But yeah, the next step is basically to finish the new album… It's not like the fourth album, it's got a little bit of each of the four albums. I think it really goes against the grain because it's a band record. It has a programme, it's definitely a brit pop album – although it is produced by an American"
Hugh: I really enjoy the American production style, like 'let's double-track everything', I love it, it's like ABBA, it's like a heavy ABBA. Yes, I mean if you boil down some of your [Luke's] songs and some ABBA's songs, they share a lot of the same DNA
Al: Yeah, they're friends. They're cousins
Luke: Cousins, yeah. Heavy ABBA, I love that
The concert later that night certainly did not disappoint. Spanning their whole career up to now (the set started with 'Sofa Song', the first song that brought Pritchard and Harris together back in 2002), the performance both brought back memories and surprised with remakes of old hits. If anything, it left an appetite for more – only two of the songs played were younger than three years and hopefully we won't have to wait another three to hear more new material. Until then, the new album is premiering in just a couple of days and is sure to bring back nostalgia and satisfy your Kooks craving (at least for the time being).