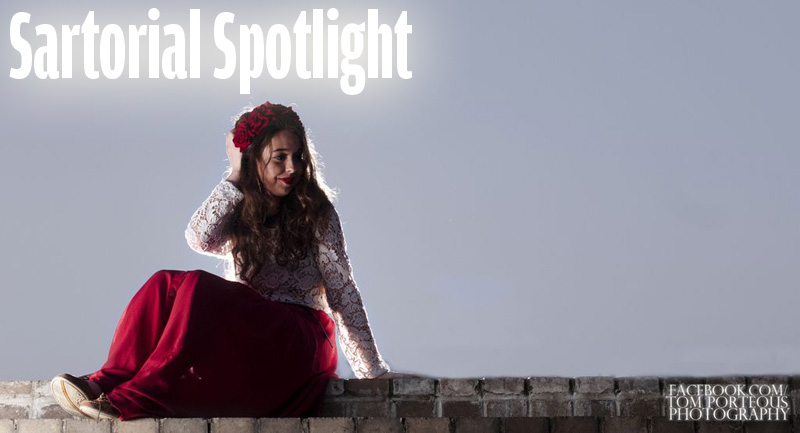 Sartorial Spotlight
TILLY BENNETT-JONES, RACHEL WOMERSLEY and DOLF BEKINK take a peek into what goes into the everyday style of some of Cambridge's best dressed, with help from photographer TOM PORTEOUS.
Cambridge
fashion
sartorial
tom porteous
As Lent Term draws to an end, we help you re-invigorate your wardrobe by drawing inspiration from these Cambridge fashion beacons.  
Dylan, Historian at Peterhouse
When I wake up in the morning, I tend to go for comfort, but right now I'm loving the 90s! Especially mixing crop tops with kilts.
My style in three concepts: Edwardian governess, secretary, and 90s girl band member. Mix them all together and you'll get pretty close…
My guilty article of clothing would have to be my purple velvet leggings – when I wear them with velvet converse I cross the line into overkill, but I just can't help myself!
Barney, NatSci at Caius
I'm definitely a classical dresser; when it comes to suits, I'll opt for herringbone and tweed. It's all about the fit; ill-fitting suits are my fashion pet peeve.
Classical though I may be, I have been known to show a proclivity towards leopard print chinos…they bring out the animal in me.
Favourite, PPS at Robinson
I like to exhibit colour, whether I'm playing with traditional or contemporary themes. Anyone can wear any colour as long as it's the correct shade and texture. My style is about being consistent and comfortable. In being comfortable I am confident.
When it comes to tailoring, I think that Oswald Boateng and Adrien Sauvage show an appreciation of colour that makes traditional themes fit in a new way. Boateng has changed the way tailors approach certain garments, and has helped people understand and wear garments in a way that is different; handmade doesn't need to mean heritage.
Worst fashion faux pas? In my youth I might have worn a pair of sunglasses inside a night club…
Joy, Art Historian at Magdalene
When I get out of my bed and open my wardrobe, I love rooting around and finding new clothing combinations, particularly from old clothes that haven't been worn for ages. Finding a forgotten gem at the back of your wardrobe can give you the same rush that buying new clothes can!
Recently, I've been trying to buy investment pieces – ones which in 5 years time I'll still want to wear – but obviously it's hard not to get tempted by seasonal, fast-fashion trends. I love combining high-street clothes with carefully chosen pieces rummaged from charity shops.
Meg, Lawyer at Caius
Most of my clothes fall into the 'long and baggy' category. I always try to buy stuff that I really like, as opposed to what's in all the fashion magazines and on the high street.
When I started at Cambridge, I was apprehensive about wearing clothes that I wouldn't normally wear at home without fake tan – FakeBake doesn't really seem to be to the done thing here!
Joey, PPS at Wolfson
I'm quite self-conscious about how small a certain feature of my anatomy is, so the extent of the brightness of my outfit depends on this, on any given day. As you can tell from the photos, there aren't many days when said part of my body brings me enough pride, as most of my clothes are quite bright….
I've just been told that apparently pink and green should never be seen. If that's the case then I may have just discovered my worst fashion faux pas, and it's also a fortnightly occurrence!
Photography by Tom Porteous