Fitz Robbers Plead Guilty
The thieves behind the Fitzwilliam robbery have pleaded guilty at Cambridge Crown Court
break
Cambridge
carvings
CCTV
chinese
court
crown
Fitz
fitzwilliam
guilty
in
jade
museum
plead
prison
robbers
robbery
salek
sebastian
Theft
Three men and a teenage boy have admitted their involvement in the burglary of ancient Chinese jade carvings from the Fitzwilliam Museum earlier in the year.
Martin Simos, 15, from London, appeared at Cambridge Crown Court last week jointly charged with Patrick Kiely, 29, Steven Coughlan, 25, both from London, and Robert Smith, 24, from Kent.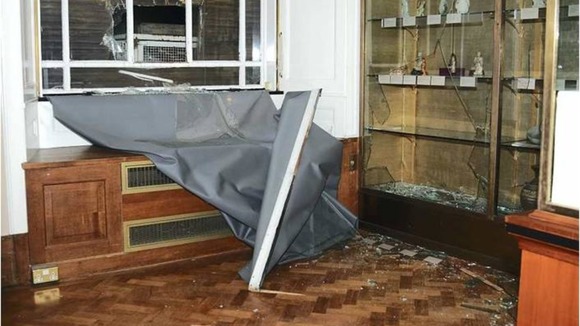 The aftermath of the crime
Kiely, Coughlan and Smith pleaded guilty to conspiracy to burgle the museum after they were caught on CCTV inspecting the casing the day before the raid. Simos pleaded not guilty to conspiracy to burgle, which was accepted by the Crown.
All four have been remanded in police custody and will be sentenced on September 28 at Cambridge Crown Court.
The scene of the break in
The haul of 18 artefacts, which included Qing, Qianlong and Ming artworks and is estimated to be worth up to £18m, have not been recovered. Art experts say the artefacts were probably stolen "to order" and are unlikely to ever be recovered.
Guy Schooling, managing director of Sworders Fine Art Auctioneers in Stansted Mountfitchet, thinks they are likely to be in China – bought by buyers determined to see their heritage repatriated.
Image credits: Cambridgeshire Constabulary