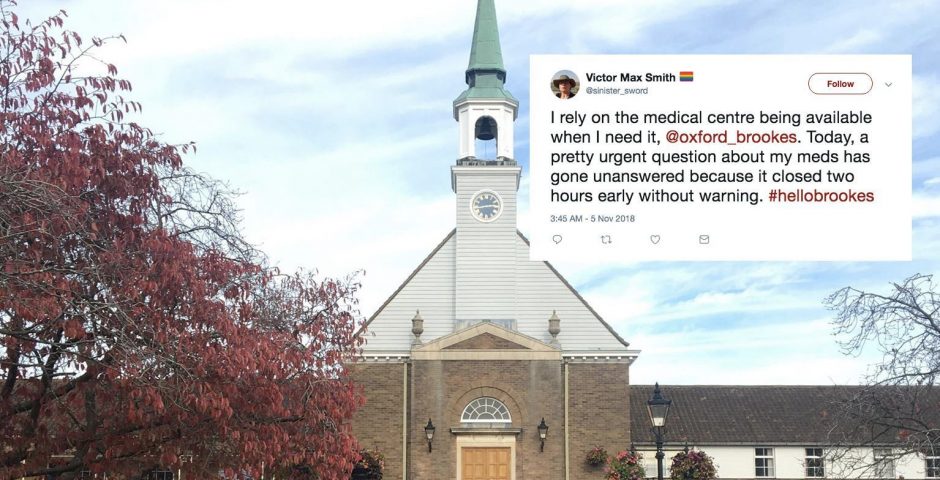 A third year was denied 'urgent' medical assistance from campus medical centre because they closed early
The centre closed two hours early
A third year Anthropology student Victor Smith was denied assistance from the campus drop-in medical centre after it closed two-hours early without warning.
The centre was due to remain open until 12pm, but since there was no nurse on duty for that time slot, the centre was forced to close early.
Victor told The Brookes Tab that upon arriving at the medical centre at 10am he was told they were closed and had no spaces left, despite it being advertised as a "sit and wait" drop-in service available until 12 pm.
He described the people at the desk as "not rude, just not really interested". They reportedly refused to engage further and provided no alternative sources of assistance such as helplines or other NHS walk-in centres in the city.
Staff at the medical centre told The Brookes Tab that the instance of turning a student away was "not normal". When asked why no alternatives were presented they said: "We normally offer an appointment in the afternoon but today there is no nurse working".
Thankfully Victor's situation was not life-threatening, but it seems this is not an isolated incident. Since Victor's tweet, a number of others who use the Brookes medical centre have shared their similarly poor experiences.
One student said: "I've been trying for over a week to get my prescription refilled and still haven't been able to; it's a nightmare".
Another student told us that the Brookes Medical Centre had sent her prescription to the wrong place, which meant going without medication until it arrived a week later. Then, after booking an appointment, she spent an hour in the waiting room before being told she had been "put down for the wrong doctor so had to reschedule".
Do you have experience of dealing with the medical centre? Email [email protected] with any info.