Y2K, pop up stores and brand campaigns: These are the biggest Bristol Uni Depop shops
One student has nearly 50k followers and has launched her own website
Bristol is home of arguably the most fashionable students in the country, so it shouldn't be a surprise that some of the biggest upcoming online sellers on Depop go to our very own uni.
The Bristol Tab had the chance to chat with some of them and got the rundown on what it's like to balance a degree with a flourishing business.
If you're looking for the best places to get your wavy garms just in time for Christmas, then this is the perfect place to start. Maybe the next time you're sat in Will's Memorial panicking over an unfinished essay, you'll be wearing one of their sustainably sourced vintage Ralph Lauren jumpers that you can use to wipe away the tears.
Bella Carter, GIGI Clothingg: 23k Depop Followers. "#y2k, Cool, Funky"
Bella studies Management and French, and is in second year.
Can you tell us a bit about your store and what you sell?
I do my Depop store with my best friend Emilia, who goes to Royal Holloway. We do an inclusive range of sizing. You can reach a much bigger audience if you can provide more range.
We sell second-hand clothing because we really believe in helping slow fashion become more accessible and more popular.
When did you start Gigi?
I started in Year 12 of school. I did it on my own for about three years. Then at the beginning of lockdown, my best friend also started Depop and we had really similar ideas. Eventually, I just bit the bullet and asked for us to work together since we could do so much on a bigger scale, proper business style.
When was the turning point where you started to gain a large following?
I noticed a lot more during summer. We really went up at the end of lockdown. We started using social media a lot more which got us some amazing opportunities. We started doing ASOS Marketplace – they got to us through Instagram. We also recently did a pop-up shop just off Oxford Street, which was amazing.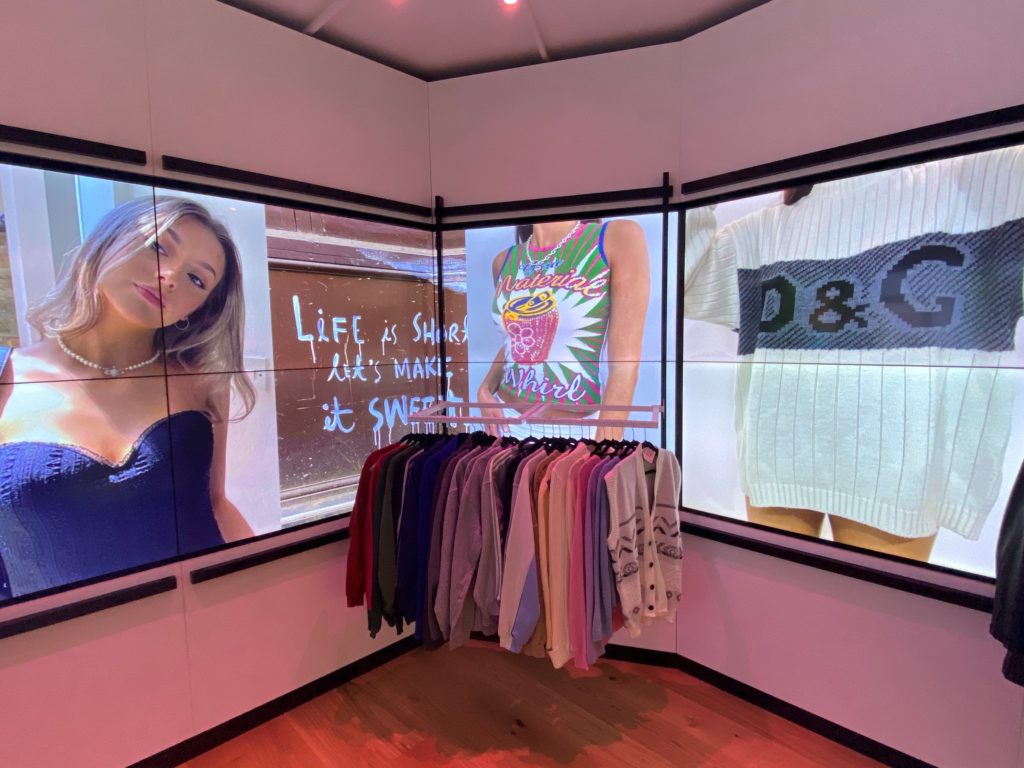 What would you say has been your biggest achievement?
It would have to be the pop-up store. It was so amazing to showcase all of our creativity. We managed to speak to so many customers, made TikToks, had stickers and bags… It was just so much fun!
How do you manage your degree and your business?
It definitely comes down to scheduling my time. I take my pictures all in one go. I have to be so organised. I find that if I'm not then I'll fall behind really quickly.
What are the next steps for Gigi?
The biggest one is making our own website, and growing our social media platforms! Hopefully with our own website we can gradually come off the Depop platform and earn more independently.
Finn Thomas, Fazed: 15k Depop Followers. "Bold, 90s, Bristol"
Finn studies Economics.
When did you start your shop?
At the start of July, last summer.
How do you manage with your degree?
Fortunately, most of the work I put into Depop is online, which gives me a tonne of flexibility as to when I want to focus on my shop. While it is a 24/7 job, replying to messages and sourcing new stock, the physical day to day commitments aren't too taxing. It normally takes me around an hour a day to package up and send out my daily orders. Every few weeks I'll commit a day to photograph and list my new items, which helps cut down the daily workload.
At what point did you start to gain more followers?
I was super lucky in the fact that my shop gained quite a bit of traction from the get-go, which is what got me hooked. I started by selling festival themed items, think bucket hats, bum bags and boonies, which at the time sold really well, and I started to gain a following from then on. Since then my shop has changed a lot. I now focus more on vintage and archive streetwear, alongside more affordable pieces.
Strangely, since lockdown began, my shop has grown faster than it ever has before. The month of August specifically was the best month of sales I'd had since starting. I guess that's retail therapy for you.
What advice would you give to those wanting to start up their own Depop shop?
My biggest piece of advice would be to focus on your photography. Well photographed items with clean backdrops is what draws buyers in. Style the item, if you can, and include a photo of how the item fits. Buyers are far more likely to be interested if they can imagine themselves wearing it. Other than that, start small. Work out what sells well and what doesn't, and from there you can start to build your niche.
3. Vivien Tang, Shop Vivien: 43k Depop Followers. "2000s Fashion Finds" 
Vivien is a first year, and studies Economics and Management.
How did Shop Vivien start?
I started it about four years ago and I sell vintage clothing. Specifically around 2000 style. I began by just selling my own clothes and vintage stuff.
Why do you think Shop Vivien has become so popular?
I think because I know what people want nowadays, and it's all within the same kind of niche. I also recently made my own clothing brand so I think that helped a lot with getting exposure. My brand is called VIVI WEI, and I launched it back in April during lockdown. Depop itself also helped a lot as they posted some of my stuff on Instagram.
So what was your main motivation to start your store, and even your brand?
When I properly started doing it, I got invited by Depop to an event at their HQ. I spent a day there listening to people who became really successful from it and that made me want to turn my hobby into my job.
How do you manage your degree with your business? Surely it's quite difficult?
It is actually very difficult. I underestimated how time-consuming everything is. But I'm looking to hire an assistant after lockdown. Another uni student or something like that.
What's been your biggest achievement during your Depop journey?
Achieving my top-seller status. Becoming verified was huge for me. I really looked up to those who were and knew I wanted to achieve it myself.
Next steps for Shop Vivien and VIVI WEI?
I would love to bring out many more designs and make sustainable fashion a lot more accessible to people.
Megan Matthews, MeganHMakes : 14.7k Insta Followers, 5k Depop Followers. "Bright, Sustainable, Inclusive"
Megan is a Masters student at UoB, studying music.
When and why did you start MeganHMakes?
I started my business about a year and a half ago. Well, I crotched anyway for like 10 years since my mum taught me, and friends would ask to buy things so I wanted to see how it would go.
When was the turning point where your following began to rocket?
I had about three thousand followers for a while, but then at the beginning of lockdown, it got to over 11k. During that time, Depop featured my "ohsweetie" collection and I appeared in Simply Crochet which is a huge magazine.
That's incredible growth. What has been your biggest achievement?
I've had my work put up in three shops which feels great. However, I'd say working with Koifootwear for their brand campaign. They sent me a brief and wanted me to make something specifically for them which was so cool!
What are your next steps?
I just want to keep expanding. I have my music degree, and play flute, so it's all a juggling act. I've actually been working on a new collection, and some of these pieces will be available in The Wild Thing and Co pop-up store in Stokes Croft in a few weeks. Apart from that, I've sold internationally so want to do more of that as well.
Olivia Menges and Freya Desoutter, O.F. Picks: 36k Depop Followers. "Unique, Recycled, Affordable"
Olivia and Freya are both third year students. Olivia studies Economics, while Freya studies Anthropology.
So tell me all about O.F. Picks
We started it in 2018 so it was a really slow progression. When we came to uni, we put quite a lot of time into it. When we were in halls we took photos to get it going. Over lockdown sales spiked really, really high and so we realised it was time to put everything into it.
We were students and didn't really have money, and we're quite into our clothes anyway. That was our main motivation to start. We do intend on continuing after we graduate. We just wanted to do something that wasn't your bar job, really.
How do you find managing a store as popular as O.F. Picks with your degrees?
To be honest it's quite difficult at the moment. Obviously in second year it was fine, as we didn't do as much. But since we live together it's easy to alternate the jobs, so it's not too bad.
But things like taking photos and going to our warehouse we really enjoy, which makes it a lot easier to do it. When it comes to uni, we try to do little bits every day rather than doing big chunks.
How big of an impact did lockdown have on your business?
I think we jumped 10k during lockdown. Before, we didn't really put much time into it but obviously it was all we did most days. Sales also spiked because people's lives weren't as busy.
Would you say social media helped to boost O.F. Picks?
Not really yet, but that's because we don't put as much time into Instagram. When we do use it, I think it's a nice way of people seeing O.F. Picks behind the scenes and that's what we really wanted to use it for. We get a way better response when people see what we do, and who we are.
What has been your biggest achievement?
I think become verified. I've always looked at verified sellers and thought – imagine. We would always joke that it would just never happen.
What are we gonna see next from O.F. Picks?
We're hoping to ethically design our own clothes after uni. We're really interested in going down the sustainable route. It would increase our target market as well. We're not actually given much advice on how to become more sustainable so we're looking to get into it now, for example with packaging. Also expanding the way we source our clothes.
Featured image: Ash Nágev, @ashsudraphotography
Related stories recommended by this writer:
• 'We want to push boundaries': We spoke to FUZE on planning a fashion show mid pandemic
• Meet the new team bringing FUZE fashion show back this year
• Seven things I have learnt from dating under the 10pm curfew