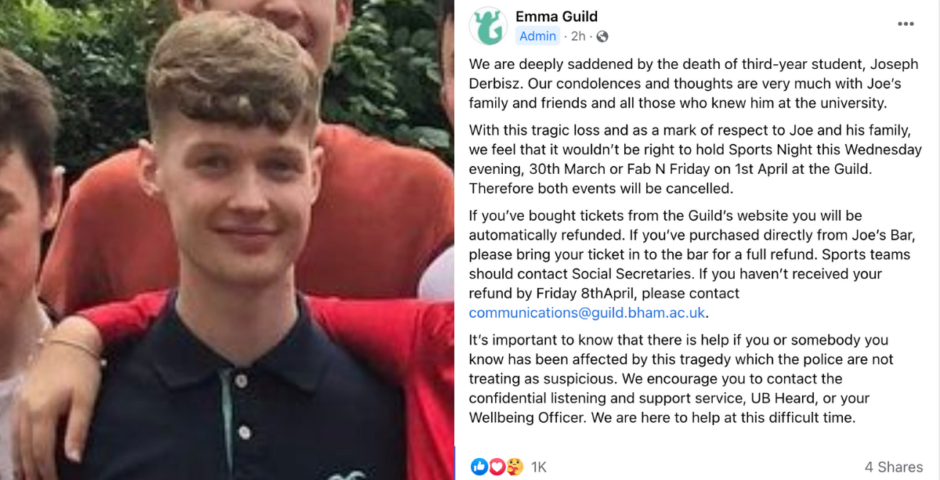 'As a mark of respect, we feel it wouldn't be right': UoB Guild's club nights cancelled
Birmingham's Guild of Students said it is 'deeply saddened' by the death of third-year student, Joseph Derbisz
The Guild of Students at the University of Birmingham has cancelled Sports Night and Fab 'N' Fresh.
It comes after a body was found in the search for Joseph Derbisz, after he went missing following a night at Fab 'N' Fresh last Saturday 26 March.
Sports Night, due to be held on Wednesday 30 March and Fab 'N' Fresh, planned for Friday 1 April have been cancelled.
Facebook user Emma Guild, a spokesperson for the Guild of Student wrote on Facebook's Fab 'N' Fresh: "We are deeply saddened by the death of third-year student, Joseph Derbisz.
"Our condolences and thoughts are very much with Joe's family and friends and all those who knew him at the university," she wrote.
"With this tragic loss and as a mark of respect to Joe and his family, we feel that it wouldn't be right to hold Sports Night this Wednesday evening, 30th March or Fab N Friday on 1st April at the Guild. Therefore both events will be cancelled."
The cancellation comes in response to the death of Joseph Derbisz, a third-year student who passed away after a night at Fab 'N' Fresh.
Although formal identification of Joe's body is yet to take place, his family and friends have been informed. West Midlands police have confirmed that they are not treating his death as suspicious.
Responding to the tragedy, The University of Birmingham said: "We are absolutely devastated to learn about the death of Joe. Our thoughts are with Joe's family and friends at this very difficult time. We are doing everything we can to support Joe's friends and family, as well as the wider student and staff community.
"We continue to work with the police as they conduct their enquiries and are unable to comment further at this stage. You will see an increased police presence in the area and at the University this afternoon; please feel free to speak with them," they wrote in a statement.
Tickets to Sports Night and Fab 'N' Fresh bought on the Guild website will be automatically refunded, and tickets purchased at Joe's Bar will be refunded at the same location.
"It's important to know that there is help if you or somebody you know has been affected by this tragedy which the police are not treating as suspicious," the Guild representative wrote on Facebook.
"We encourage you to contact the confidential listening and support service, UB Heard, or your Wellbeing Officer. We are here to help at this difficult time."
Nobody should suffer alone. Support is available to all students affected by this news and we encourage those affected by Joe's death to contact University wellbeing services for help.
The Samaritans helpline can be found at 116 123. For support or advice contact UBHeard on 0800 368 5819 or Guild Advice.
Related articles recommended by this writer:
• A body has been found in the search for missing student Joe Derbisz
• A University of Birmingham student has been reported missing
• The UoB Climate Justice Movement hosted their very own Divest Fest