We live in the worst designed student house in Selly
It's an obstacle course and the entire floor is uneven
Student homes aren't known for being luxurious. Usually we just cram into old terrace houses with an extra bedroom and the decor isn't very well thought out.
When we moved into our second year house, we discovered a hidden gem. We live in the worst designed house in Selly. Possibly the worst in the whole country.
It's a four bedroom, one bathroom palace – which comes with a wonky floor, terrifyingly steep stairs and a kitchen that becomes an obstacle course when the fridge door is open.
Here's a tour of our home, the creme de la creme of Selly accommodation.
Leaving the bathroom is an obstacle course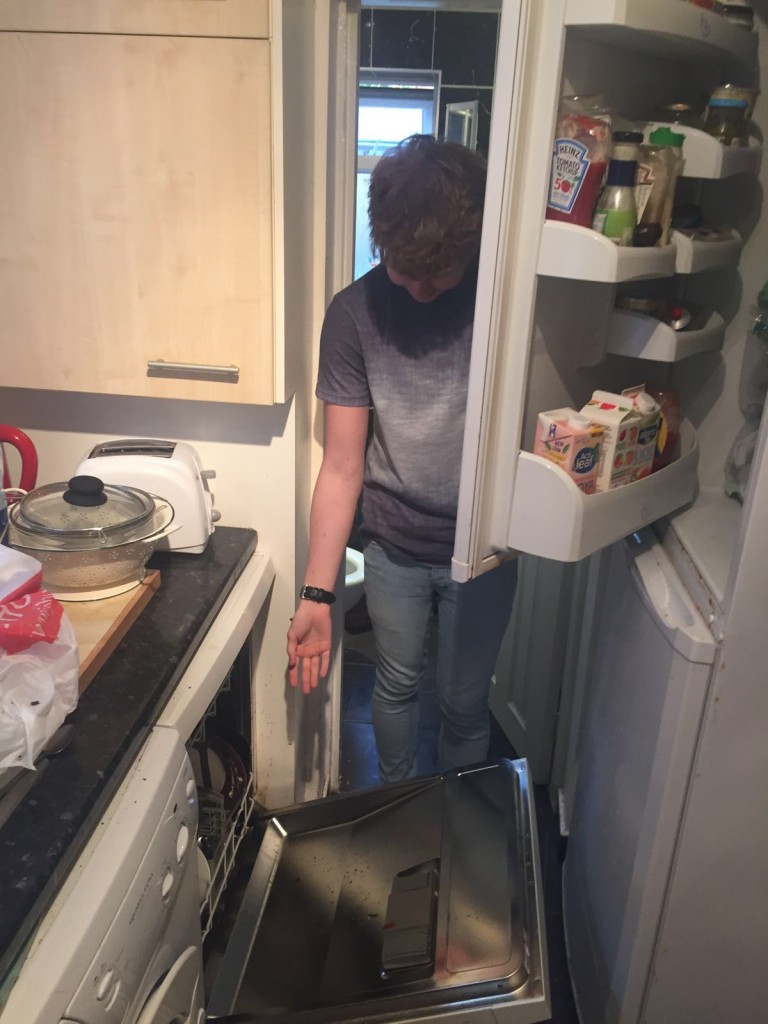 The brill design of our house kicks off with the fact that our kitchen leads to our only bathroom by one door.
Some time after the ancient house was built, it became illegal to have a toilet separating food preparation areas by less than two doors. But we have the kitchen leading right into the toilet. Never mind.
Yes, we can hear each other in the toilet while we're cooking.
If that wasn't enough, we have to slalom of out there in a weird limbo fashion in order to escape, as can be seen below. Whoever designed the bathroom and appliance layout definitely had a first in interior design.
Our sofa has a perfect butt-hole shape
No, we didn't cause this. It was here before we got here.
It's impossible to sit on either cushion without sliding slowly into the deep caress of our lovingly – named Dippy Sofa. But once you do, your butt will never feel so comfy and warm.
The stairs are extremely steep
Our stairs are possibly the steepest stairs in entire existence. It's hard enough not to slip over when you're sober, let alone drunk. It involves a lot of clinging to the bannister and trying not to look down.
Our neighbours are a right laugh
Possibly the highlight of our palace are the friendly Brummie locals. We're not really 100 per cent sure what our neighbours do all day except smoke weed and chuck their hoovers into our garden from their window (this has happened twice) and get tasered in the street. But they sure do a good job of providing us with weekly entertainment.
The floor is noticeably uneven

The floor is so wonky that all furniture needs to be propped up by some very sturdy and not at all flimsy looking cardboard in order to prevent it from falling on top of you and killing you.
If you were to put a skateboard or a ball down on the floor, it would roll over to the wall. Perfect if you like to live life on the edge.
If that wasn't enough, the contemporary art comes free
The garden doubles up as our very own Saachi gallery of Selly, with the most esteemed pieces including a naked bowling pin, giant flower and a meat cleaver (disturbing).
Much to our surprise, this classic house has yet be let out next year, which is highly disappointing as we could be the last group of students to experience the wacky quirks of this grand palazzo.
Never before will a house make you appreciate even flooring, not being able to hear your housemates poo as you make a sandwich or being able to leave the bathroom without limbo-ing under the fridge door. House hunters – this is an opportunity you can't afford to miss.
——————
Is your house worse than this? Email [email protected]