'They carried the show': Ex-Islanders react to the Love Island 2022 final
Everyone is so happy for Ekin-Su and Davide I could cry
Last night's final saw the nation's favourite couple, Ekin-Su and Davide, be crowned the champions of Love Island 2022. Emotions were high, everyone had their eyes glued on the TV and Twitter, not-so patiently waiting for the adverts to be over to see the new winners. One group of people who did not hold back their opinion on the final were former Love Islanders from past and present seasons sharing their thoughts throughout the show.
Ex-Islanders had been showing their support for the Ekin-Su and Davide for the longest time and when it came between the final two couples, Twitter became one of the most dramatic places on earth. Not as though that's anything we didn't know already. From Amber Gill who has been live tweeting every episode this season to Ikenna Ewonna who no one is too sure who has been tweeting from his account, here are all the Ex-Islanders reactions to the Love Island 2022 final:
Amber Gill
Love Island season five winner Amber Gill has had a lot to say about the Islanders this past season and she did not hold back during the final. Many viewers and ex-Islanders alike began calling the show a fix after Tasha and Andrew placed fourth and Indiyah and Dami came third.
However, when the rightful winners were crowned, Amber celebrated with a tweet and said: "Mom and Dad". They really are the nation's parents.
Chloe Burrows
Chloe is another former Islander who has been watching as avidly as a fan and has live tweeted through almost every single episode for the past two months. After Ekin-Su and Davide were crowned the champions of Love Island 2022, Chloe said: "The way me and Toby just screamed. Very well deserved Ekin and Davide!!"
Liberty Poole
During the live final, Ekin-Su's account handler went live on her Instagram. Season seven Islander Liberty Poole joined and shared her support. She shared a sweet message and commented: "Rooting for her!"
Danica Taylor
Our favourite HR manager Danica was one of the ex-Islanders to react to the Love Island 2022 final and she shared her support for other finalists. When Dami and Indiyah came third place, she said: "So happy for Indiyah and Dami! Love love love them".
Danica tweeted to her followers she wanted Ekin-Su and Davide to win and shared her support for the Italian stallion and Turkish delight as the results came closer.
We love a supportive friend x
Amber Davies
Season four winner Amber Davies said: "On behalf of the UK… we love you", showing her support for the newly crowned winners of Love Island 2022.
Ikenna Ewonna
Although his time was short and sweet on the show, Ikenna was pleased for Ekin-Su and Davide as they were crowned winners of Love Island 2022. When asked by Will Njobvu what he thought about them winning, Ikenna said: "They're goated. They deserve to win."
Amber Beckford
The Islander we never thought would leave so soon shared her opinion on the new winners. She said: "I mean let's be real they did carry the show. For sure." Amber offered her congratulations to Ekin-Su and Davide on her Instagram story.
Afia Tonkmor
Afia walked in with Ekin-Su as a bombshell and the two were really close in the villa. When asked what she thought about the win, she said: "Deserved winner."
Remi Lambert
Remi, known for his rapping and dancing skills, he thought there should've been a different winner instead of Ekin-Su and Davide. He said: "I really wanted Dami and Indiyah to win but Ekin-Su and Davide, that's cool." On his Instagram story, Remi shared a few trohpy emojis and said: "Wooosh", we can only assume it's a congratulations.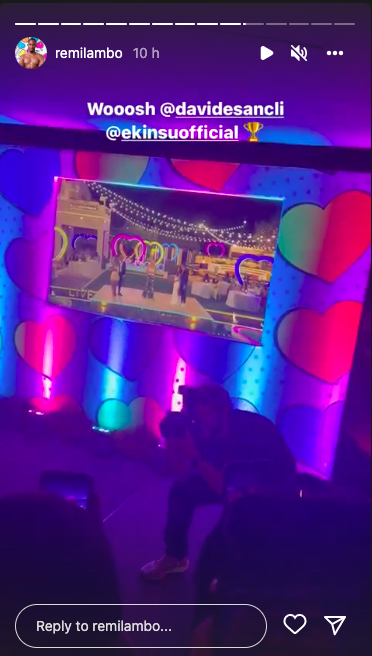 Casa Amor boys
Samuel Agbiji, Deji Adeniyi and Jack Keating were amongst ex-Islanders to react to the Love Island 2022 final. Speaking with Will, Samuel said: "Deserved! They deserved that shit." Jack, who barely got a moment of airtime said: "I just think two icons living in the villa right now. They deserved it. 100 per cent." Our meme king Deji was pleased with the result, calling it "inevitable". He said: "It was inevitable baby. But Dami and Indiyah third? I don't know."
Jay Younger
There has been no better unlikely bromance other than Ekin's boys. Jay was unlucky in love but came out with a best friend and his support for Davide is just so wholesome. In a tweet, he said: "My boy, I'm so proud!"
Shaughna Phillips
One of the most iconic Islanders to come out of the winter series is Shaughna. She attended a viewing party of the final and when Ekin-Su and Davide were crowned winners, she posted an Instagram story captioned: "Yes!!!!!"
Love Island 2022 is available on demand on the ITVHub. For all the latest Love Island news and gossip and for the best memes and quizzes, like The Holy Church of Love Island on Facebook. 
Related stories recommended by this writer:
• We have a new King and Queen! Enjoy 37 memes from the Love Island final in their honour
• The wait is over: The definitive ranking of every Islander from Love Island 2022
• These are the most intense Love Island 2022 TANformations
Featured image credits via Instagram @amb_d, @amberrosegill and @chloeburrows.