I wore an outfit from the Lidl middle aisle on a night out
Lidl dungarees are a bit amazing
The middle aisle of Lidl – the one place where you can find everything from air fryers to back massagers, all at insanely low prices. Apparently, it's also a place you can find clothes.
You've probably never noticed the clothing items in the middle aisle, or if you have, you've probably never had any desire to try them out. Not being one to rule out a possible fashion triumph, I did, so I decided to build an outfit entirely made from clothing I found in the middle aisle of Lidl and wear it on a Saturday night out in Newcastle.
What could possibly go wrong, except for me looking totally ridiculous and losing all fashion credibility forever?
Building my outfit
Now, I won't lie – building a suitable outfit from the middle aisle was hard. It took a good few trips over the course of two months before I managed to get enough items together that I reckoned could make a decent outfit.
Usually, I dress very pink and very weird – I like loud clashing patterns and bright colours. On a night out, I'd usually go for some sort of casual dress or a skirt and top combo. However, I couldn't afford to be picky in the middle aisle, and had to take what I could get.
One thing I did notice about the middle aisle's top choices was a lot of sage green – Lidl must have gotten the 2020 trend memo two years late. The sage green items were in fact some of the most fashionable, however, so I grabbed an XL knitted pullover that I fancied I could make look oversized and cool.
I also picked up a black bralette because I figured I'd need some support and thought it might even have been cute to wear alone if I got too warm. The only downside to this was that it was ribbed, and I really hate ribbed clothing.
There's a lot of men's work clothes in the middle aisle, the kind that I imagine are for painting and decorating or DIY. It was here that I found the bottom half of my outfit, titled "work dungarees". I'm a huge dungaree fan, and despite the fact that I wouldn't usually wear them on a night out, by this point I already had the rest of my outfit and was feeling pretty desperate. There were no skirts at all, and very few trouser options that weren't thermal ski leggings, so the dungas would have to do.
To accessorise, I picked up some black butterfly hair clips that I decided I could weave into some sort of trendy Y2k hairstyle.
I thought about grabbing shoes too, but the choices were limited to steel toe work boots, rubber gardening clogs or trainers for 12-18 month olds, so in the end I decided to just wear my own.
In the end, I wasn't quite sure how I was going to weave all of these items into a singular outfit, but I was up for the challenge and raring to go. All that was left was to rally my mates for a big night out.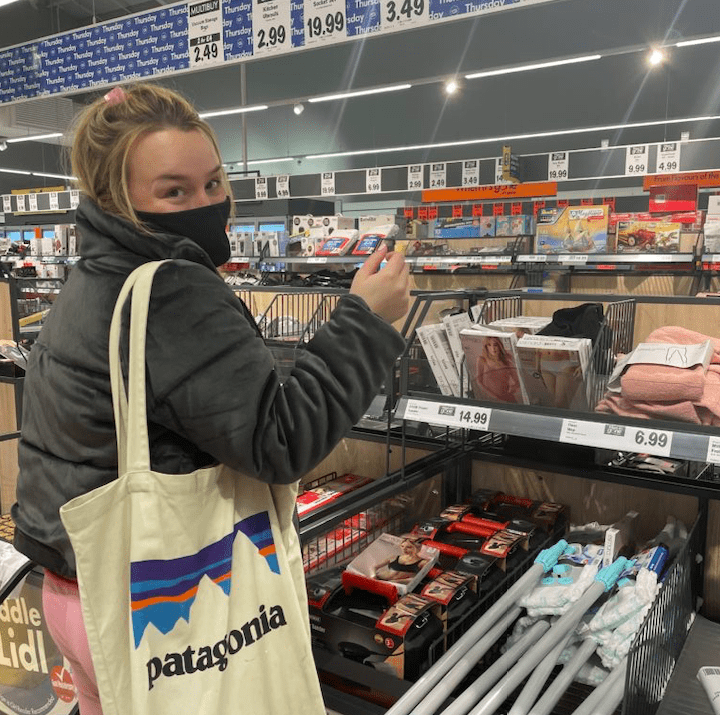 Styling the outfit
Styling the outfit was the thing I was the most worried about, as I wasn't really sure how all of the items would go together.
I decided to wear the jumper over the top of the dungarees, with the black bralette underneath for important support, to create the effect that the dungarees were in fact cargo pants. As a result, I ended up looking a bit like a side character in a zombie apocalypse video game – the jumper was a bit baggy and weirdly thin, and I don't think the sage green was really the fashion moment I'd envisioned.
I paired the fit with my platform Docs and some silver jewellery and kept the makeup simple, with a wing liner and glossy lip. The hair clips came in very handy – I managed to use them to twist the two front pieces of my hair back, in a style inspired by Cassie in the first episode of Euphoria season two.
The final look wasn't exactly Saturday night out in Newcastle worthy, but it would have to do – it was time to hit the club.
The night out
I like to wine and dine my outfits before I subject them to criticism from the general public, so I started the night with an Italian meal before heading into town and getting very drunk.
As the night wore on, I ended up taking off the jumper and tying it round my waist – this improved the outfit SO MUCH. The dungarees with the bralette underneath was a great look with the Docs and I felt, dare I say it, sexy. They were the total shining star of the outfit, and for £9.99, you can't go wrong. They're also super comfy, and I felt really relaxed all night, allowing plenty of room for dancing.
After a few drinks, I worked up the courage to ask strangers what they thought of my outfit. I received glowing reviews, especially when I revealed it was actually all from Lidl's middle aisle. Everyone I asked said they would never have guessed, and that the outfit looked fashionable and like something they would consider wearing. I didn't manage to pull, but considering my general level of success in that department, I don't think I can really blame the outfit.
If you take one thing away from this article, it's not to overlook the clothes in the middle aisle of Lidl. Although they might not look like much, they have some great basics which can totally be styled into a fashionable outfit. Oh, and the dungarees are a total need and will deffo be becoming a staple item of my wardrobe.
Related stories recommended by this writer:
•Take this quiz and find out if you're more ALDI or Lidl
•I switched to ALDI toiletries for a month and my life will never be the same again
•Quiz: Only a real expert can tell if this classic rip-off comes from Aldi or Lidl