I watched the new Tracy Beaker series and here's everything that happened
Cam is gay and if I'm honest that's the only good bit
My Mum Tracy Beaker was CBBC's most hotly anticipated new series – and yes, those are six words I didn't think I'd ever say in a row. I honestly think the new series was made more for people in their 20s who are pining after the good old Tracy Beaker days, than it was for, you know, actual children. It's racked up over 2.1 million streams on iPlayer and is apparently CBBC's "most successful show ever". But the thing is, it actually sucked. Sorry, I said it: It did.
Across three half-hour long episodes we see Tracy Beaker all grown up, living with her daughter Jess. There are a couple of highlights (Cam's wedding being the main one), but honestly My Mum Tracy Beaker was just one big fat pile of disappointment. The original TB series was so good and genuinely shaped my childhood, so it would have been difficult for this new one to live up to expectations – and I'm sorry to say that it very much didn't.
Here's everything we learnt from watching the new My Mum Tracy Beaker series – both the good and the very, very bad:
Tracy ignores roughly seven million red flags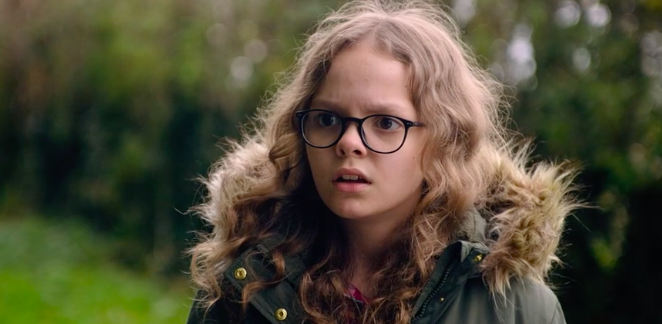 So the main plot of the series is Tracy meeting Sean Godfrey (a famous footballer), dating him, quickly moving in with him and eventually planning a wedding.
But Tracy is seemingly blinded by his fame and fortune, because she ignores endless red flags. Sean Godfrey drops pretty much a red flag a minute, and is literally never called out for it. He shouts at her daughter and their pet dog, but then gives Tracy a pink car and love bombs her (like, he says he loves her and then proposes, and they've known each other for exactly 25 minutes), and somehow she just forgives it all?
He also guilt-trips Tracy, cheats on her, and makes her daughter lie to her. All around bad, bad vibes.
Tracy and Jess call themselves 'the Beaker girls'
This is a real line from the first episode: "No one gets to tell the Beaker girls what to do". Vom.
They also sing Barbie Girl, but change the lyrics to "I'm a Beaker girl, in a Beaker world". No, goodbye, I'm logging off for the rest of time.
The best moment of the series is when Tracy boots Justine Littlewood in the back
Okay so you know when I said Tracy's fiancee cheats on her? It's with Justine Littlewood. I texted my mate in excitement when Justine appeared and seemingly immediately became besties with Tracy, but had to take it back about 15 minutes later when Justine started kissing Sean.
Then she rocks up to the cafe where Tracy works, they have a fight and Tracy just straight up kicks her in the back. Queen behaviour.
Cam is gay!!
Okay I take back what I said about Tracy having a fight with Justine, this is the actual best part of the series. Cam is gay! She likes women!!! An icon <3
In the third episode, Cam gets married to a woman, and I sobbed. Like, with actual snot, and if I'd been wearing mascara it would have been smeared all over my face. Imagine seeing this on TV when you were a kid! Incredible scenes.
I only wish Cam's sexuality had been a part of the original Tracy Beaker series back in the day, because that would have helped so many people.
Dani Harmer has said that "at the age of 12 and filming that first series I knew [Cam] was a lesbian".
The acting is actually horrible
Yes this is a children's TV show so I'm not expecting Oscar-worthy performances, but the acting is so bad it's actually distracting. I hate to break it to you, but Dani Harmer's performance skills really haven't moved on since she was playing Tracy age 12.
Tracy's mum is the mum from Bridgerton!
Ruth Gemmell plays Tracy's mum, called Granny Carly by Jess in the series – and if you couldn't place where you recognise her from, she also plays Daphne's mum in Bridgerton. Wild.
The character's horrible to Tracy and incredibly homophobic to Cam, but then it's okay because Jess vomits on her. Good times.
The characters always use Sean Godfrey's full name
I know this isn't a major issue, but it was honestly all I could think about. Throughout the ENTIRE series, Sean is called "Sean Godfrey". In full. Two words, three syllables, 11 letters. It's just way too much and frankly it's beyond unnecessary.
They're still dragging out the hay fever joke
And I mean, dragging it out. It happened at least four times in three episodes, which is far too much in my opinion. It wasn't really funny the first 5,000 times in the original Tracy Beaker series, and it's definitely not now.
When the series was announced last August, we wrote "Here's everything we know about the Tracy Beaker reboot" and said: "Jess will struggle with hay fever. Okay, this one is obviously a joke but it would be jokes if it's true." Now I'm not saying the show's writers read this, but you have no proof they didn't. Just saying.
Related stories recommended by this writer:
• QUIZ: Find out which Tracy Beaker character you are and then bog off
• I rewatched all of Tracy Beaker start to finish and wtf even was this show?