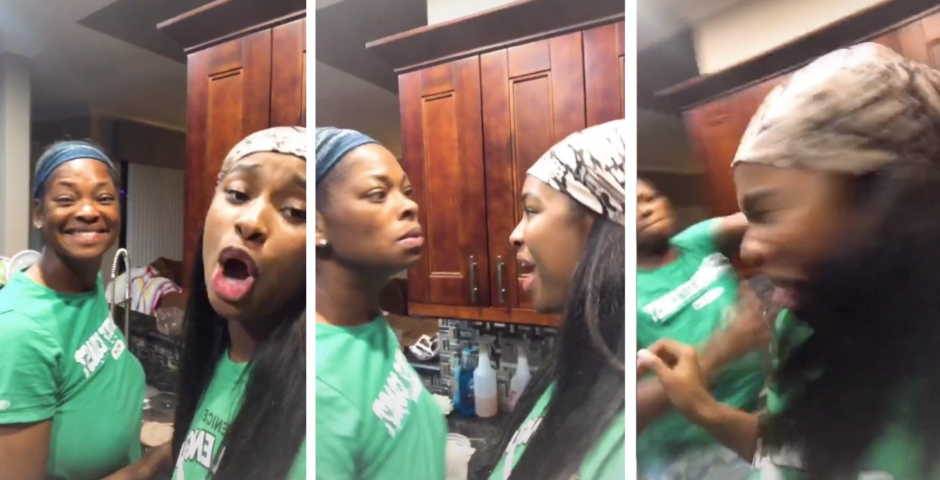 The 'My way or the highway' TikTok trend is the guaranteed way to get a million views
You only need to be good at impressions
If you've just clicked here, you're either absolutely clueless about just how you're going to rake those tasty TikTok views in and will read on intently for the next three minutes, or you are rightly fully aware of the 'my way or the highway' TikTok trend and how mentally viral it is right now. Either way, for those of you that aren't familiar, it goes something like this: teenager starts recording a TikTok in front of their violence-ready parent of choice. They mime the following poetic line to the audio:
"If you call me a bitch, make sure you put baddest in front of it. Whack ass hoe."
Then they receive a big smack to the back of the head as they walk away, having said a big naughty tehe! Yup, scrolling through this audio is basically a compilation of people getting assaulted by their parents. HOWEVER, although this doesn't sound all that good by itself, it's all of the various amazing iterations of this trend that have made it what it is today. We'll get to that at the end, but firstly let's answer the important stuff – what is the my way or the highway TikTok trend? What is the song from the my way or the highway TikTok trend? And how did it morph into the below clip? Ask, and you shall receive, whack ass hoe.
So how did the "my way or the highway" trend actually start out?
As previously mentioned, it's pretty simple. Child says something inflammatory to parent, parent reacts. There's millions of these unoriginal videos, so we'll just show you one and swiftly move on:
Unconvincing, huh. Anyway, in case you didn't realise, the audio is comprised of two parts – the opening bard-esque monologue, and then the song that follows.
The initial spoken word art – "if you call me a bitch, make sure you put baddest in front of it" – is from an Instagram Live rant from rapper Trina, who is famed for being a great rapper (a few of her music videos have millions of views on YouTube) as well as for having dated Lil Wayne and French Montana. Take a look:
This was then, at some point, mixed with a song from the same year, know as "My Way" by Queen Key. It's essentially an ode from Mrs Key all about getting… her own way. A wholeth boppeth nonetheless, have a listen:
You mix two powerful female voices into on TikTok audio, and you get a lot of empowerment, as well as lots of memes. KnowYourMeme writes that the first recorded use of the "my way or the highway" audio comes from user @jerryyy.jones:
Yeah, this is all well and good, but it's the rehashed impression-based versions of this trend that are pulling in the big views on TikTok right now.
How do I get views on my TikTok using the "my way or the highway" trend?
Users have since changed this trend into a final form that far succeeds the original audio, by creating their own versions changing the lyrics of the song. For example, one will now say "if you call me Mouse, make sure you put Mickey in front of it" before walking off doing an impression of Mickey Mouse singing "my way or the highway". Sounds weird but it's great. Take a look at some of the best examples below:
All you need is to be good at impressions. Credit me when you get the views. GO GO GO!
Related stories recommended by this writer:
• Meet the famous kids of TikTok who are dragging their celeb parents into videos
• This TikTok trend where people change themselves into album covers will make you famous
• Strawberry milk is the newest TikTok trend, here's how to make it