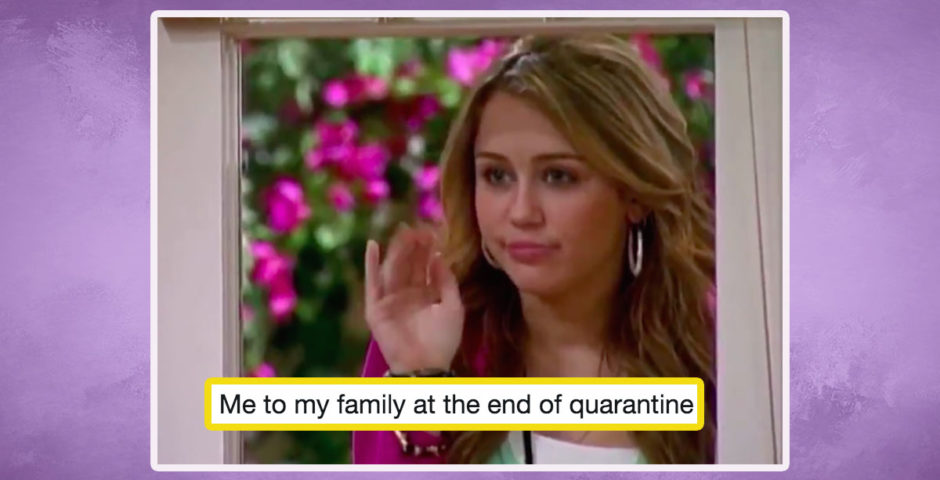 These 21 Hannah Montana memes perfectly describe everyone's mood right now
'Leaving my room to go to the living room'
This week Twitter has got us feeling all nostalgic with the hilarious Gossip Girl memes and now it's time to dig even deeper into our childhoods with these iconic Hannah Montana memes.
The Hannah Montana No Context Twitter account, yes that is a real account, shared a video that everyone is using to create some quality memes.
The video features Miley Cyrus leaving her childhood home that we all dreamed of in Malibu. She closes the door, looks through the window longingly and blows a kiss. And now everyone is using it to describe how they would have treated the bar if they knew it was the last time, leaving their bedroom for half the day or going home from a party early to have a good cry. See, it works for all contexts.
These are the 21 funniest Hannah Montana memes:
1. And we're done
Me to my family at the end of quarantine pic.twitter.com/SWEruC3cDR

— 𝚂𝚑𝚎 𝕸𝕮 (@sheroCyrxs) April 16, 2020
2. My big exciting trip for the day
me going to get the mail pic.twitter.com/hpRriKA36V

— a (@brokeangeI) April 17, 2020
3. I'll be seeing you soon my love
leaving my bedroom and going to the living room mid-day pic.twitter.com/YODYqRGu8i

— hunter harris (@hunteryharris) April 17, 2020
4. Damn, should have given it the respect it deserved
How I would have walked out of the bar if I had known it was going to be the last time I would ever see it pic.twitter.com/Hz35KVogUL

— 5'6 (@tony_charm) April 17, 2020
5. It is a deal breaker tbf
me leaving the relationship when I hear him order pineapples on his pizza pic.twitter.com/ElaRlVh80D

— ZÉ TAYLOR (@FATHERBONNET) April 17, 2020
6. I came for the food
Me abandoning my friends on a night out to get chips pic.twitter.com/yVGo7x96Wx

— mary lou's blazer (@asthmathicc_) April 17, 2020
7. SO SORRY TO ALL THE PETS IN ADVANCE
Me to my pet after quarantine is over and I have to go to work every day pic.twitter.com/ROYMTAPDvC

— Mo (@hall0_REEN) April 17, 2020
8. It's real tough having to do this in a mansion
Ellen saying goodbye to poor people when she became a multimillionaire pic.twitter.com/iDmtxmSq27

— Ben Yahr (@benyahr) April 17, 2020
9. You guys meant so much to me, bin.
Saying goodbye to the photos that I haven't looked at in 2 years that I have to delete because my phone storage is full pic.twitter.com/J7INy3a1cn

— 𝒦𝒾𝓃𝑔 𝒜𝓇𝓉𝒽𝓊𝓇 (@arthurhmangum) April 16, 2020
10. Rip to the oat milk flat white
Me leaving pret a manger for the last time before quarantine pic.twitter.com/xdweZtaTeT

— Sam Delaney (@SamJamesDelaney) April 17, 2020
11. I deserve a break
me to my assignments after i do one sentence pic.twitter.com/0dBBlGOQLm

— georgia (@bwayfilm) April 17, 2020
12. Hahahaha
lady bird leaving sacramento pic.twitter.com/GMM6aUaKpF

— faysal (@BlNARYMARVEL) April 17, 2020
13. I. CANNOT. WAIT
Me leaving the house once lockdown is over so that I can go give myself blood poisoning and liver failure pic.twitter.com/WkPMXEUJpN

— Cum Goblin (@ProstateWizard) April 17, 2020
14. The OG snake
judas leaving the last supper pic.twitter.com/2OM35mAwC7

— mia the recugirl (@notkhaIifa) April 17, 2020
15. You're so beautiful, I love you, call me.
me saying bye to the nice drunk girls i met in the club toilets pic.twitter.com/P4fNvyOdi8

— oli (@oIivianewby) April 17, 2020
16. Wow this one hit hard
me leaving parties early to go home and cry about how i have no friends or man pic.twitter.com/JPEnyVhEB0

— ethan (@ethanshumjr) April 17, 2020
17. Why do we do this???
Me saying bye to my friends just to go to my toxic ex pic.twitter.com/2pXcfObZS6

— ☀️ 🌲 (@Dan_Eazy) April 17, 2020
18. Come at me
me leaving my house for a 3 month bender after lockdown ends pic.twitter.com/Aj2xr4YtM6

— carl (@carlleckstein) April 17, 2020
19. Don't make me leave that good dick
Me leaving my favorite hookup's apartment pic.twitter.com/G0TRzmtmJC

— 𝘽𝙍𝙊𝙏𝘼𝙈𝙄𝙉𝙎 (@Brotamins) April 17, 2020
20. I'll be back again tomorrow
me leaving the club the first night out after quarantine: pic.twitter.com/3A3Xgl5GqA

— scott (@scottcrawfrd) April 17, 2020
21. I won't be seeing you for a while
me saying goodbye to my bed once we're finally allowed to leave the house pic.twitter.com/e5EFmeHdTY

— carly (@notcarlylol) April 17, 2020
Related stories recommended by this writer:
•Everyone is losing their minds over what they can hear in this viral audio clip
•These 25 Gossip Girl memes are more iconic than Blair's headbands
•What is the Karen meme and why are people debating if it's problematic?