These 25 Gossip Girl memes are more iconic than Blair's headbands
Gossip Girl memes are taking over Twitter after everyone realised the seven letters that make up the TV show's name could make some iconic jokes.
If you haven't seen the memes plastered all over your feed, the typical set up is a picture of Serena with text over it asking a question or a statement and beneath it there's a picture of Blair with a sassy reply created by the letters that make up "Gossip Girl".
For example this one about the US and Iraq:
These Gossip Girl memes just work so well because you can 100 per cent imagine Serena asking a dumb question and Blair responding with an eye roll and an iconic witty reply. God I miss this show so much.
The memes started out with people using purely the letters within "Gossip Girl" but some of the best are just when people completely hijack them and create a jokes meme like "and I oop girl."
Basically they're hilarious and you need to check out every single one of them here:
1. Si girl
2. Honestly
3. Tragic
4. Duh
5. Hahahhaha
6. Oh dear Serena
7. I love this one
8. Blair is here to be your cheerleader
9. So good!
10. And red means stop
11. And that's the tea
12. Friends x Gossip Girl
13.  A Gossip Girl crossword crossover
14. Use a condom!
15. Biology from Blair
16. I played with your heart, got lost in the game
17. A gaming history lesson
18. What a throwback
19. Hiss Hiss
20. OG Rihanna
21. Get your sat nav out girl
22. Obvs.
23. These are the best memes of the year
24. We've all been there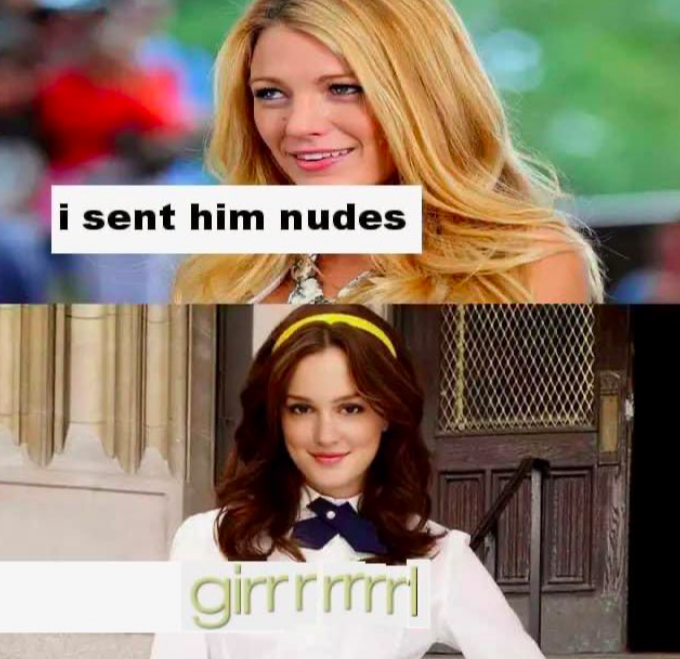 25. Saved the best til last
Related stories recommended by this writer:
•These 21 memes hit different if you've tested positive for missing the homies
•What is the Karen meme and why are people debating if it's problematic?
•These 27 nature is healing memes are a perfect isolation pick-me-up