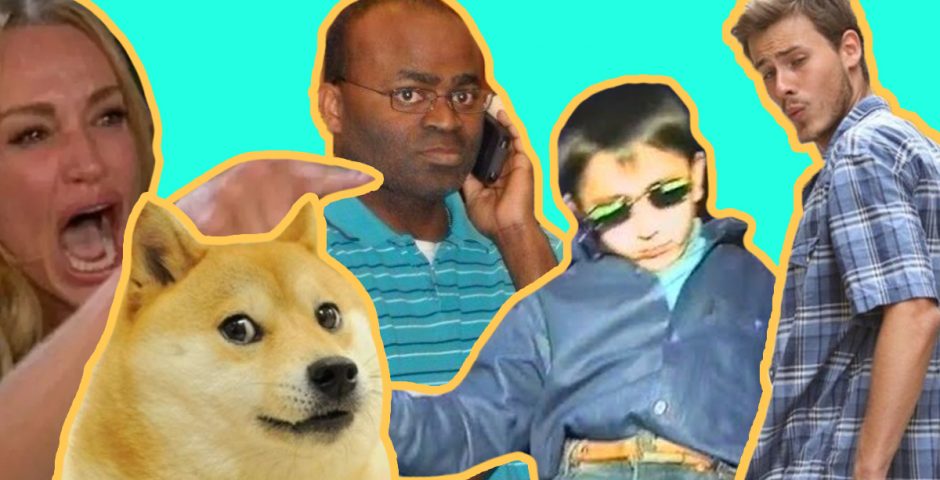 VOTE: What is the ultimate dankest meme of the decade?
As the 2010s draw to a close it's time to look back at what an incredible time for memes it has been. The past 10 years have brought us the funniest, most savage and outright weirdest memes ever. So it's time for the meme of the decade vote: here you can finally have your say on what the best meme of the last 10 years has been.
Are you a woman yelling at cat meme stan? Are you still not over the little girl setting fire to everything meme? Have you never seen anything more relatable than a dog looking sad on the phone? It's time to make your mind up.
Here are the nominees for meme of the decade, you'll find the vote at the bottom of this article. Voting closes on Monday, get going.
Doge
Doge was a huge meme in 2013. The meme was basically a picture of a Shiba Inu dog with multicoloured Comic Sans text over it saying something in bad English. Much fun.
Disaster girl
Disaster girl was a popular meme in 2011. The picture was actually taken in 2004 and showed a girl looking quite evil as everything burns behind her. The photo was taken by the girl's dad.
Drake hotline bling
This meme became popular after the 2015 release of Drake's single, Hotline Bling. The format includes two screenshots from the music video, one being something Drake doesn't like and one being something he does.
Woman yelling at cat meme
The woman yelling at cat meme had a huge moment this year. The story behind the meme might be pretty dark, but it's a classic.
Sad dog on the phone
Sad dog on the phone meme is literally a picture of a dog looking sad on the phone. It started spreading after it was posted with the caption: "What the hell did they tell this dog". Now it's one of the most relatable pictures ever, it's everyone when their mum makes them book their own doctors appointments.
Is this a pigeon?
This meme traces back to a Tumblr post in 2011, but the meme became popular on Twitter last year. It comes from the Japanese anime The Brave Fighter of Sun Fighbird, which aired in the 90s.
Concerned man on phone

Just this guy. From 2014. Looking concerned. On the phone.
Moth lamp
In 2018 we all become fascinated by how obsessed with lamps moths are.
Distracted boyfriend
Distracted Boyfriend, also known as Man Looking at Other Woman, is a meme of a stock image showing a man with his girlfriend, looking at another woman as his girlfriend looks on disapprovingly. It first went viral in 2015.
Blinking man
me: ill take a biology class, im smart enough for this just watch me
teacher: cells
me: pic.twitter.com/fHJJsPLioO

— INIRO ? (@eskbl) February 5, 2017
The gif of the man doing a double take is from a 2013 video, but the meme went viral in 2017.
Meryl Streep yelling
A picture of Meryl Streep yelling went viral in 2017. Now when I see it all I can hear is "Autoglass repair, Autoglass replace".
Salt Bae
Salt Bae came into our lives in 2017 and tbh, I hope he never leaves. He's a Turkish butcher, chef, and restaurateur, who owns a chain of steak houses. The way he prepares and seasons meat (mainly sprinkling salt) is everything.
Roll safe
The Roll Safe meme is a screenshot of Kayode Ewumi grinning and pointing to his brain while portraying the character of Reece Simpson (Roll Safe) in the web series Hood Documentary.
Nyan Cat
Just that.
Woman confused by maths

This meme is just a picture of a woman who can't work out some maths. It spread in 2016 and is used to depict being confused at anything.
Arthur's angry fist
Just a picture of Arthur's fist, that went viral in 2016.
Overly attached girlfriend
Overly attached girlfriend became a meme in 2012 when a girl posted a webcam video of her singing Boyfriend by Justin Bieber with her own lyrics. Her eyes will haunt us all forever.
Bone App The Teeth
Bone App The Teeth or Bone Apple Tee or Bone Hit Your Knee or whatever, kicked off in 2016 when everyone forgot how to spell bon appétit.
Chrissy Teigen
Chrissy Teigen became a reaction meme in 2015 when she was filmed crying at the Golden Globe Awards.
Ridiculously photogenic guy
The internet went mad over how good this guy running a marathon in 2012 looked. Just look at him!!
'But that's none of my business'
Everyone started spilling tea then saying "but that's none of my business" in 2014.
Unflattering Beyonce

In 2013, someone managed to take a bad picture of Beyonce. Shocking, right? The picture was taken during her SuperBowl performance.
Why u no do this?!
The Y U No guy goes back to beginning of meme time, in 2010.
Grumpy Cat
Cat memes invented memes, end of. And Grumpy Cat was one of the very first internet sensations. Grumpy Cat came into our lives in 2012.
Russian kid in club
Don't say anything, just watch the video of a child in a club from 1997. Yes it was from the 90s but the video was posted online in 2011, so it counts.
Condescending Willy Wonka
I swear Condescending Willy Wonka was one of the first memes ever? Its origin dates back to 2010 and everything about these memes looks old.
Bad luck Brian
Tragic Brian came into our lives in 2012. It's a picture of a blonde-haired teenage boy who has the most embarrassing and awful things happen to him.
Galaxy brain
The galaxy brain or expanding brain meme went viral in 2017. It shows a brain getting bigger depending on different variables.
Cast your meme of the decade vote here:
Related stories recommended by this writer:
• At least these 24 'gonna tell my kids' memes make the future look bright
• These 23 Greta Thunberg memes will take your mind off our burning planet!
• The 'I'm at capacity' meme is the most brutal yet relatable meme of the year