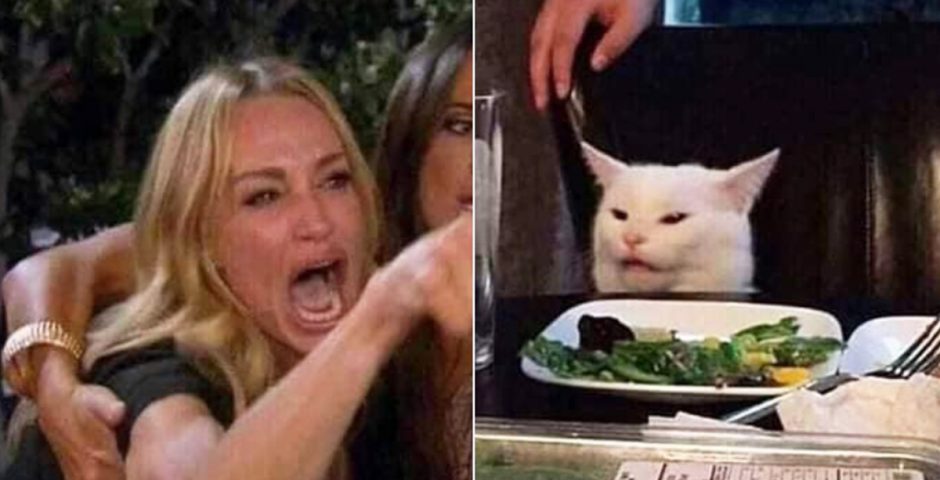 The story behind the woman yelling at the cat meme is actually pretty dark
This meme will never be the same again
There's one meme that's having a revival at the moment: the woman yelling at cat meme. The meme definitely isn't new, but it's come to life again on Twitter.
The woman yelling at cat meme is made up of two pictures: a woman yelling and a confused cat eating vegetables. But there's actually a story behind both pictures and how they became a thing together.
The woman
The woman in the meme is Taylor Armstrong from The Real Housewives of Beverly Hills.
The angry yelling woman picture comes from season two of Real Housewives of Beverly Hills, when Taylor Armstrong had a very heated row with fellow cast member, Camille Grammer.
Taylor had just told her friends about her late husband allegedly abusing her. Camille was then filmed gossiping with other cast members about it, which reportedly made Taylor worried what her current husband would think. This sparked a HUGE row.
Here is the full video clip of the moment that created the meme:
Shortly after the allegations of abuse and Taylor filing for divorce, her husband died by suicide.
However, she says she doesn't mind that the moment has become a meme. She tweeted saying: "That is my past and I have moved on and am in a really healthy, happy marriage. It doesn't seem like my life any longer. I work w[ith] domestic violence shelters and support victims. It's ok to laugh at the images that have been created."
The cat
The cat in the meme is Smudge, the table cat.
Smudge first went viral when the picture of him sat and the table captioned: "he no like vegetables" was posted on Tumblr.
A year later his owner started an Instagram page and @smudge_lord now has 1.1million followers. The account is mainly pictures of Smudge looking unimpressed at food.
How the woman yelling at cat meme became a thing
The first known use of the two images together was a tweet from @MISSINGEGIRL. The account posted the two images captioned: "These photos together is making me lose it". The original meme has 77k retweets and 274k likes.
The woman yelling at cat meme is everywhere now and is used all the time as a reaction meme.
If you want even more from this meme, here are the 28 best woman yelling at cat memes ever. 
Related stories recommended by this writer:
• What does 'Bomboclaat' even mean and why has it replaced Sco Pa Tu Manaa?
• Ok, so what does 'ok boomer' actually mean?
• These 19 psychology memes are so relatable it's like they read your mind