Which flavour of crisp is your uni?
Obviously Exeter is Kettle Chips
Crunch. Crunch. Crunch. You know what that is? It's the sound of you, in the library, shoving crisps into your pathetic mouth as your deskmates fantasise about putting your face through your laptop screen.
Yes, some people at uni like crisps. And yes, we at The Tab write about uni and eat crisps too. But what would your uni be, if it were a flavour of British crisp? Who the fuck cares!
UEA – Walkers Ready Salted
Painfully inoffensive, mainly because any flavour more adventurous than this would probably get banned by the SU.
Don't let them know about the Mexican Fiery Sweet Chipotle Sensations!
Oxford and Cambridge – Walkers Salt & Vinegar and Cheese & Onion
Both absolute titans on the crisp/uni scene, both as good as each other, and both not really worthy of their crown in the, you know, fun stakes.
You're better of choosing a bag of Space Raiders and at least enjoying yourself.
St Andrews – Walkers Salt & Shake
Lacking in all fun and any substance, four years at St Andrews will make you just as dry and flavourless as a bag of these monstrosities.
Edinburgh – Walkers Prawn Cocktail
Oft-overlooked, actually pretty tasty.
Oxford Brookes – Walkers Sensations
Wants you to think they're posh and better than the average, run-of-the-mill polytechnic crisps. Don't be fooled: beyond the fancy name, they're not.
Birmingham – Walkers Roast Chicken
You'll only choose this one if literally nothing else is available.
Hull – Walkers Marmite
The people who end up there love it. Prospective employers hate it.
Cardiff – Walkers Builder's Breakfast
Builder's Breakfast has no right to exist, it is a poor flavour hiding behind the guise of high rating "research."
In a similar vein, Cardiff is part of the Russell Group because of things like "research".
York – Kettle Chips Sea Salt & Black Peppercorn
You're middle-of-the-road posh, the type of person who can't hold a pre-drinks without rustling out a selection of these in a wicker bowl in the middle.
You'll probably have even have some sour cream dip, maybe a bit of salsa and guac. Shame no-one will turn up because you're perpetually boring.
Exeter – Kettle Chips Sea Salt & Balsamic Vinegar
Now we're talking. These bad boys are the life of the party, as long as that party is roaringly middle class and populated almost exclusively by blonde girls from Surrey with names like Poppy and Millie.
Falmouth – Mini Cheddars
You buck convention, and we appreciate that.
Durham – Kettle Chips Blue Stilton & Port
So posh and so silly sounding that it's hard to believe you're not a parody.
Leeds – Kettle Chips Yorkshire Wensleydale & Cox Apple Chutney
Just like these edgy lot, you'll claim Yorkshire as your own and act like you're different enough to defy your ultra-posh roots.
But face it, Hugo; there's nothing down-to-earth about chutney, and no amount of wavy streetwear and trips to Canal Mills can expunge how much your parents paid for your boarding school.
Loughborough – McCoy's Flame Grilled Steak
Nothing screams Loughborough more than nearly cutting your mouth on the big, bulky, thick ridges of a McCoy's Flame Grilled Steak.
They taste like burp, but they're manly and rugged and grrrrrrr you're gonna smash some dumbbells in the gym you dumb fuck.
Manchester – Hula Hoops
As gold as the hoops in the ears of the average Fallowfield girl, Manchester students and Hula Hoops are a match made in heaven.
No-one appropriates working class culture better, whether it be squatting in Fila tracksuits or wolfing down discount family bags of crisps when your family has enough money to buy an entire Hula Hoop factory.
Bournemouth – Burton's Fish'n'Chips
Rough as old boots with a lingering fishy smell, Bournemouth students like a good old boozeup. So why not Burton's, which are also only ever found propping up the bar at a dingy pint-soaked pub.
Bath – Wheat Crunchies
Bland.
UCLan – Transform-A-Snack
Last year an engineer at UCLan submitted a fully assembled Transform-A-Snack as coursework for his Automotive Engineering module.
Lancaster – Discos
This is how Lancaster students refer to nightclubs.
Newcastle – Flamin Hot Monster Munch
Flamin hot like the rich blonde students of Jesmond, and prone to making a neon orange mess all over your hands or all over the pavement of Osborne Road at 4am on a Saturday morning.
Northumbria – Pickled Onion Monster Munch
Filthier and invariably stronger than their Newcastle counterparts, admitting you go here is probably going to leave a bad taste in your mouth.
Liverpool – Nando's Peri-Peri Crisps
Because it's a cheeky on-the-go version of what you and all the lads do after a heavy one at Level.
Lincoln – Pom-Bears
Do we really have to explain this one?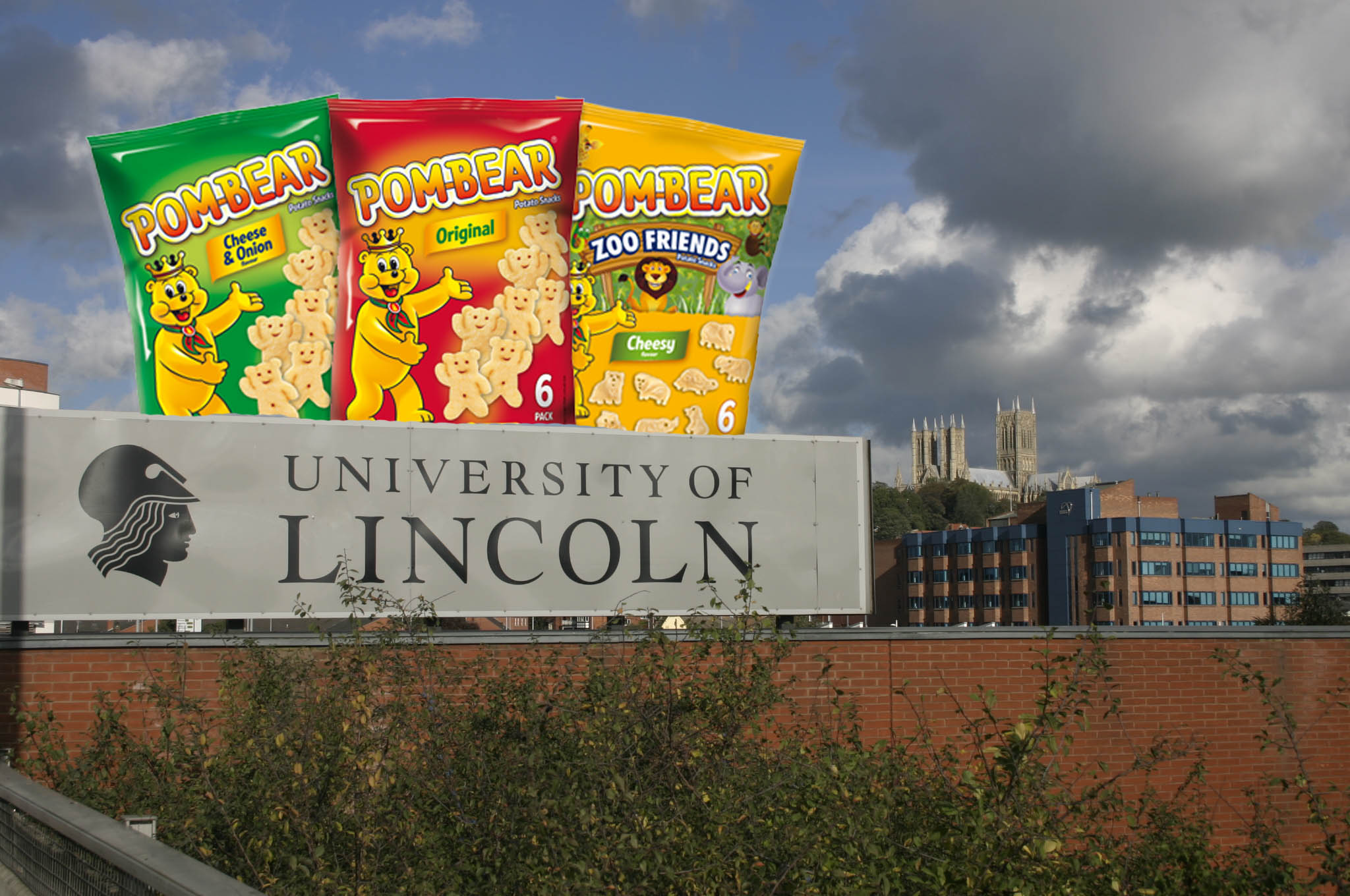 Brighton – Nim's Fruit Crisps
Oh fuck off you hippy.
UCL – Original Pringles
Like the tower which holds Big Ben, this red-as-a-London-Bus tube is something of a British institution – much like the University College of London. Doesn't stop it being a little bit banal, though.
King's  – Salt & Vinegar Pringles
Like UCL, but salty and bitter about the fact they're London's second most popular.
Imperial – Sour Cream & Chive Pringles
Actually better than both of the above.
UAL – Pizza Pringles
Like the rest of the London unis, but trying to be creative and somewhat failing.
London Met – Jalapeno Pringles
Some things just aren't meant to be done.
Sheffield – Quavers
Filled with the promise of a top-rate Russell Group uni/a cheesy and delicious snack, but actually filled with hot air and lacking in any fulfilling substance.
Sheffield Hallam – Skips
Me big baby, me go Sheffield Hallam.
UWE – Space Raiders
Everyone at UWE looks identical to the alien on the packet after a heavy sesh at Lakota.
QUB – Tayto
They're the only Irish crisp, it's the only Irish Russell Group. Most English people will dismiss both Tayto crisps and Queen's, unaware of the absolute treat they both are, but some of them know better.
They'll go out of their comfort zone. They won't be disappointed.
Europeans at uni in the UK – Walkers Sun Bites
Exotic!
British students at uni in Europe – Walkers English Roast Beef & Yorkshire Pudding
None of that foreign muck for us thanks.
Royal Holloway – Tyrrell's
An imitator, an imposter, a big fat phoney. You want to be the elite, but you're just not quite the same as a Kettle Chip.
If it's a meal deal you're after and all the Kettle Chips are gone, maybe you'll go for it – better to cave and just buy a pack of Wotsits.
Aberystwyth – Wotsits
You have dirty, cheese-powdered fingers and you smear them all over everything you come into contact with.
Nottingham Trent – Doritos Chilli Heatwave
Like uni with the thermostat turned up, this is some real spicy shit; whip your top off on the Ocean dancefloor and use it to dab the sweat off your dripping brow shit.
No, not everyone can handle Trent. You, hot stuff, can.
Nottingham – Doritos Cool Original
Trent, but without the fun.
Coventry – Doritos Tandoori Sizzler
An abomination which should never have been allowed to exist.
Leicester – French Fries
Barely a real crisp, barely a real uni. Next?
Leicester De Montfort – Twiglets
Nope.