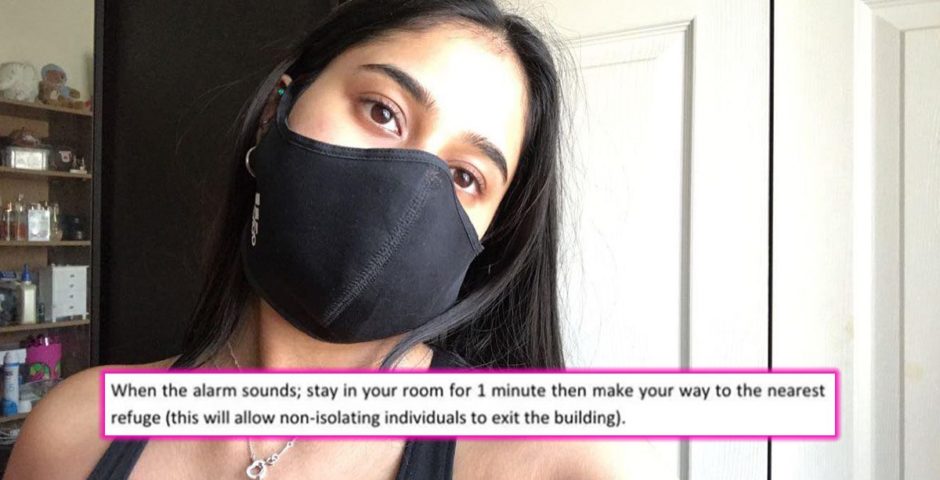 Students isolating at York told to wait in their rooms in the event of a fire alarm
They were told: 'Stay in your room for one minute, this will allow non-isolating individuals to exit'
The University of York told self-isolating students they should wait in their rooms in the event of the fire alarm sounding in their building, allowing non-isolating students to exit the building first.
Initial guidance from the University of York told students that if they are self-isolating when the fire system in their accommodation is activated, they should wait in their rooms for one minute before then making their way to a "secure designated refuge" in order to "allow non-isolating individuals to exit the building" immediately.
The University has told The York Tab their guidance has now "been updated and changed".
The guidance was attached in an email, seen by The York Tab, sent to self-isolating students from the Student Hub at York. The email says: "Please also refer to this guidance which outlines a generic Personal Emergency Evacuation Plan (PEEP) (In case the fire alarm sounds on campus) for any resident who may be in 'Self-Isolation' within any University of York residential accommodation".
The "refuges" mentioned in the guidance can be found in all University residential accommodation buildings. The guidance explains they "are constructed to a higher standard of fire safety protection and have communications linked directly to the University's Security Centre".
The guidance says once students are in the refuge, they should communicate with Security Services by activating the refuge alarm. The guidance states that they must give their details to the Security Centre and explain that they are self-isolating, only to then be told to stay in the refuge by Security Services.
The guidance informs students that it is not until the Security Services have carried out an initial investigation into the cause of the alarm that students would receive information to return to their rooms if "No Fire" is confirmed. Alternatively, students will be instructed to evacuate the building via the staircase, where on exiting they must make their way to a "sterile area away from the other residents".
A University of York spokesperson has since told The York Tab the initial guidance has now been changed. They said: "Our advice and guidance has been updated and changed.
"We take the health and safety of our students and staff extremely seriously. All students are required to undertake a mandatory fire safety induction and this clearly states that all students should evacuate the building immediately, meeting at the designated fire assembly point.
"Students are reminded that in gathering at the fire assembly point, they should adhere to social distancing guidelines."
For more information on self-isolating at York, visit https://coronavirus.york.ac.uk/
Related stories recommended by this writer:
• Morrisons are offering 24 hour deliveries to isolating York students
• Kuda student nights return to York with table service
• 1,000 students are now self-isolating at University of York