Derwent threaten helmet thieves with MILITARY investigation if army helmet isn't returned
They'll be handing CCTV over to the army if they don't get it back
A Facebook post this morning from the Big D Festival page warned of a Military Police investigation following the disappearance of a helmet that belongs to the Ministry of Defence being taken from the uni organised event last night.
The post encouraged anyone who knows the location, or happens to find the helmet, to hand in to D Bar or Derwent Porters and no questions will be asked.
Derwent students were also emailed with a similar message.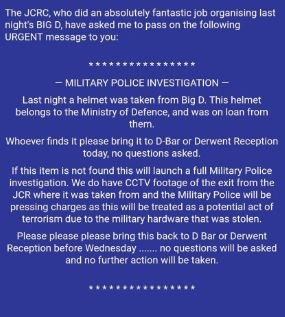 If the helmet is not returned by Wednesday, the email says a military police investigation will be launched with Big D stating they will hand over CCTV footage of the exit from the Derwent JCR where the helmet was taken from.
The post further warns how the military police will press charges if the helmet is not returned as the theft can be treated as a potential act of terrorism as a piece of military hardware has been stolen.
Big D organisers stress how if the helmet is returned by tomorrow at either D Bar or Derwent Porters no questions will be asked and no further action will be taken.
Update: Derwent have backtracked, deleted the Big D Facebook post, and now say they'll be handling the missing helmet internally.
The Derwent chair told The York Tab: "This has been blown out of proportion – with stress levels running high at the end of the evening, we over reacted due to what we first perceived to be the seriousness of the theft. However it is now solely being handled internally.
"We're sure it won't overshadow what was a fantastic evening that everyone loved."