Gig Review: Hurts
Bittersweet balladeers Hurts make U2 appear understated and lacking in ambition. During their tremendously melodramatic concert at Glasgow Academy on Thursday, bouquets of white roses were thrown at hysterical ladies […]
Bittersweet balladeers Hurts make U2 appear understated and lacking in ambition. During their tremendously melodramatic concert at Glasgow Academy on Thursday, bouquets of white roses were thrown at hysterical ladies in the front rows of the audience, microphone stands were battered in carefully choreographed displays of anguish, and enough violinists in black lace were brought onstage to soundtrack a royal funeral. The word "subtle" clearly doesn't feature in either Theo Hutchcraft or Adam Anderson's dictionaries – to compensate for the recent departure of their highly imposing backing vocalist, a seven-foot-tall opera singer, the lugubrious pair arranged a short ballet halfway through the performance, for the benefit of those who felt that they weren't getting enough theatrical ridiculousness for their money. I was bitterly disappointed not to find officially endorsed tourniquets on the merchandise stand.
With such an overwrought band name, in the same distressed vein as Tears For Fears, it's unsurprising that Hurts play electro-pop music inspired by the brooding dance floor masterpieces of the 1980s. Written on the dole in a crumbling Manchester bed-sit, their debut album, the ironically titled 'Happiness', reached number four in the UK charts in September 2010, later winning the dour duo the "Best New Band" trophy at this year's 'NME' awards. Although fairly successful on British shores, it's in Central and Eastern Europe where their earnest, lovelorn lyrics and meticulously considered aesthetic have truly captured the public imagination. With ears for melody as sharp as their chiselled cheekbones and eye-wateringly expensive Savile Row suits, Hutchcraft (lachrymose lead vocals) and Anderson (glistening synthesisers) are two of those unreasonably graceful, mysterious and talented characters whom achingly sensitive men aspire to be and stunningly attractive women aspire to be with. Just ask gorgeous supermodel Alexa Chung, who has allegedly entered into a relationship with the former. Hutchcraft wouldn't crack a smile about it even if it were true, of course.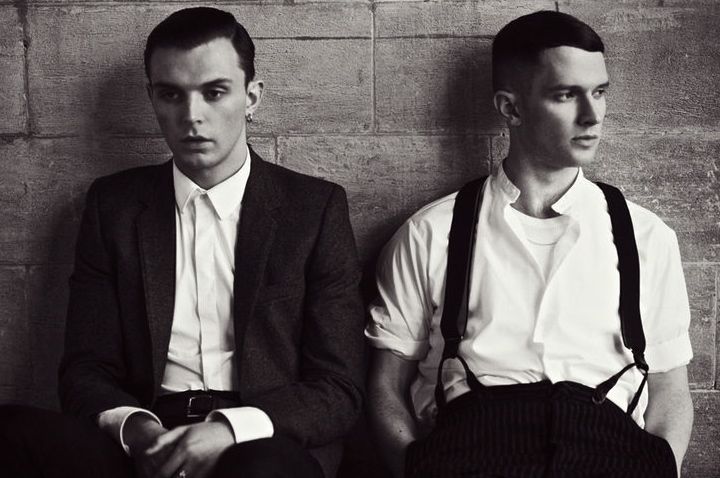 Hurts wore their hearts on their immaculately tailored sleeves during this splendidly histrionic performance. Playing the victim in his own Shakespearean tragedy to perfection, Hutchcraft maintained a crestfallen expression throughout the distraught discothèque – miraculously managing to wear leather gloves for an hour and a half, despite the cramped auditorium being hotter than the Sahara. Spectacular highlights of the evening included 'Stay', a rain-soaked tale of unrequited affection, containing a chorus colossal enough to fill every inch of the Grand Canyon; 'Wonderful Life', the story of a suicidal husband's last-minute rescue from the edge of the Severn Bridge, which teetered on the brink between inconsolable despair and fist-pumping elation; and 'Unspoken', with soaring strings that Mozart himself would have been proud of. Seeing thousands of mobile phones waved aloft in triumphant unison during the appropriately titled 'Illuminated' will remain etched in my memory for a long while. Nevertheless, the set list wasn't without its flaws. Bosnia and Herzegovina's tone-deaf Eurovision Song Contest judges would've struggled to appreciate gaudy b-side 'Happiness', while the stripped-back arrangement for non-album track 'Affair' didn't quite match the tear-stained magnificence of the original version. To be fair to her, the remarkably dextrous harpist probably deserved a moment's breather once in a while.
Camper than Kenneth Williams' summer holiday to Butlin's, sufficiently saccharine to leave me requiring emergency dental treatment immediately following the encore, and unleashing enough explosive bombast from the 1980s to sink an Argentine battleship, this was one of the most enjoyable concerts that I've attended in years. Naturally, Hurts' cathartic but contrived extravagance will have countless detractors. Potential insults could include: "pretentious 'GQ' models pretending to have crushing inferiority complexes"; "Westlife with fashionable haircuts"; and "the world's least promising children's television presenters." But for those who enjoy a night of organised suffering, there are few more satisfying entertainment options available. Excuse the dreadfully poor pun, but you really can't beat a bit of self-flagellation…
November 3, 2011 O2 Academy, Glasgow
Hurts played:
'Silver Lining'
'Wonderful Life'
'Happiness'
'Blood, Tears And Gold'
'Evelyn'
'Sunday'
'Sunday' (Instrumental Version)
'Verona'
'Mother Nature'
'Unspoken'
'Devotion'
'The Water' (Instrumental Version)
'Confide In Me' (Kylie Minogue Cover)
'Affair'
'Illuminated'
'Stay'
Photos: © Lawrence Ellis; © Petr Klapper