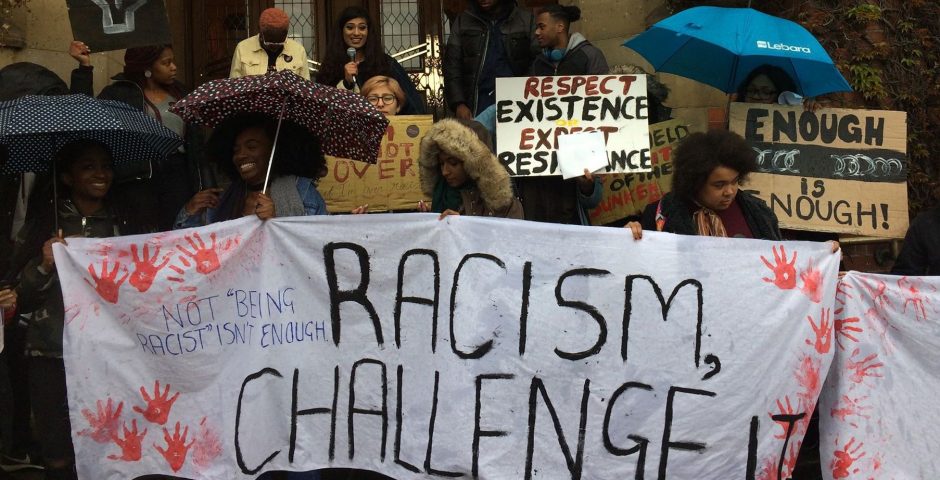 Seven months on from the Varsity incident, what have Sheffield Uni done to tackle racism?
Racism is something we should constantly be tackling
Last month was Black History Month, which wasn't just a month to celebrate racial equality, but also to remember the contribution of and importance of the black community on the world today. But how can we celebrate the improvement of race relations when racial discrimination still exists on university campuses?
The truth is, universities across the UK are still dealing with race issues, even if our romantic idealisms believe racial discrimination has been defeated.
In 2016 students at the University of Exeter were pictured in carrying around both racist and anti-semitic messages written on bar crawl t-shirts. The University also made headlines in May, where several students were expelled after allegations of racial abuse.
In March, a black student from Sheffield Hallam was victimised when a Uni Of student threw a banana at him during a Varsity Ice Hockey match.
So what exactly have the university done to tackle it?
Initially the university failed to start a formal investigation regarding the event, even though they said they had.
They told The Sheffield Tab at the time: "From our perspective, it's just a bit of clumsiness of words in terms of suggesting in our original statement that it was a formal investigation."
They also remarked they were not acknowledging the situation as a racist incident.
Following the incident, the University later responded in a public report: "Due to the multi-partnered nature of Varsity, there was a delay in terms of the complaint reaching the correct university team."
The University of Sheffield later apologised, stating: "Whilst some of these circumstances were outside the University's control, we accept that the length of this delay was unacceptable and will be reviewing current procedures to ensure this does not happen again."
So is racism in Sheffield still an issue and can it happen again?
Here is what the University said it did to ensure these issues don't repeat themselves: "In discussions about this incident, students have fed back that they find it unclear how to report incidents to the University."
As a result, the University have set up a number of ways cases can be reported. These can be found at the bottom of the page.
The University have also set up a Task Group with the Students' Union to take forward action on racial discrimination.
The group will help to "improve inclusivity on campus, promote racial inclusion, to offer education, to tackle ignorance where it exists and to celebrate the racial diversity of our campus."
The Students' Union have also launched their own campaign, Take Racism Seriously, with an email service to report race incidents.
The full, detailed report issued by the University can be found here.
The measures taken by the University to tackle racism should receive praise.
Seven months on following promises from the University, a spokesperson from Sheffield Students' Union and The University of Sheffield itself told The Sheffield Tab:
"To date, work has included the setting up of a dedicated Report Racism email address, improved inclusions training, including for societies and sports clubs, anti racism workshops and an Ask Your University forum with dedicated discussion on race equality.
"A University level Racism Task and Finish group was convened and chaired by the Deputy Vice-Chancellor, to progress racial equality and contribute to a new university strategy, focusing on improving student and staff under-representation, addressing student attainment and progression and, crucially, culture change actions including training of staff and students to raise awareness of and combat micro-aggressions.
"A number of SU and university staff have also attended race equality training led by Advance HE, and the SU worked with the newly established BAME staff network and the University to run events for Black History Month and support the 'Wall of BAME'. We also have a new, full BME Student Committee and a reconvened SU Equality, Diversity and Inclusion Committee, which will have a focus on race equity for 2018/19."
After frankly an embarrassing response to the incident at Varsity, the University along with the Students' Union have been committed to ensuring other students are not failed when they seek support and advice for racial hate.
There is only so much institutions can do to tackle the issue, though.
Racism will probably always exist at uni as after all, this isn't a perfect world and some people will always think they are better than everyone else. It should be our job to recognise racism and help stamp it out straight away.
We can't brush racism under the carpet and wait for the next incident in the news for us to start thinking about the issue once again, or even remember that it still exists.
We should tackle racism face on, and report it where necessary, because at the end of the day, racism is still an issue at university.
If you feel you have been a victim of a hate crime, please call the Racial Equality Line on 0114 2039325.
Similarly, if you have witnessed a hate crime take place, we urge you to call Security Services on 0114 222 4085.
Alternatively, racism can directly be reported to the SU by emailing [email protected]
The following websites are available for further information about safety and hate crime on campus, including the correct contact details to report an incident, send a complaint or receive advice:
https://www.sheffield.ac.uk/ssid/sos/safety
https://www.sheffield.ac.uk/staff/news/hate-crime-reduction-safety-fortnight-1.733772
https://www.sheffield.ac.uk/security/advice#tab03
It doesn't need to be an 'incident' to use this email. Uncomfortable "banter", suspected racial profiling, something you overheard on the tram – all these things can and should be highlighted.