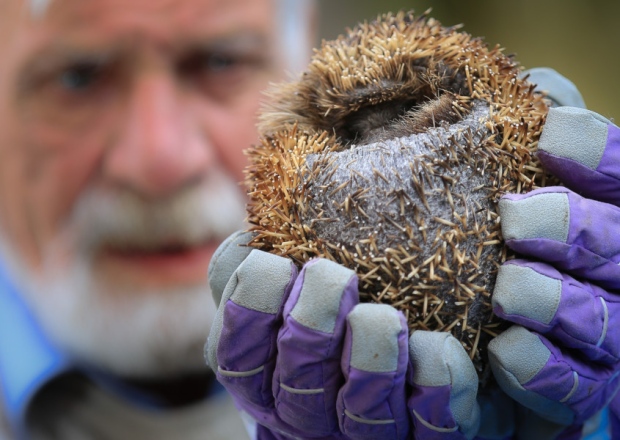 Abused hedgehog is now recovering and 'eating for England'
It had its spines cut off with scissors
national
The hedgehog found with it's quills cut off in university accommodation is now "eating for England" as it is being nursed back to health at Cawthorne Hedgehog Rescue and Care Centre in Barnsley.
Frank, as he is being called by carers, was found in the kitchen of first year accommodation by a maintenance worker with many of it's quills cut off with a pair of scissors. The hog had endured extreme cruelty, but was taken immediately to an animal sanctuary by Allan Broadhead, the maintenance worker.
With many fearing Frank would not survive, after a couple of days curled up and terrified he has finally unrolled and is showing interest in food.
"We could do with a hedgehog nosebag, because he's eating for England," said Broadhead.
"Yesterday he came out of his ball. It was the first time we had seen his face. He's a bit more relaxed but he's still terrified."
The hedgehog is suffering from the fungal skin infection, ringworm, and needs to regrow his spines, which could take up to eight months. But luckily no bones were broken, so he should be well on the road to recovery.
Broadhead said: "Hedgehogs do have a horrible way of just turning off and dying. It's common, especially when they have been so traumatised. But I think he's going to be all right."
University staff are running investigations as to why the hedgehog was in the kitchen in the first place.
The RSPCA have also been notified, and a spokesperson has said: "We are told the hedgehog has damaged spines, and that a vet has confirmed that this hedgehog is suffering with ringworm – a disease that can sometimes cause hedgehogs' spines to fall out. However, we cannot rule out a deliberate act of cruelty, so anybody with any information can call us on our inspectors' appeal line in confidence on 0300 123 8018."