Silk slips and a health hero: Lenton's Looks returns with some festive 'fits
Don't worry, most of us have actually been wearing the same tired hoodie for 6 weeks
After a relaxing winter break (just that bit too relaxing), we're ready to bring you the best of the best holiday looks of Lenton. It was a different kind of Christmas for all of us this year, but it seems you guys still pulled it out the bag with some chic December/Jan looks. It's all about the girls in this edition, probably because you boys didn't spend enough time off Warzone to provide us with many show-stopping looks. Anyway, let's kick off this month's round up of the best dressed Notts students.
Molly, First Year, English and History of Art
Serving us the boujee-est look that Lenton's Looks has seen to date, here we have Molly with her one of a kind Christmas Day look. As the true vintage queen that she is, Molly has put together mainly second hand pieces to make up her sassy look.
Her dress is a vintage Victoria's Secret nightie courtesy of her clearly very stylish grandma and the beautiful cardigan that she's paired it with is from a great slow fashion brand called Dreamers Rebels. We're absolutely loving her up-cycled Gucci tights which she found on Depop, as well as her pearl necklace for that added touch which she picked up at Hopkinson's Antiques in Notts. Molly has given us some serious inspo to get ourselves out of bed and doll ourselves up whatever the occasion (or lack of).
Alice, Masters Student, Occupational Psychology
Next up we've got Alice posing lake-side in her very chic nude and white look at Nottingham's scenic Wollaton Park. Alice shows us that black isn't the only option during these grey days by throwing on a summery look despite the weather. Her co-ordinated look is head to toe Oh Polly, except for her Alexander McQueen chunky sneakers. It's safe to say that Alice was definitely the trendiest person strolling through Wollaton that day.
Talia, Third Year, History and Politics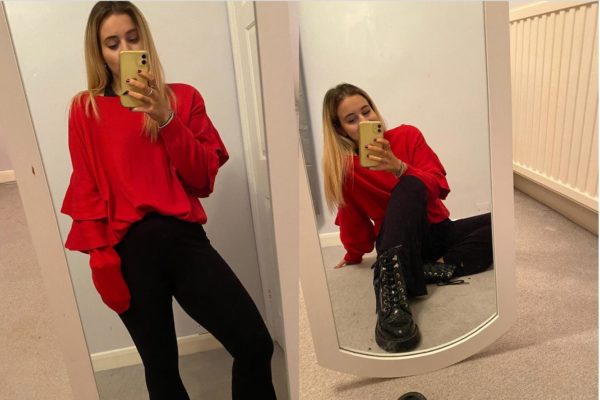 Talia's Christmas Day look is the perfect combo of classy and casual. Her vibrant red jumper from Zara brings the festive fun, and we're loving the sleeve details that are so in right now. Her comfy black flares from Missguided keep her chilling all day long and can't have hurt with the struggles of the annual post Christmas lunch food baby. Adding a touch of grunge to finish, Talia kicks back in these chunky black patent boots from ASOS. Getting on there right now for those – thanks Talia.
Emily, Third Year, English Lit
You know those five days between Christmas Day and News Years Eve where you don't know what day it is, who you are, or what you're supposed to be doing? Yeah, well sometimes its hard to get out of your new Christmas pyjamas and eat anything but chocolate for breakfast, lunch and dinner. But people like Emily give us hope, looking totally put together in her neutral co-ord for those late December days.
Emily's sleek 'fit is from Missguided's sustainable range and is made from only fully recycled materials which is pretty sick. It's really important to try and make some sustainable choices during our online shopping sprees so this could be a really cool range to look out for next time you find yourself clicking your life's savings away to Missguided (just me?). Her bodysuit is from Zara and her bag is JW PEI so check out those sites if you're interested in re-creating the look.
Alana, Third Year, Philosophy
We want to thank Alana for providing us with a token New Years Eve look for this article, because it doesn't look like many more of you had any NYE looks to flaunt, a far cry from what used to be the world's most glamorous night. Alana's rocking the truly iconic "jeans and a nice top" look for her New Years Eve at home. Her jeans are Topshop of course, because do jeans from anywhere else ever look that good? And her "nice top" is from Zara. Alana adds a Brandy Melville studded belt to the look for good measure and finishes in true Lenton girl style with a pair of chunky Fila sneakers.
Nishka, Second Year, History
Now we all know that a Lenton's Looks festive edition could not possibly be complete without fluffy Christmas PJs, so here's Nishka and her friends twinning to the max in their fave ones. The new Kardashians of Lenton stepped it up this year for their house Christmas dinner when they picked up these cute Christmas penguin PJs from Primark. These do actually come with a matching top but the girls have decided to be a bit more stylish and pair their bottoms with plain black tops. Not only are these PJs super fun and festive,  they'll also keep you warm through the snowy nights that are en route.
Cerys, Third Year, Student Nurse
Lastly, we've got student nurse Cerys who still manages to look good in between shifts on an acute medical ward at QMC and rolling out COVID vaccinations. Check out her insta reel to see how she takes it from scrubs to full glam in one 'buss it'. And wow, we're absolutely loving that beaded backless number. Bet you can't wait to have somewhere to wear it Cerys. On a real, all of us at The Tab want to thank all the incredible student nurses and volunteers for all that they are doing to keep everyone safe at this time – drinks on us next time we're let back into Crisis.
So that's it for this edition of Lenton's Looks. As usual, your outfits have blown us away and we can't wait to see what's in store for February's edition. In the meantime, don't forget the power of fashion in uplifting some of these dull lockdown days. It's all about mindset at the moment, and I know that throwing on a chic ensemble does wonders for my state of mind and positivity, so give it a go if you're feeling low. Get styling, get posing and send your best February 'fits into The Tab's Instagram for a chance to be featured in the next edition of Lenton's Looks!