Campus style: George Green vs. Hallward
Library fashion comes head to head
The age old war between the sciences and the arts has primarily battled on academic grounds. At The Tab we decided to test this rivalry in the fashion stakes, finding out for last if the science students of George Green Library really do have little to no fashion sense or whether arts students clearly do dress up for Hallward.
George Green
Hannah, Molecular genetics and diagnostics, Masters
Hannah swaps lab coat for duster coat to prove scientists are slaying the trends
Coat: Asos
Dress: TK Maxx
Shoes: Dr Martens
University essential: A big bag to fit all my books in!
Oliver, English, third year
Oliver crosses the border from Hallward to George Green, bringing vintage to the other side
Jumper: Paul & Shark
Jeans: Asos
Shoes: Adidas
University essential: A warm coat in to brave the campus in winter
Olivia, Sociology, third year
A turtle neck never lets a girl down…
Jumper: Misguided
Jeans: Topshop
Boots: Topshop
Bag: River Island
University essential: A good pair of heeled boots!
Rachael, Natural Sciences, third year
Style comes naturally to Rachael whose pinafore is effortlessly cute…
Pinafore: Topshop
Top: New Look
Boots: Vintage
University essential: My boots! They go with anything, especially the hills on campus.
Lizzie, Chemistry, first year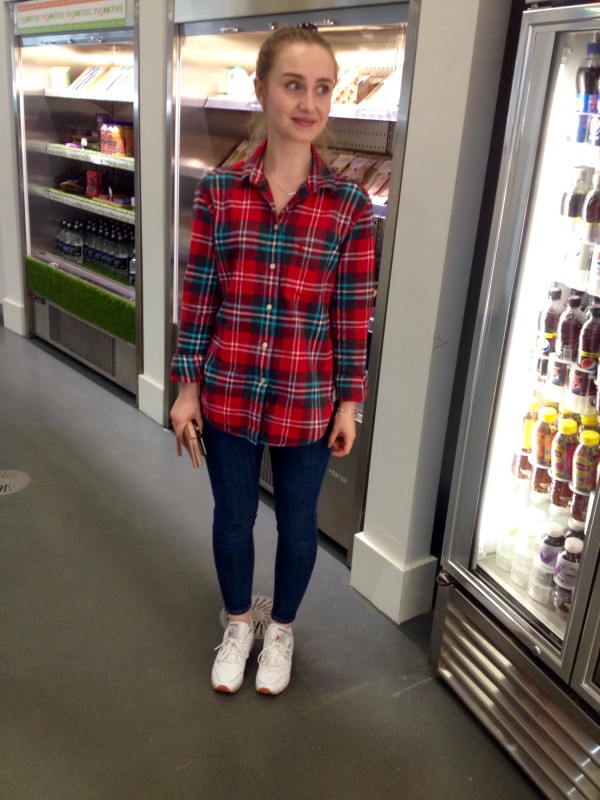 Lizzie brings the checked shirt to George Green, pairing with reeboks for quick and easy success
Shirt: Jack Wills
Jeans: Topshop
Shoes: Reebok
University essential: A scrunchie/hair band just in case the wind wrecks my hair
Hallward
Alix, History, first year 
Alix's mantra? If in doubt, raid your dad's wardrobe!
Coat: My dad's old jacket
Shirt: Topshop Boutique
Jeans: Zara
Shoes: Adidas Originals
University essentials: Lip balm!
Alastair, Archaeology and Geography, third year
Rolling Stones fangirling never looked so good…
Coat: Vintage Rolling Stones roast jacket
Top: Dickies
Shoes: Adidas
University essential: Some kind of jacket
Jingyi Zhang, History, second year
Jingyi rivals Rachael, showing how art students do the pinafore…
Dress: New Look
Shoes: Forever 21
University essential: A long duster coat
Jamie, History, third year
Jamie brings sports/Stealth style to Hallward…
Top: Ellesse
Jeans: American Apparel
Shoes: Dunlop
Watch: Daniel Wellington
University essential: My watch!
Amy, English and History, third year
This joint honours student combines shirt, cord and playsuit to show the sciences how to multi-task.
Playsuit: Asos
Shoes: Dr Martens
University essential: My DM's, I never leave the house without them.