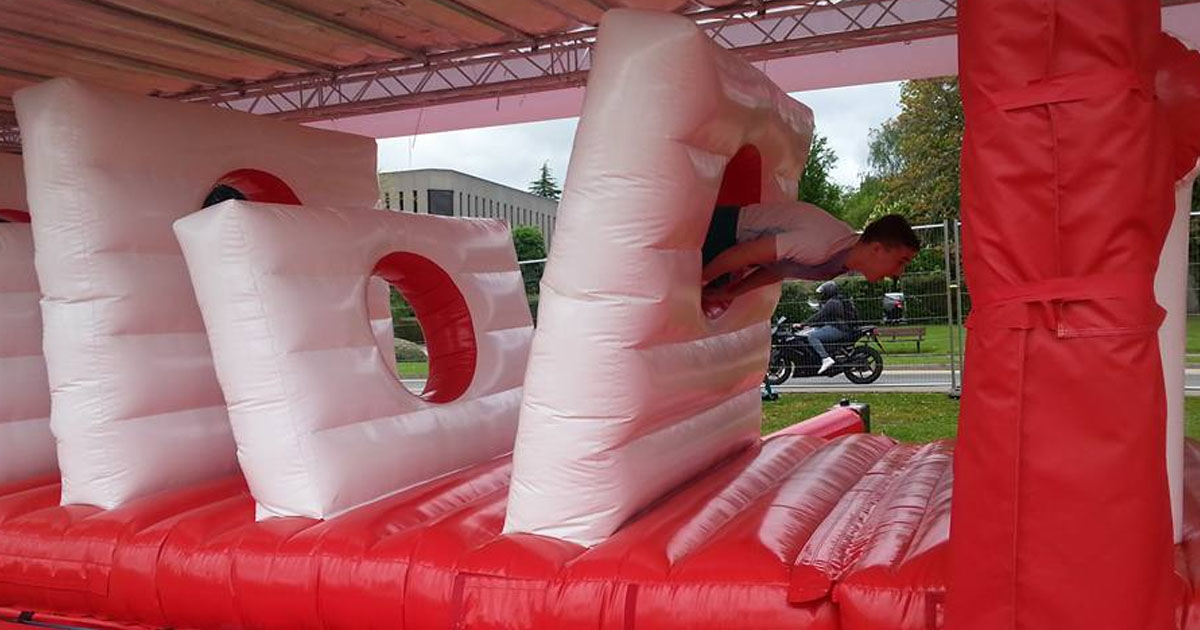 Beating exam stress with a giant inflatable obstacle course was almost worth the wait
Even better when it doesn't rain
This week saw the uprising of a giant bouncy castle-esque obstacle course up on our own Portland Hill, but we couldn't use it for a while because of some terrible weather.
An Aussie inspired assault course – whatever that is – rocked up on Uni Park campus to distract us from revision. It came complete with staff making terrible Australian jokes and koala onesies.
All in need of a breather, bright sunshine on Friday meant there was no better way to de-stress yourself.
The assault course was a challenging battle between universities to see who could do it the fastest.
But with the crappy weather over the past few days, it was a bit disappointing as we stared into to the grey skies from Hallward's windows. The course was shut for two whole days, leaving many disappointed.
Friday came with epic sunshine, along with queues reaching a wait of over an hour. It's shocking to see what we do to not study.
Parts included inflatable pillars, hurdles, a climbing wall and a massive jump off at the end into a foam pit.
Notts fastest time was by David Yernan at 18.32 seconds.
We spoke to a few people waiting around for the fun.
Second-year Politics student Elliott Chaplin, said: "It was a lot of fun, especially watching and judging everyone who went before me."
Sceptical Patrick Hildred said: "This corporate inflatable assault course was reflective of modern life. Fun and unusual on the surface, but empty on the inside."
And nothing gets past Sam Barker, he said: "More difficult than it looks, but I'll have forgotten the name of the company by next week."
But Ancient History student, Oleg Petrenko, enjoyed the break from work in the sun. He said: "It was a fun experience with a tonne of free drinks for everyone. The staff were cracking plenty of Aussie jokes and banter."
All in all, from the cheery accents, to the koala onsies, it was a good break from being surrounded by books and being antisocial.