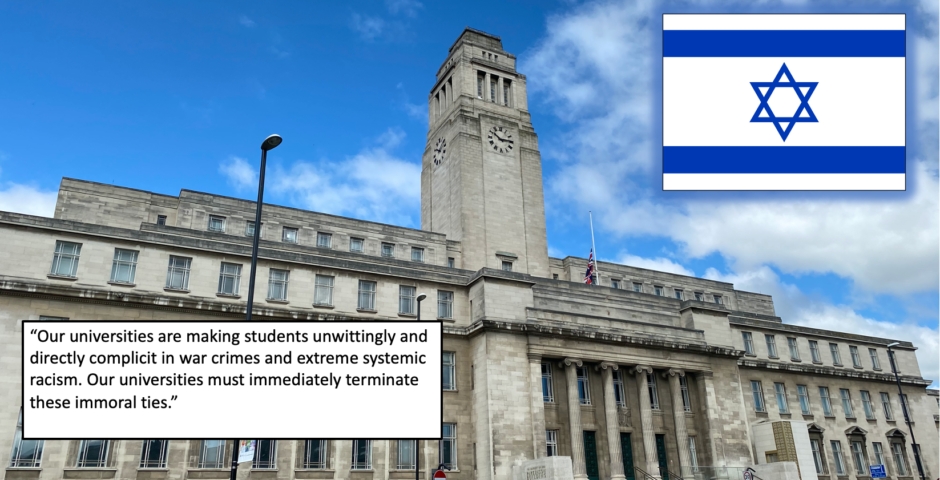 14 Leeds SU reps sign letter calling for termination of ties with Israel
'Our universities are making students unwittingly and directly complicit in war crimes and extreme systemic racism'
14 SU representatives from both The University of Leeds and Leeds Beckett have signed a letter calling on all UK universities to severe ties with "Israel's Apartheid regime."
Among the signatories are  Charlie Hind (Union Affairs Officer at LBU), Sherry Iqbal (Education Officer at LBU), Laila Fletcher (Equality and Diversity Student Executive at UoL), Carolina Hall Rodriguez (education Executive at UoL) and Franks Feng (International Executive at UoL).
The letter, also signed by reps from other Student Unions around the country, asserts that unis cannot claim to be anti-racist or undergoing a process of decolonisation while also maintaining close ties with "Israel's colonial oppression of the Palestinian people."
Originally published on a website called Apartheid Off Campus, the letter claims that UK universities invest over £450 million in companies associated with Israel's arms trade and illegal settlements.
The University of Leeds, and ten other UK unis also have a partnership with the Hebrew University of Jerusalem which, according to the letter, "is not only partially built on illegally occupied land, but is also openly and systematically racist against its Palestinian students and staff."
The letter reads: "Moreover, as a result of normalising relations with complicit institutions and companies, our universities are making students unwittingly and directly complicit in war crimes and extreme systemic racism.
"Our universities must immediately terminate these immoral ties."
Members of The University of Leeds Palestine Solidarity Group have also written a letter directly to UoL Management. A spokesperson for the group told The Leeds Tab that "the administration of the University of Leeds has refused to move beyond empty statements and maintains its links to institutions that are directly complicit in war crimes and institutional racism, such as the Hebrew University of Jerusalem.
"The residence halls in which international students at the university often stay during their study is built on illegally annexed Palestinian land, constituting a war crime in which the students themselves are made unwittingly complicit, we cannot stress the gravity of this reality enough.
"It is also extremely important that students are aware that their institution is holding links to institutions that systematically discriminate against its ethnic minority Palestinian students and that it allows the Israeli police and military to use its buildings as vantage points to control and oppress the Palestinian population in the surrounding neighbourhoods.
"It is an outrage that today we still have to argue against complicity in apartheid and that our university is ignoring the voices of its students, some of whom are Palestinian and have suffered from the Israeli apartheid regime first hand. We want our university to be true to its promises of social responsibility and make tangible steps towards decolonisation by listening to its students and ending these links.
"Hence, we urge every student at the University of Leeds to take a strong stand against racism and colonialism by joining our campaign at Leeds Palestine Solidarity Group and Apartheid Off Campus to terminate our complicity, decolonise our institutions and fight for just campus that is free from apartheid."
A spokesperson from the University of Leeds said: "When it comes to offering opportunities for our students to study abroad, the University of Leeds has more than 300 university partners worldwide – enabling them to develop their skills and experience and enhance employability. One of these partnerships is with the Hebrew University of Jerusalem.
"Having being informed by a student, after their return to Leeds, of an issue relating to their accommodation, we are taking steps to discuss it with our partner university."
Leeds Beckett have been contacted for comment.
Related stories recommended by this writer:
• Uni of Leeds schools are axing modules on race, gender, and colonialism
• We need to sort out the gross under-representation of BAME people at Leeds Uni
• 'Sound systems will be seized': Police respond to THAT Hyde Park rave