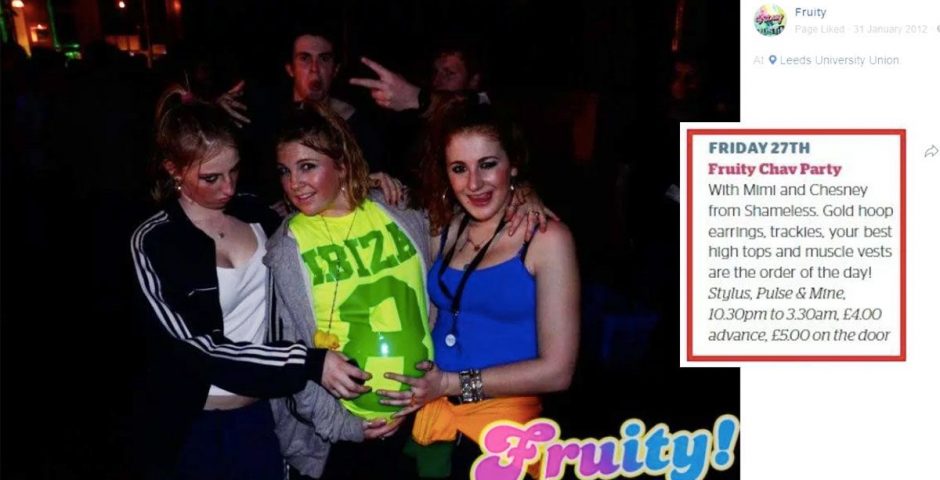 Exclusive: LUU held chav nights at Fruity every year until 2012
The events were advertised with a 'gold hoop earrings and trackies' dress code
As it investigates a sports club for holding a chav social, Leeds University Union used to hold their 'chav' themed club nights at Fruity, The Tab Leeds has discovered.
The nights were held annually, until 2012 where the advertised 'Chav' night was renamed. It comes as LUU investigates the women's hockey club for a chav social where they were encouraged to dress as "lower-class" people.
Photos of the LUU-hosted events, published on the Fruity Facebook page show club goers dressed up for the event.
The 2012 "Friday Chav Party" event was advertised with a "gold hoop earrings, trackies, your best high tops and muscle vests" dress code.
Despite being advertised as a 'Chav Party' in the leaflet, the 2012 event was renamed and called a 'Shameless Party', a reference to the Channel 4 TV show.
This renaming didn't stop those who attended from dressing up. Photos on the Fruity Facebook page include this one of what appears to not be a real baby.
Going back to 2011, the Fruity event was still called a Chav Party.
Some of those who attended wore tracksuits and baseball caps.
Others also wore fake tan, large jewellery and drew tattoos on themselves.
The Tab Leeds has found evidence of the events taking place in 2010, 2011, and 2012, all at the end of January – the same time as this year's hockey chav social, one of LUUWHC's "biggest socials of the year".
However, in a poll conducted by The Tab Leeds, 70 per cent of you said chav socials were acceptable, along with 3/4 of Liverpool students, and some Birmingham students who got mad at someone who said they were.
But now, some people are accusing LUU of hypocrisy as they investigate the Hockey social, despite the fact that they held club nights with the same theme.
Journalism fresher Emma Jacobs told The Tab Leeds: "As a Leeds student I am embarrassed but not surprised. We've created a environment where it's 'ok' to appropriate cultures for a night out.
"People's stories are more than a theme. How can the union hold societies to account if they're guilty of it themselves?
"With a fraternity and rowdy sports clubs on campus we risk re-creating American campus culture if we don't act soon."
In a statement a spokesperson for LUU told The Tab Leeds: "At LUU we are always reviewing and amending policies as we continue to develop an inclusive environment."
"Events held by the Union over five years ago may not meet the policies we have in place now."