Over a third of girls at Leeds have been sexually assaulted
73 per cent think 'lad culture' is a problem
assault
consent
feminism
leeds
LUU
poll
rape
sexual assault
survey
women
Nearly 40 per cent of girls at Leeds Uni have been sexually assaulted.
The results of The Tab's sexual assault survey also reveal that one in five Leeds girls have been raped, with 78 per cent of victims saying they knew their attacker.
One respondent said: "I think people thought I just exaggerated a lot, but really it bothered me a lot and I did everything in my power to make it stop.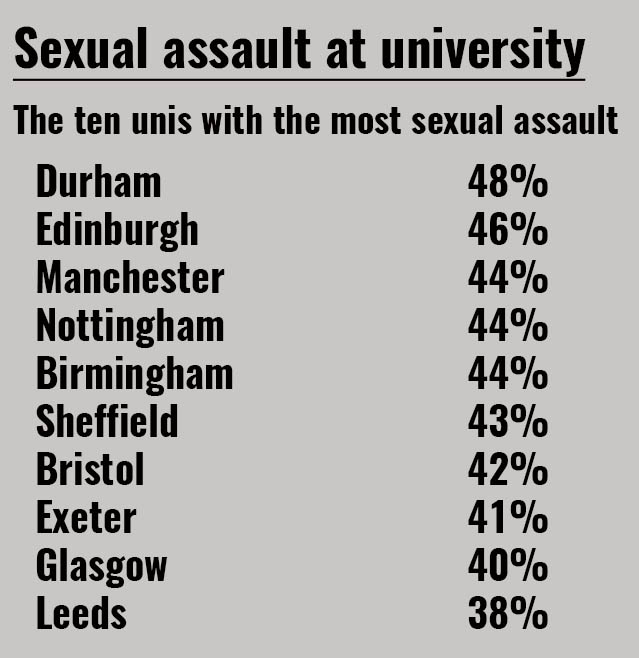 The alarming figures for Leeds also showed that 29 per cent of people who were sexually assaulted didn't tell anyone as they thought no-one would believe them.
A quarter of those who did tell someone said they weren't believed.
Over 5,000 people responded to our sexual assault survey nationwide, which asked what you really thought about rape culture, consent classes and revenge porn.
The survey also revealed that 73 per cent of you think lad culture is a problem.
Fourth year Politics student and LUU women's liberation co-ordinator Emma Healey said: "It's sad that I'm actually not surprised by this.
"I think it's horrific that this many female students are having to experience this, and it really hits home that nearly everyone knows a survivor of sexual assault.
"Not only do people know survivors, people probably also know rapists. Stranger rape really isn't the danger – it's boyfriends, friends, family, acquaintances.
"The fact that this many female students are experiencing this and that nearly 30 per cent feel they won't be believed shows a real crisis in our universities and the Union and University needs to step up and tackle sexual assault and consent.
"University should be a safe space for survivors of sexual assault not a place where they have to suffer in silence."