Spring has sprung: The best Looks in Lockdown this week
Spring to summer fashion has arrived on Exeter's doorstep
It's the end of term, deadlines are upon us and everyone's fed up. The looks that we're seeing in the library, however, have never been better. The unpredictable spring weather has seen layering taking centre stage this week, with the favoured combo being crop tops and jackets. White trousers have also proven very popular, suggesting that summer fashion is on its way! We hope that this article sets the tone for a stylish Easter break.
Camara, third year, Law (@cammiieee__)
Proving popular in this edition, Camara's outfit is also made up of ASOS pieces, aside from the cap which she found at a festival. Stolen hats seem to be becoming a bit of a theme and if you've been on TikTok recently, you'll know that ASOS' spring to summer collection is where to shop at the moment. Her white and black sweater is her favourite item and we can see why. The pattern is super fun and its relaxed fit makes it ideal for any occasion.
Camara's fashion sense hasn't changed hugely over the various lockdowns, but she tells us that being on furlough has allowed her to "spend more money, resulting in buying random clothes." We can relate, just without the furlough bit. She tells us that she doesn't get her fashion inspiration from anywhere in particular, saying "if it's cute I'll buy it." A motto we also stand by.
Jude, second year, French and Spanish (@judealsaady)
We are obsessed with the colours in Jude's outfit. She confesses that she's been really into wearing white this lockdown, telling us: "I think almost half my clothes are white. It's just a light and easy colour to wear and match with most things so these trousers were definitely a staple for me this lockdown". The only downside of this is that they stain super easily, and so from mysterious past experiences Jude recommends stocking up on the Vanish, especially if you're "clumsy like me". Noted.
In this lockdown Jude has loved wearing cardigans as she thinks they are perfect for spring, as proven by her yellow ASOS cardigan here. She says she has "definitely built a little cardigan collection and I think that they are so cute to wear, on their own or unbuttoned if you want to spice things up a bit!"
Comfort seems to be the key to figuring out Jude's style in this third lockdown, with her favourite part of her look being her trousers, a Depop cop. Jude cannot be seen without her ASOS gold hoop earrings, telling us she doesn't "leave the house without wearing them". Another accessory Jude has been loving is her Urban Outfitters green shoulder bag, as it's the perfect size to compliment her look. Jude claims that her style changes regularly and so it's hard to choose one favourite designer or shop, but she does admit that she's "been shopping at Brandy Melville since I was 12 and as basic as it is, it's a shop that I can always go into and find something that I love".  Online shopping is now a hobby/addiction for Jude. You and the rest of us Jude.
Georgie, second year, English and Drama (@g.tennessee)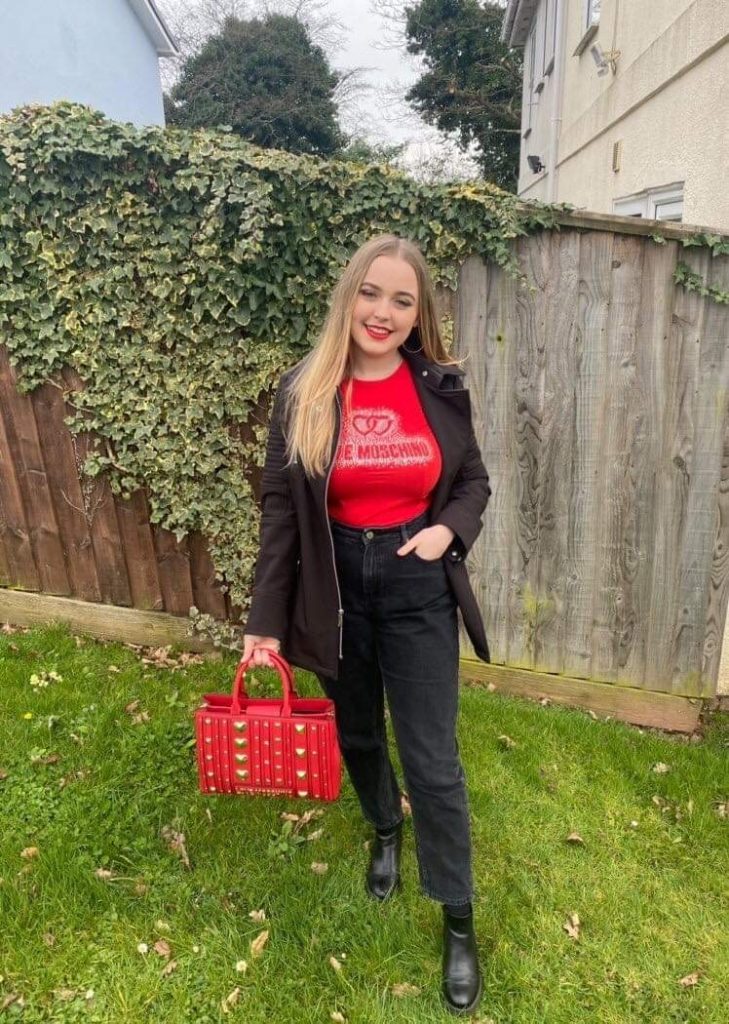 It seems that everyone's wardrobe is getting a little bit of a shake-up as we head into spring, and Georgie's is no different. She tells us: "I love playing around with pops of colour in my outfits, and especially since we're heading into spring, red is my go-to". Showcased in her look, it's safe to say that red is definitely Georgie's colour!
Over lockdown she admits to spending too much money online shopping, which gets absolutely zero judgement from us. She also admits to becoming obsessed with expanding her wardrobe and dressing up nicely for daily walks and supermarket trips, which is also very relatable. Her look features a red Moschino t-shirt from TK Maxx, which she's a massive fan of as they have some great discounted designer and high street brands for a cheaper price. On top of her Moschino top she wears a Michael Kors coat – also from TK Maxx – which she has paired with jeans from Depop and some black Chelsea boots. We love the colours of Georgie's outfit and think she looks very sophisticated. Her favourite part of the look (and also ours) is her ASOS handbag. She says: "I really like to accessorise and turn an otherwise plain outfit into something more exciting. Over lockdown my handbag obsession has been getting a little out of control!" A trip to Exeter's massive TK Maxx with Georgie is on the cards for us.
Jack has made full use of Exeter's thrift and vintage stores, with his jeans and converse copped from Sobey's on Gandy Street. We know where we're heading straight after lockdown. Continuing with the slow fashion theme, his jacket was bought from eBay, which he wears over an ASOS jumper. Jack's favourite part of the look are his Converse, as he says they "balance comfort and style". You can't go wrong with classic Converse.
Jack tells us that the closure of charity shops during the past year have meant that he's had to revert back to more fast fashion when wanting to buy new clothes, although judging by this outfit he's still doing a pretty good job at being sustainable. When asked where he gets his fashion inspiration from, to which he says "Tom Misch vibes". We see it.
For the first time in Looks in Lockdown history we have three insane fits in one photo. Indigo, pictured on the left, wears a Topshop bodysuit (RIP), platform Converse shoes and trousers from a charity shop. Her shirt is her dad's. We highly recommend asking for your parents' clothes, it saves money and their fashion sense is most likely better than yours. Meg has gone for a similar vibe, with most of her outfit being from her mum's wardrobe. The other pieces are from Depop, another Exetah favourite. Amy, standing on the far right, wears a Depop cardigan over a Thrasher t-shirt, which she's paired with a long checked Topshop skirt and chunky Buffalo shoes. We know the wearing of Buffalos is often a controversial topic, but Amy pulls them off perfectly.
Their styles have evolved over the past year because they've switched from being able to steal their dads' clothes at home in lockdown to being in a nine girl house with an open wardrobe policy. We could not be more jealous. The girls claim that their fashion inspos are from their housemates who "put us to shame". Can we come over after lockdown?
Evie, second year, Anthropology (@evie_rh)
You might all be wondering about the backdrop of Evie's Looks in Lockdown shoot. Yes, houses in Exeter do look like this. I hear jaws dropping all around Vic Street. Evie is all about comfort and this outfit allows her to move around easily, but in her own words is "also not an outfit that's embarrassing to wear out and about." It was important to Evie that we mention her favourite words are, "comfort, oversized and neutral colours."
Her oversized leather jacket, a charity shop find, is her favourite part of the look as it cost only £10! A proper bargain, this jacket is always her go to when leaving the house quickly. She completes her look with a cardigan from ASOS, a popular brand this week, white Juicy joggers and a bag from Depop. We think this outfit is extremely well put together and stylish. Sustainability is important to Evie, and therefore she really liked charity shopping, especially when she finds some steals.
Chelsea, third year, Business Economics (@kaniii.k)
Chelsea's chic layered outfit was inspired by a bunch of her favourite social media influencers, including @itsyuyann and @briddyli. Their accounts are insanely aesthetic, we recommend the follow. Chelsea wears sweatpants and a leather blazer, both from Zara, under which is a PrettyLittleThing crop top and necklace. She finishes the look with Nike Jordans and a Bershka coat.
The leather jacket is Chelsea's favourite item, as it can be worn alone or layered for colder spring days. She tells us her fashion sense has definitely changed over lockdowns, as she's spent more time on social media and has been inspired by various influencers. She also quotes TikTok and Pinterest as places she gets outfit ideas from, which we fully back.
Josephine, second year, Anthropology (@jojo.wilkins)
Josephine's outfit proves that fashion can be empowering. Her top was a cheeky lockdown purchase that she bought to lift her mood. Just like the rest of us, Josephine spends her days thinking about summer, which is reflected in her white linen trousers, which are an Exe girl's summer term staple. These were an absolute charity shop steal, originally from Armani and copped for just £10! We can hear the angels singing. Her favourite part of the outfit is the black fluffy coat as she said it gives her, "Cruella de Vil vibes that oddly feel a bit empowering". We are in awe of her jacket and will be scrolling through Depop to try and find a replica. She layers her jacket over an Urban Outfitters top, and completes the look with trainers and a black mini bag.
Josephine says that she's a big fan of charity shops and it's pretty clear to see why! When thrifting, she focuses on finding vintage designer clothes. We're coming with you next time.
We're obsessed with the colours in Will's outfit. His blue Supreme jacket matches his Jordans and is a contrast to the yellow beanie, which he copped from ASOS. His shorts and shirt, also from ASOS, complete the look. Will's jacket – which was in Supreme's summer 2019 drop – is his favourite piece as it's colourful and stands out. He confesses he has "no idea what the writing on the front means, so it would be nice to finally figure that out". If anyone has any ideas let us know!
As the weather's improved recently, Will's made an effort to wear brighter colours. He tells us he used to "exclusively wear dark colours, and so it's nice to get some variation in". Will's been selling streetwear and sneakers since 2016, and so one way he gets fashion inspo is by trying on what people want him to source for them, and seeing if it suits him. Like the rest of us, he's also addicted to online shopping at the moment.
Inés, second year, French, Spanish and Portuguese (@ineswilcox)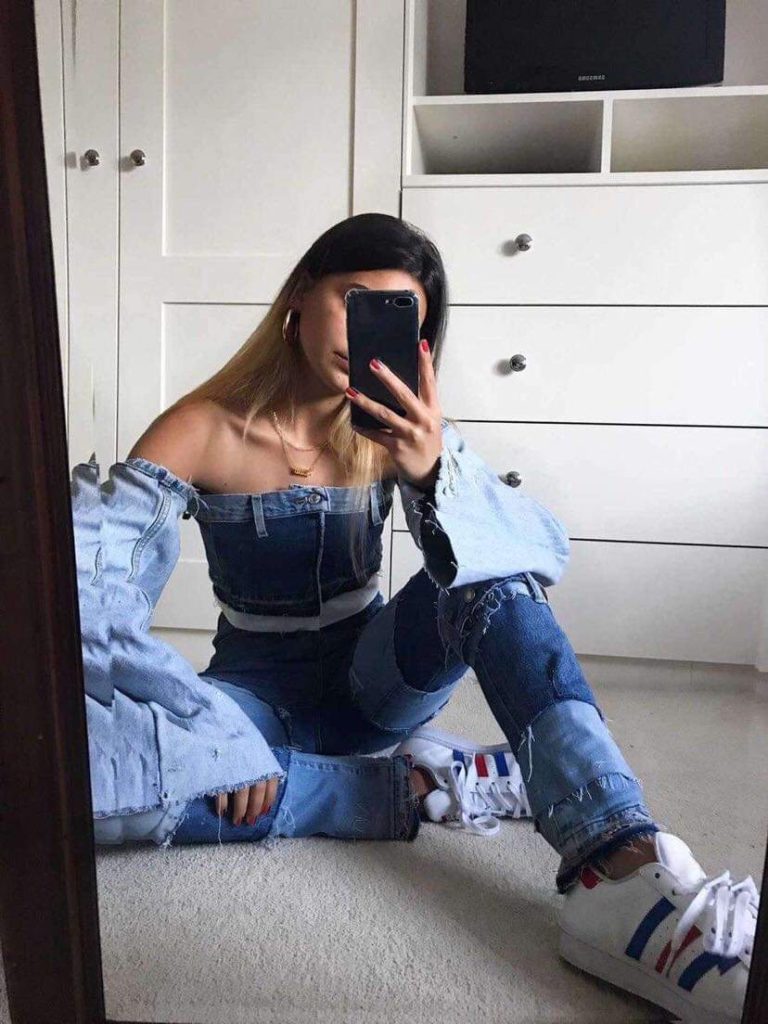 Inés made her denim outfit out of various pairs of jeans from family members, and has paired it with Adidas Superstars. She loves the top because it's super original. She tells us that she made the design up as she went along. The sleeves are the flares of an old pair of jeans and the neckline was originally a waistband. We're in awe of the talent, give us a sewing machine and we'd have no idea what to do with it!
Inés tells us that over the lockdowns she's become more conscious of avoiding fast fashion, and so she tells us she buys "all my clothes second hand from Depop or Vinted" along with upcycling clothes as she has done here. She gets a lot of her creative inspiration from spending hours on these second hand clothes apps, scrolling through her explore page as well as specific favourite accounts. She tells us "from there, I try to imagine outfits that could work and I hope for the best!"
—
This has been your last Looks in Lockdown edition of term two. We hope you enjoyed and we'll be back to provide you with some top spring to summer outfits soon to get you through exam season!
Related stories recommended by this writer:
• They're not the WW2 bomb, but this week's Looks in Lockdown is still explosive
• Fashion to make you fall in love: Looks in Lockdown Valentine's edition
• Velvet jumpsuits, that's all: The best Looks in Lockdown from Exe students this week