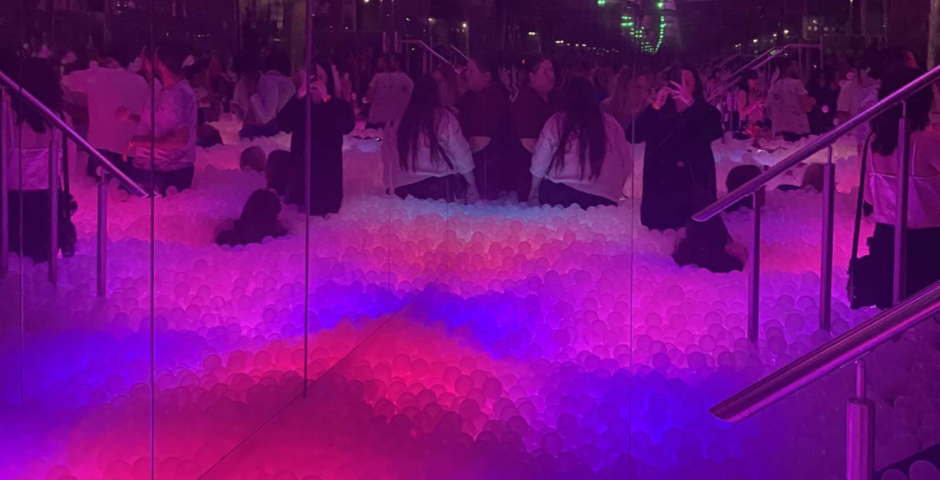 I went to the new ball pit bar in Edi – here's how it went
You could say that I had a ball at Ballie Ballerson
Okay, don't get me wrong, I love going to the pub for a pint as much as the next student. But I've just noticed that there is something that the pub lacks – a giant ball pit which I can swim in after my 5th drink. Haven't we all had that thought? Exactly.
Ballie Ballerson is a new bar which is just next to Edi's George square campus (did someone say post-lecture cocktail and ball pit dive?). It's two floors and even has a slide – yes, I know, you read that right.
As soon as you walk in, the vibes change. The neon and vibrant colourings inside immediately perk you up, plus the graffiti art is not something you find in your local bar. Drop your coats off, head to the bar and then go upstairs to find their huge and brightly lit ball pit!
If you're someone who's into sweet drinks, you're in for a treat – the drinks menu at Ballie is literally your idea of heaven. Forget your usual Pornstar or Espresso Martini, have you ever had a skittle sour or a dib dab based cocktail? Didn't think so. They've got the classic ones if that's not your vibe, plus beers if you're just not like other girls or just brought along your stubborn boyfriend. Order at your table or head to the bar. They've also got snacks if all the ball pitting wears you out.
Now, the ball pit itself. Firstly, it's surrounded by mirrors, so selfies and fun pics are a walk in the park. My personal favourite is to get your mates to film you falling in backwards – it's never not funny, especially when you're six drinks in. If you're not into diving, swimming or jumping at all, just chilling in the ball pit is weirdly therapeutic. Just lying down, surrounded by good tunes and people having fun was actually so nice. Make sure to have a hand sticking out though because you don't want someone to fall on you.
The LED lights make it extra vibey. Also, don't stress. They clean their balls regularly (that's what she said), so no need to feel like you're walking into a germ pit. It's just a ball pit.
Also weirdly enough, the people there were mostly girls, which was so strange to me because all the boys I know become part-time parkour professionals after a few drinks. You best believe I'm bringing my guy friends here – got some parkour moves you want to try? Well, try them in the ball pit.
And the slide? What a way to finish off the night. We were leaving when I realised that we hadn't tried the slide yet and I physically dragged my friends up the stairs. Maybe skip this one if you're feeling tipsy because this was quite a steep slide! Sober, though and you'll feel like you're a child again. It was ridiculously fun – I seriously doubt I'll end another night on a more fun note for a long time.
Basically, if you're looking for something completely unlike your usual bar or pub experience, Ballie is not a need but a must. It seems to always be busy so you can expect a great time. When I was there, the cheerleading society was there too (I stuck out like a sore unathletic thumb but they were all so lovely) to host their bingo night! Clearly it's a student society favourite.
See you in the ball pit girlies.
Related stories recommended by this writer:
• 'It's harrowing': Inside Edinburgh University's failing payment system
• Here's how you can help save someone experiencing an opioid overdose
• A definitive list of the Edinburgh Uni alumni hitting the headlines right now