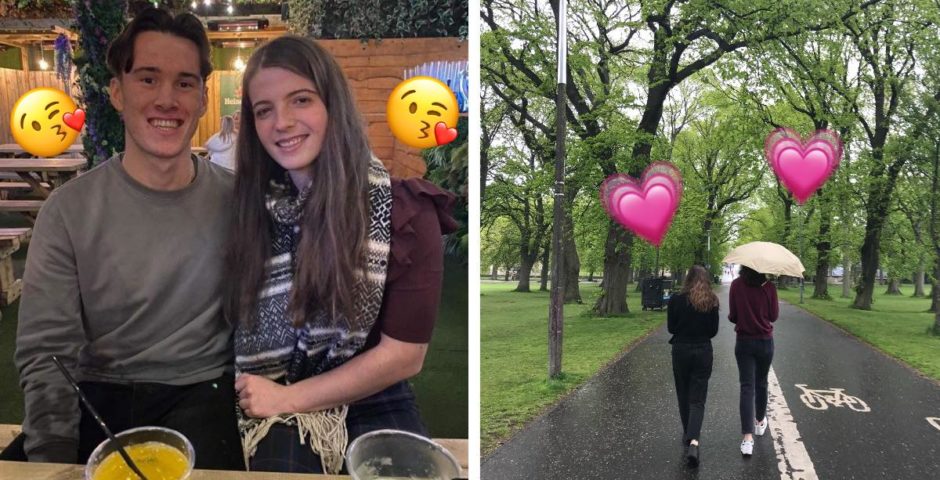 Here are 10 cheap date ideas to do in Edinburgh
Because 2022 is the year you're finally getting a Valentine
So, you've finally found a Valentine and you're starting to think those statistics about Edinburgh Uni being a place to find love are actually true. Well done!
Maybe they wrote an Edifess about you in the library or maybe you met them in the queue for Bongo's midnight bass, but your date with that special person is approaching and now you're regretting spending most of your student loan in Armstrongs. 
Never fear though, for The Edinburgh Tab has compiled a list of cheap and unique date ideas in Edinburgh that won't break the bank. From great food spots to scenic walks, here's where you should be heading out to on February 14th:
1. Calton Hill at sunset
With stunning 360 views of the city, Calton Hill at sunset is one of Edinburgh's most romantic spots. It'll also provide for an aesthetic Instagram story because that's definitely your priority, right?
Grab your North Face puffer and skinny scarf though, and maybe even bring up a thermos of hot chocolate because it does get chilly – or you can always just cosy up together…
2. Scottish National Gallery
If you want to seem intellectual to your date, the Scottish National Gallery is perfect. Whether you're an art history student who can explain impressionism to your date or you just like to wonder what each painting means, it'll make for good conversation and you'll leave feeling more cultured.
3. Grassmarket Market
If you haven't been to the Grassmarket market yet, seriously, how are you spending your Saturdays? Grassmarket has stalls selling everything from used books to paella to jewellery (because yes, you always need more chunky rings).
See if you know your date well and challenge each other to buy something for the other, it won't break the bank!
You can even walk up to the castle afterwards for a picturesque view – what's not to love?
4. The Nile Valley Cafe or Africano Wrap Place
Now let's be honest, the Nile Valley vs Africano Wrap debate is one of the most divisive for Edi students. This is the place to really find out who your date is and whether you're compatible, as one can be truly described by their wrap order as well as where their loyalties lie.
With most wraps only about four quid, it definitely fits the budget and if you're tired of your same routine order, get a new wrap from each place and compare them together.
5. National Museum of Scotland
For a more ~cultural~ experience, the National Museum of Scotland is completely free and has various exhibits ranging from fashion to technology, so there will be no shortage of things to talk about.
It's also the perfect opportunity to impress your date with all your obscure history knowledge – I'm looking at you, humanities students.   
6. Blackford Hill hike
For those of you who have a Pleasance gym membership, Blackford Hill provides both a beautiful hike and a chance to show off your athletic side. Not as strenuous or busy as Arthur's Seat (if you've gone up it since Freshers', I applaud you), it's perfect and peaceful for a date. 
7. The Meadows
While you may overlook The Meadows because you trudge through it everyday to get to the library, it's the perfect cheap date location. 
Whether you fancy a picnic situation, hot chocolate at Uplands Roast or even just a walk (after all, wasn't your New Year's resolution getting 10,000 steps a day?), there's something for every couple.
8. Portobello Beach trip
With free bus travel for under 22s now in effect, a trip to Portobello Beach definitely fits the budget for a date. You can stroll along the beach, have a bonfire with pizza from Civerinos or even bring a watercolour set and paint the waves. 
9. Botanic Gardens
Although a bus ride away from the city centre, the Botanic Gardens are free to wander (besides the glasshouses) and perfect for a clear day. Neither of you have to be botanists to enjoy them and they do say that spending time in nature leads to increased endorphin levels.
10. Head to a cafe
With dozens of cafes in the city centre, it would truly be a crime to not include a classic cafe date on this list. Whether you're a loyal subscriber of the Pret subscription or a big fan of Soderberg's cardamom buns, there's surely a cafe with the perfect vibe for your date.
Now that you've read our list of cheap dates, you have no excuse to not ask your fourth floor library crush out. Good luck!
Recommended related articles by this writer:
• The eight emotional stages of moving in with your girlfriend at uni
• These are the six types of flatmate boyfriend you'll encounter at uni
• Valentine's Day is over: Galentine's Day is the superior holiday and here's why