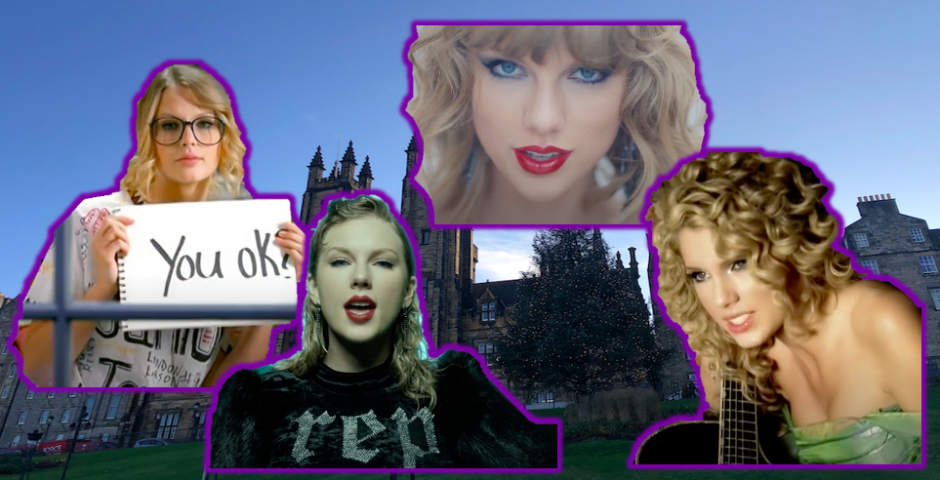 What your favourite Taylor Swift album says about your general Edi vibe
Unless you've been living under a rock this past week, you'll know that Taylor Swift has basically gone and saved 2020 by releasing her eighth studio album, Folklore. And it is a masterpiece.
But this is album is far from Taylor's first rodeo, she's practically a veteran in the album charts. But what does your favourite T-Swift album say about you? Are you more of a country cottagecore aesthetic or a basic red lipstick kind of person? Is your idea of a perfect night out ending up in Hive? Or do you live for a classy pre and VIP at WhyNot?
Have a read of what your favourite Swiftie album says about your general Edi vibe.
Taylor Swift, 2006
You were probably a big deal at school, you were either captain of the rugby team or that one girl who thought she was edgier than everyone else. But then you started at a uni with 35,000 people and were shocked you didn't automatically become a BNOC – reflecting the forgettable energy of this entire album.
However, you're kind and have a heart of gold, even if you're be a bit naive. You probably have an SO from school at another uni and you religiously visit each other every three weeks. You also definitely bring them to Big Cheese or Hive when they visit. You also haven't got the memo that wearing your year 13 leavers hoodie (with your name emblazoned on the back in huge letters) to main lib isn't a vibe.
Your favourite non-Taylor Swift song: Mr Brightside by The Killers
Fearless, 2008
Like the song 'You Belong With Me', you definitely pride yourself on being not like other girls. Think Lucie Donlan from Love Island in Summer 2019. You exclusively hang out with boys because you (wrongly) think they bring less drama and you think 'girl code' is a myth.
But also, reflecting 'Love Story', you are very determined and won't let anything get in your way. You are probably captain of a slightly niche sports team and study a STEM degree because you're not afraid of a challenge.
Your favourite non-Taylor Swift song: Kathleen by Catfish and the Bottlemen
Speak Now, 2010
The fact that Taylor Swift is the only credited songwriter on this album and the personal stories she relays is reflection on your love of writing. You study something like English Lit and all you want to do with your life is become the next Rupi Kaur.
You have definitely kept journals detailing every heartbreak or conversation with the cute barista in your fave indie coffee shop. You hope to one day be able to use them for writing inspo. Your free time is spent reading, daydreaming, and drinking oat milk lattes in Black Medicine.
Your favourite non-Taylor Swift song: Video Games by Lana Del Ray
Red, 2012
You own at least five different red lipsticks and go nowhere without your trusty black winged eyeliner – even if it takes 15 minutes to get it just right every morning.
You've recently blocked the fuckboy that's been ruining your life for as long as you can remember and are hoping this will bring you some good karma.
On Tuesdays, you and your pals religiously go to Tamagotchi Tuesdays at Subway. Many pink venoms will be drunk and you will scream every song at the top of your voice, whether you know the words or not.
Your favourite non-Taylor Swift song: Party in the USA by Miley Cyrus
1989, 2014
I have one word for you and that is basic.
Your go-to drink at pres is either Barefoot Rose or prosecco; occasionally, you will get a bottle of pink gin but it will end very very badly and then you won't drink it for months. However, you are the life and soul of the party and there's a 90 per cent chance you'll spend a night out in the girls' toilets in WhyNot trying to be everyone's best mate and asking to borrow their perfume.
You definitely own at least one posh handbag, it's your go-to uni bag and you don't care that it either gives you shoulder ache or cuts off the circulation to your lower arm to carry it round George Square all day.
Your favourite non-Taylor Swift song: Rain on Me by Lady Gaga and Ariana Grande
Reputation, 2017
The only colour you wear is black and you give off big boss bitch energy. If you get approached by the Nicholson street Mormons you turn your music up loud, put your head down, and refuse to even make eye contact.
You swear you "don't love the drama, it loves you" but you are the queen of passive aggression in your flat group chat and you will beef someone if they use up all your milk without asking.
However, underneath the tough exterior you are surprisingly Delicate. You have definitely cried at your desk in the library at least once and routinely order hot chocolates with marshmallows to cheer yourself up.
Your favourite non-Taylor Swift song: Bad Guy by Billie Eilish
Lover, 2019
https://www.instagram.com/p/Byqi9nGD8gb/
Think Fiat 500 Twitter but woke.
You had a political and feminist awakening in 2016 after being crushed that Hilary Clinton lost the US Presidential Election to Donald Trump. Almost overnight, you became aware of the inequalities underpinning our society and you routinely share aesthetic social justice posts to your Instagram story.
However, you still buy coffee from Starbucks and will walk in late to your elective gender studies lecture with a Java Chip Frap in hand. You are also obsessed with RuPaul's Drag Race and still haven't recovered from Sasha Velour's rose petal wig reveal in season nine.
Every semester you look forward to Never Kissed a Tory – but the truth is you definitely have (several times).
Your favourite non-Taylor Swift song: Truth Hurts by Lizzo 
Folklore, 2020
https://www.instagram.com/p/CC-9usjDzUw/
Your vibe is very much bright chunky knit cardigans and geek glasses. Your room at uni is beautifully decorated with fairy lights, cushions, and polaroids. You are forever finding cute independent coffee shops around Edinburgh and love wholesome outings to places like Doodles, Portobello, and Arthur's Seat.
Your ideal evening is pints in either Doghouse or Brass Monkey followed by going to a gig of an up and coming indie band.
However, you are also a bit of a music snob and are grateful that Taylor has gone back to her more country/singer songwriter roots.
Fave non-Taylor Swift song: Hold Me While You Wait by Lewis Capaldi
Related articles recommend by this writer:
• These are the very best lyrics from Taylor Swift's Folklore which just sum up uni life
• Ok so what does it mean to be 'cottagecore' and why do I relate to it so hard?
• Here's the ultimate guide of how and where to shop ethically in Edinburgh