'Way too many foreigners here, why not stay in your own country': Edifess comes under fire for racist posts
One of them attacks international students
Popular Facebook page Edifess, known across campus for posting the anonymous confessions, rants and opinions of Edinburgh's students, has come under fire for publishing several racist posts, with one suggesting Asian students "stay in their own country instead of coming to a country where they can barely speak the language".
Anyone can send anonymous submissions to the page through a link that assures that the posts are curated by the pages' admins before publication, and asks that the confessions are free of "racism, hate speech or naming & shaming".
Recent posts on the page, however, have angered followers for their racist and homophobic undertones. Other confessions published in October compare black people to "coco-pops" and joke about "the gays on campus".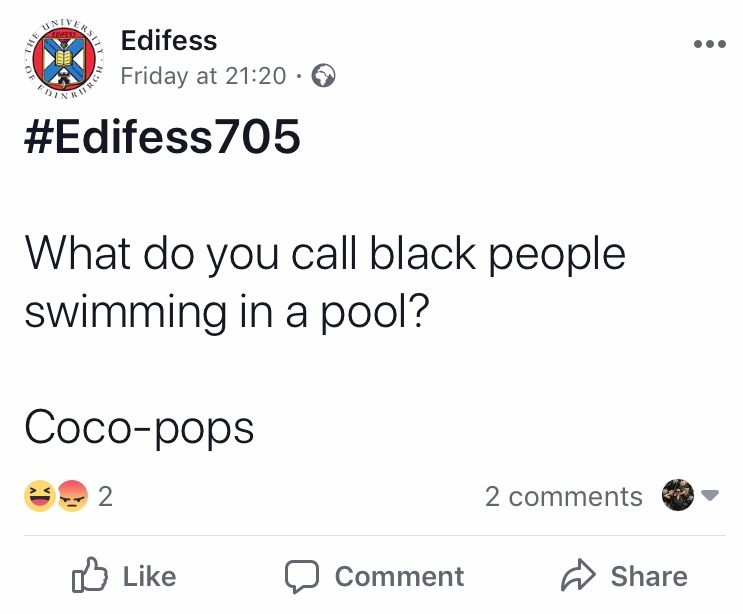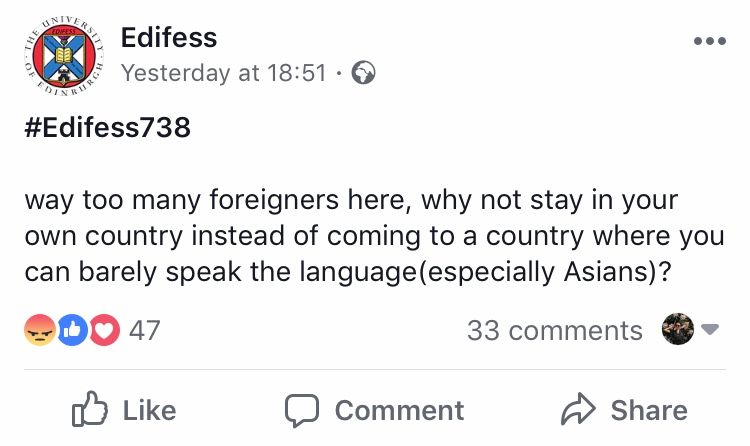 Edifess haven't removed the controversial posts, but have published several response confessions that students have submitted to them, both ones that speak out against the comments and some in support of them.
Edifess have also since changed their logo from the University of Edinburgh crest to a black and white silhouette of the city.
In a statement posted to Facebook, the admins of the page said:
"In light of recent events, we would like to clarify that the views expressed in submissions on this page are not our own and that we have no affiliation to any university.
These views are anonymous submissions. Of course, this does not mean that everything submitted is posted. Submissions are curated and those who are submitting are advised "No racism, hate speech or naming & shaming etc."
However, these decisions are subjective and we, the admins, have to go through a large number of posts every day (many of which are deleted for not meeting these guidelines). Posts that are deemed borderline will be reviewed, but that does not mean that we will remove them. In a society that prides itself on freedom of speech, it is important to find a balance between protecting that right and also protecting our followers' rights not to feel attacked or offended by any of our content."