Meet the '2 Litre Boy': That guy at pres with a big bottle of grim cider
Nobody cares about how many pence per unit you're getting
| UPDATED
You're holding pres, it's going well. People are playing fairly lowkey drinking games, the prosecco is flowing. But then, in walks your mate. And he hasn't brought prosecco, he hasn't brought a little bottle of Glen's, he's brought something much, much worse.
He's brought a massive bottle of 8 per cent cider. He's the 2 Litre Boy.
Always lukewarm and never chilled, the plastic bottle is always coloured, usually blue, so you can't see how much the liquid inside looks like piss. It'll be cradled in a thin carrier bag, straining at the weight of the precious cargo within.
The 2 Litre Boy is probably referred to by his last name, something weird about his appearance or any other "funny" nickname that doesn't even closely resemble his actual name. He firmly believes life will never get better than his three years at uni.
White Star, Frosty Jack, Diamond White, you name it – he knows what he wants from his booze. He wants it affordable, honest, and a high enough percentage so he doesn't have to buy any drinks for himself or anyone else when he's out.
But, there's a lot more to the 2 Litre Boy than just being that person who guzzles £3 cider like it's going out of fashion.
His love for a night out is second to none
This is a key reason for his continued reliance on quantity over quality – he would never be able to cope with not being able to go out due to a lack of funds.
This need to save money is central to his identity, making sure he is drunk enough to limit the amount of drinks he buys when out. This means absolutely gunning it at every pre-drinks, and inevitably taking himself off to have a little sick in the bathroom due to the amount of liquid sitting in his stomach. He doesn't necessarily need it, it's just part of his routine.
He's on a sports team but not very athletic at all
He couldn't be any more on the fence when it came to sports. He's definitely not terrible at it, but since getting to uni he's let himself go a bit.
He loves the culture and the social side of uni sports, but as a result of this he lives a very unhealthy lifestyle for someone who is meant to be athletic. His ability to run around a field for more than an hour a few times a week has left medical professionals baffled.
He's only ever seen wearing one outfit
When he arrived at uni, he was wearing the same clothes he'd been wearing since he was sixteen. A t-shirt with a slogan spattered across the front of it, clumpy DC skate shoes accompanied by some bang average bootcut jeans. He took a turn though, and now sticks with a more textbook combo of straight fit Topman jeans, which still remain resolutely not rolled up, and a pair of black Adidas Sambas.
He spent the whole of first year trying to make a name for himself
This is probably the real reason he joined the sports team. He'll do absolutely anything to gain the approval of others, but it can come across as a bit too much quite a lot of the time. Every story you've ever heard about a fresher doing something ridiculous at a social is probably the 2 Litre Boy. Reckless drunk behaviour might as well be tattooed in Latin down his forearm.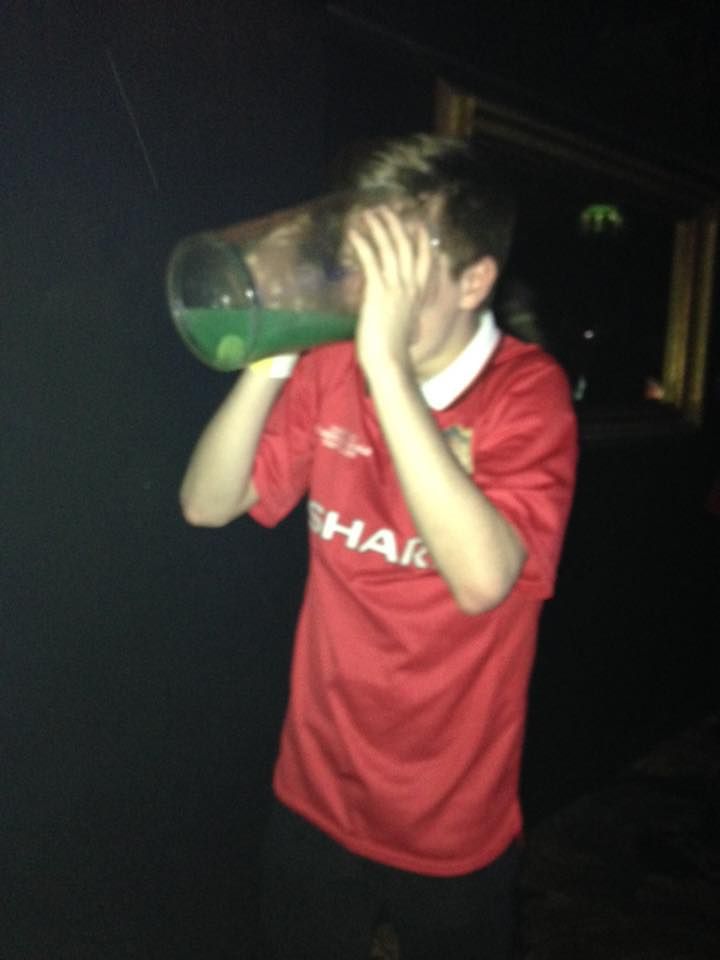 When drunk, he'll try to convert anybody and anybody to the 2 Litre Boy life
When he's drunk, he gets this intense sort of pride over the shit he's drinking, to the point that he'll tell everybody he speaks to all about how much bev he's getting for his money.
Nobody else cares about the pence per unit calculation but he's insistent that he has to one-up everyone, as they sit drinking their less economical tinnies.
His Facebook profile picture is the same as when he was in year 13, and he'll probably never change it
It'll be a blurry photo of him and "the boys" which was taken on the last day of school, they'll all be wearing their white school shirts which got signed by anyone in sight before they played a few pranks for muck-up day. Ah, banter.
It's doubtful that he's even in touch with his mates from school nowadays, but he'll still get misty-eyed thinking back to the good old days when he's three quarters of the way through a Frosty Jacks.
He doesn't care about your music taste as he will be playing banger after banger after banger
As soon as he arrives at pres, he's straight over to the speaker to get his tunes on. From this point, there are no more party bangers, a strict 'White Rap Only' policy is firmly established. He still knows every Eminem lyric and thinks he's deep because he "gets" what Post Malone is trying to do. Finger pistols flailing for hours on end, only stopping to take a swig from his 2L goblet.
Next thing you know, the rap will be off and he'll be pledging his allegiance to "proper guitar music". Oasis and The Fratellis and, once he's a bit looser, he'll be the first person to stand up and belt out the lyrics to 'Stop Crying Your Heart Out'. If you put James Blunt on you may reduce him to tears.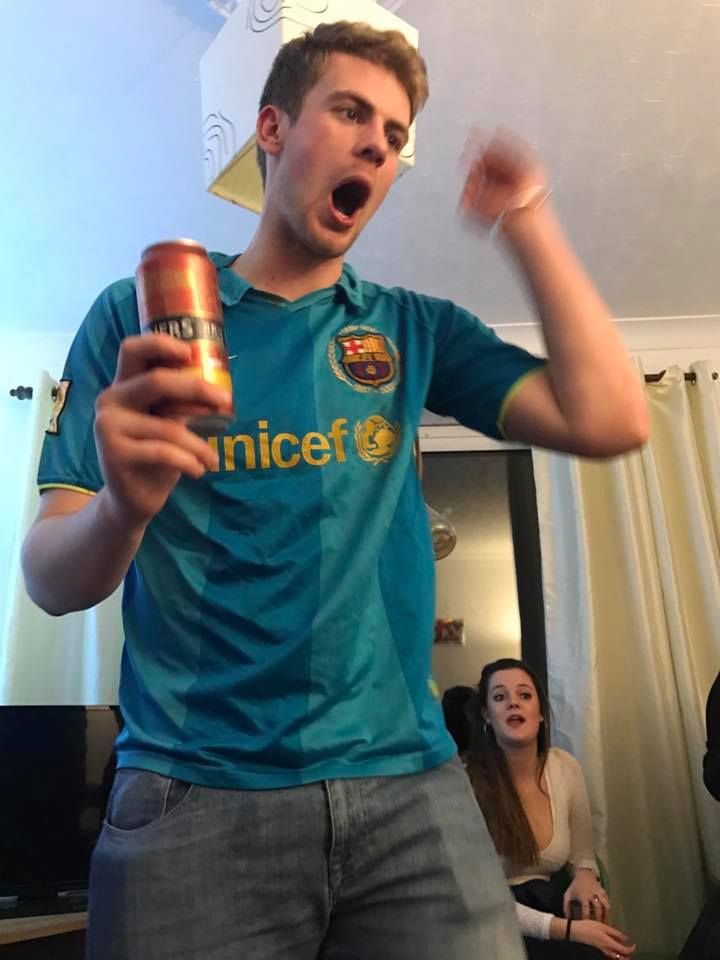 His bedroom is spotless because he literally has zero possessions
He's a man of simple pleasures, as his bedroom depicts. His room never needs to be tidied, because he doesn't own enough belongings to allow the place to become cluttered.
He'll have a giant Sports Direct mug on his desk, along with his University Welcome Pack, which remains unopened. Aside from this, on his shelves he'll have FIFA 16, 17 and 18 stacked up neatly, a can of Lynx Chocolate and a bottle of Davidoff Cool Water stood side by side.
However, his shoes will be lined up neatly by his bedroom door, he's not a complete animal. They'll be some Nike Blazers, Adidas Gazelles, Classic Vans, some brown Brogues which are reserved strictly for a fancy night, and also his old, battered 'clubbing trainers'.
He's an absolute weapon once inside the club
He will firmly plant himself in the centre of the dance floor soon after his arrival. Every time he goes out he manages to lose all of his mates, reuniting with them only as the lights come on at the end. He won't care though, he'll just be in his usual spot, sweating absolute bullets (so much so that his T Shirt sticks to his skin), strawpedo-ing VKs like there's no tomorrow with someone hoisted up onto his shoulders.