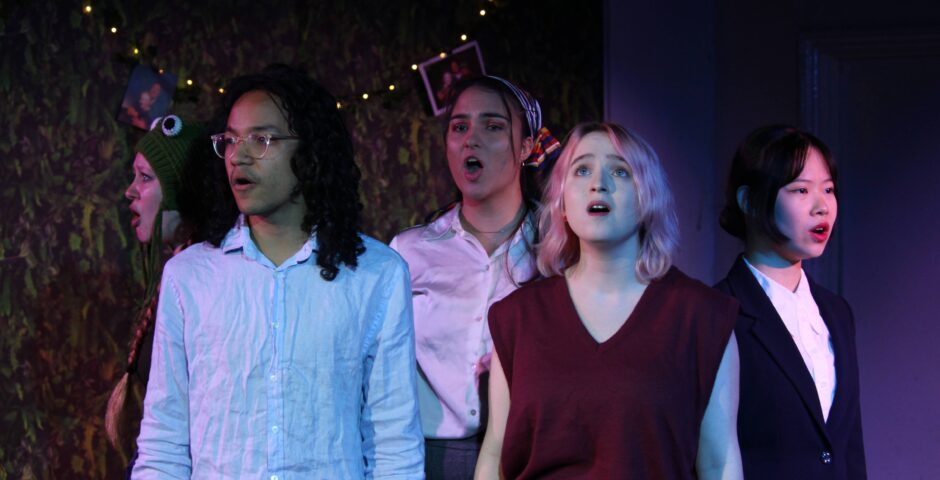 Review: The Herb Garden
A lesson in musical storytelling
Attempting to explore heavy topics in a poignant and relatable manner, The Herb Garden strikes a delicate balance between humour and eccentricity. Following on from a workshop performance in February, this play is a well-fleshed-out tale which deals with several heavy-hitting themes in a more light-hearted manner through music, dance, and allegory.
Fundamentally, The Herb Garden is structured around humorous but neatly crafted songs composed by writer and musical director Felix Elliott, which ensure that delicate themes such as queerness, human connections, and inter-generational relationships can all be explored in depth.
In particular, songs such as Why Sky set a precedent for beautiful harmonies which contrast well with Elliott's use of dissonance to create a sense of unease and uncertainty. This was complemented by more humorous songs like Why I Need Weed, which juxtaposed the solemn theme of addiction and emotional turmoil with more humorous lyrics.
The range of musical styles and themes was certainly impressive considering that there was only two musicians – including Felix Elliott himself alongside Nicholas Dibb-Fuller. However, the musical themes remained consistent throughout, with reprises of songs such as Why Sky creating both musical and thematic cohesion.
Nevertheless, despite his focus on crafting the correct musical atmosphere for each individual scene, Elliott was certainly still able to have fun and challenge himself with the lyrical aspects of the songs. Perhaps the most impressive feat of this production is the fact that Elliott was able to craft an entire song of words which rhymed with Isolation Desperation.
Although the songs were largely able to tread the delicate line between humour and solemnity, at times the performance did have a slightly disjointed feel. At certain points, it was unclear whether this was done purposefully or was the result of a slightly rushed production process and lapses in the actors' knowledge of their lines.
However, on the whole, the acting performances were enjoyable, incorporating a lot of emotion whilst giving the music adequate space to breathe. For instance, Theo Chen's performance had a consistently nervous air which complemented the character's arc well.
In addition to this, the actors worked tremendously together for the majority of the play, both in terms of their abilities to harmonise with one another and the emotional dialogue they exchanged. Freya Cowan and Theo Chen were especially well matched in their respective roles of Rose and Sky, creating the sense that they were gradually coming to know one another in the brief two-hour production.
Despite the occasional flaw in coordination between the actors and brief lapses in remembering their lines, this cast complimented each other well, allowing one another space to depict their characters whilst always emphasising the connections between them.
Overall, The Herb Garden's exploration of emotional and musical themes was underpinned by the cyclical structure of the play, which highlighted the significance of recurring motifs such as the herb garden itself and the frog hat worn by Georgia Greig. The frog motif, in particular, was not only aided by costume designer Jeanne Lieurade, but also by lighting designer Hillary Qiu, who utilised a green lighting motif to illustrate the link between Sky's sense of anxiety and their unnamed friend known only as "Frog."
In spite of the sense of cohesion created by these complementary elements, the illusion was shattered at certain points by lines such as "Smoking weed is the zenith of unethical behaviour", which sometimes came across as overly dramatic caricatures of how teenagers sometimes act.
Regardless of these momentary lapses, the standout feature of the play for me was ultimately its nuanced and relatable expression of the queer experience through the eyes of a non-binary main character. By coupling typical expressions like "That would be grammatically incorrect," which queer people hear just too often, with the delicate and highly personal musical exploration of Sky's inner feelings, this production certainly reflects things which cannot be said with words.
In light of the poignance of the show's themes and the witty yet emotional manner in which these themes are explored, this play's success as a small-scale glimpse into the mind of its main characters cannot be denied.
Leaving just enough space for the audience to develop their own interpretations without setting them adrift, The Herb Garden will make you laugh, cry, and sing your heart out.
4/5
The Herb Garden is showing from 16th-20th May at the Corpus Playroom at 7pm. Book your tickets here.
Feature Image Credit: Sarah Anderson
Related articles recommended by this author: