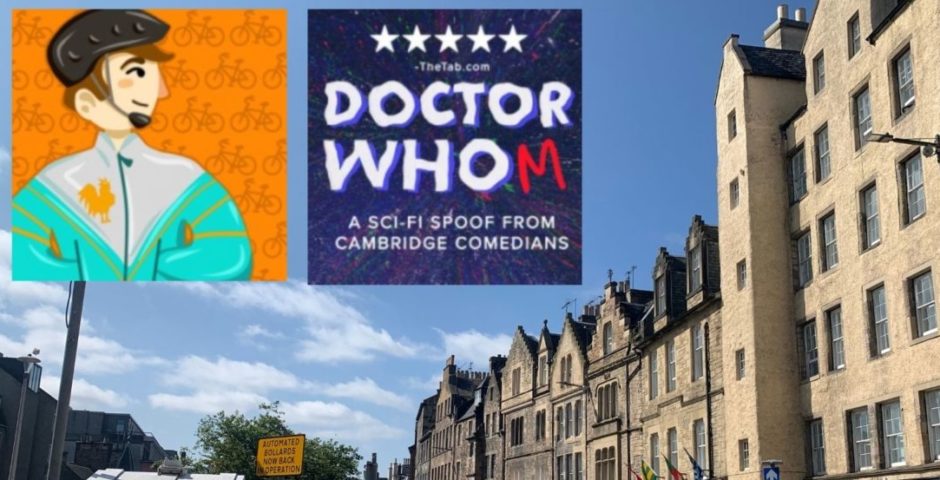 Review: Cambridge Theatre at the Edinburgh Fringe!
My job as the honorary Scot at The Tab, I guess.
August – the time of year when people flock to the Scottish capital to watch shows at the Fringe and when locals flee in an attempt to avoid the mad rush of tourists taking over our most iconic streets and chomping down on our deep-fried mars bars.
Avoiding Edinburgh during the Fringe is the norm for my friends and family but I decided to brave the crowds to support Cambridge's finest!
I went to see two shows put on by Cambridge students  – Doctor Whom and On Your Bike. If you didn't manage to make it to the Fringe this year, consider this your comprehensive review! No need to walk 500 miles…
Doctor Whom (Performed at the Jenner Theatre)
Doctor Whom was an utterly Dalek-table whirlwind of a show. This spoof of the much-loved Doctor Who is about the hilarious challenges faced when the Doctor, and their various sidekicks, defeat all enemies in the cosmos.
According to the Doctor Whom Facebook page, one of the co-writers – Jake Rose –  just graduated with an MA in Astrophysics (which is not surprising considering the show!). The sci-fi plot Rose came up with alongside Jasper Cresdee-Hyde was just mind-boggling. Something about different realities, 'end devices'… and bad welsh accents?
Despite Rose and Cresdee-Hyde's incredibly meta plot, the audience continually cackled at the witty one-liners and fell in love with our titular character Doctor Whom as played by Nathan Galpin. Galpin was a witty Doctor with perfect comedic timing and a quirky nature about him. It wouldn't be surprising to see his portrayal of Doctor Whom being recognised on-screen by a lesser-known BBC show in years to come…
The audience especially enjoyed the shockingly brilliant domme/sub plotline as portrayed by Iona Rogan and Matthew Davies. The stark contrast between their initial roles and their alternate universe characters was a true testament to their talent.  This duo certainly wasn't something anyone was expecting to see in this show and the leather, whip, and glittery shorts are things the audience will never be able to unsee again!
However, in classic pandemic fashion, the show took a bit of a hit at the start of their run at the Fringe due to a COVID scare and the show had to be rewritten and recast for the final performances to take place. Big props go to Vicky Chiu (the producer) and Jonathan Powell (the tech director) who stepped out from backstage and into their roles onstage so seamlessly!
The writers should be proud of the show they came up with "over a coffee in Christmas 2019".  At the end of their last show ever, the cast personally spoke with audience members as we left the room. A very nice touch that speaks to the passion for theatre that this cast possesses. Doctor Whom may have "vworped away for the final time" but the cast and crew – isolating or not – were very deserving of their sell-out run at the Edinburgh Fringe.
Rating: 4/5
On Your Bike (Performed at the Bevan Theatre)
Written by Joe Venable and composed by Ben James, the next Fringe show I went to see was a musical that delicately yet hilariously presented the trials and tribulations of delivery riders on zero-hour contracts. Gemma is an "eataroo" driver struggling with money as well as love. Her fellow delivery rider Aiden, is luckier in love with Daisy, a big shot "eataroo" office worker until a petition for rider's right to sick pay divides them.
With political undertones, Venable managed to engage the audience throughout with his storyline and endearing characters. James lifted this further by including musical numbers covering all genres: ballads, jazz numbers, and even rap (Lin Manuel Miranda should watch his back). The James-Venable duo worked together to produce an award-winning musical that is worthy of a bigger stage at the Fringe.
Ella Nevill who plays Gemma, got to sing some of the show's most emotional ballads which Venable cleverly draws references to throughout the show. Nevill brought a sense of maturity to the character and did  James' music justice with her strong voice.
Aidan (Dom Carrington) and Daisy (Emilia Grace) know each other from school and the two hit it off in a banterishly flirtatious first date scene – a crowd favorite. Standout Emilia has an incredibly soulful voice that filled the room and suited the determined, career-driven character Daisy very well.
Claire Lee Shenfield played Felicity – the owner of a chicken shop who is preoccupied with a rival chicken shop across from her. Shenfield provides comedic relief with her obliviousness to the other characters' problems and provided many laughs as she bursts onto the stage to sing, tap dance, and rap about chicken, with one song cleverly titled "don't let the chicken cross the road."
Two exciting announcements from this cast and crew must be noted! Not only will they be releasing a cast album, but they will be performing at the Town and Gown from 11th to 13th November 2021.
So if you couldn't make it to their summer performances in Edinburgh, there's no excuse now! Make sure to get your tickets here!
Rating: 4/5
The Edinburgh Fringe is about giving new talent the spotlight. Cambridge alumni such as Emma Thompson, Stephen Fry, and Hugh Laurie found fame at the Fringe. This year at the Fringe only goes to show that the new generation of Cambridge theatre is worth keeping an eye on too!
Cover Credit: Emily Cooper