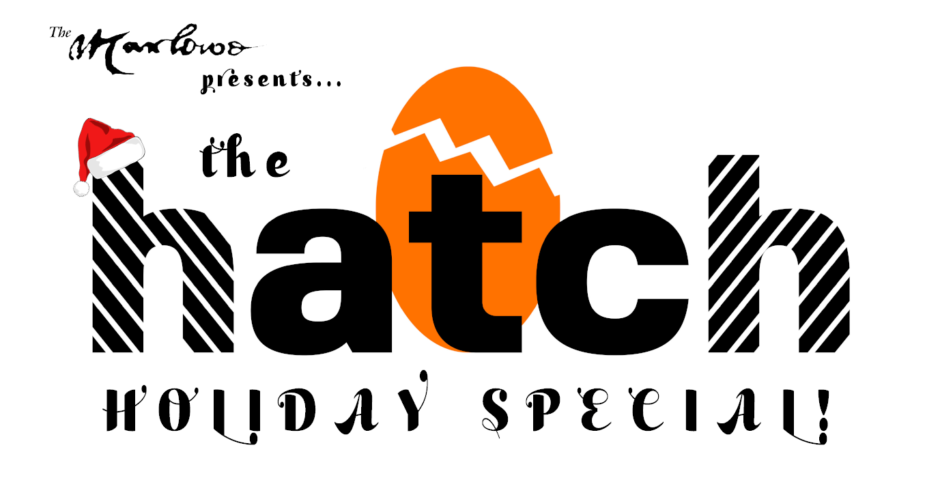 Review: The Hatch Holiday Special
The festive edition of a Cambridge theatre classic
Hatch, Marlowe Society's very own variety show of student writing, has had its fifth run – this time with a special festive twist! There were eight short plays, thoughtfully selected by Jasper Cresdee-Hyde, each with a Christmas-related theme that will get you in the mood for the holiday season. 
That is not to say that every play was full of the joy and cheer you'd normally associate with this "most wonderful time" of year; Hatch took us through all the highs and lows, wholesomeness and horrors of a typical new-writing extravaganza. There was a play for every mood, from the spirit-warming "Welcome to My Parents" and "Aligned", to the dark and moody "The Winter Lamb" and "Voyage in the Dark". 
Kicking things off was Claudia Vyvyan's "Welcome to My Parents", about a young lesbian student who's brought her girlfriend home for Christmas. Except her parents don't know she's gay and her girlfriend thinks they do. Awkward conversations with stereotypically homophobic, "conservative" parents feature heavily. While some humour was a bit on the nose, there were really tender moments and a reminder that, whilst most families are far from perfect, there's always hope of coming together at the end of the day… or year. 
There were few transitions between plays, which meant that we were suddenly greeted by Ido Rosen on a Zoom background of Jerusalem, introducing his play, "Why Jesus Hated Celebrating Hanukkah". Jesus (Pieter Durman) is an angsty teenager at the centre of a play which reminds us that there are other important holidays at this time of year worth talking about.
A particular highlight was the beautiful choir of five voices performing in the background. However some jokes were inappropriate, especially a moment where the term "gay" was used as an insult, which was difficult to overlook. 
Next, "Aligned" by Ffion Godwin again brought family togetherness to the forefront. It focuses on Grace, who keeps trying to call her dad and is instead met by the voice of a mysterious Mr. Fielding. With a very interesting plot twist, this play ends with Grace deciding whether or not to return home for Christmas day. Wholesome vibes all round – especially with the introduction of "Silent Night" at important dramatic moments. 
Fourth, Rebekah King's "The Winter Lamb" utilised impressively spooky sound design that conveyed action even when characters weren't speaking. The eerie atmosphere of this play provided a contrast from those we'd heard so far. As a farmer pushes nature too far in the hopes of having more flock to sell, there is tension in every tick of the clock in this sinister inversion of a Christmas birth!
Following a short break, we are introduced to Rishi Sharma's "Voyage in the Dark". Some of the plot twists in this mysterious play were difficult to follow, but there were some brilliant points of tension between Becky (Ella Palmer) and a very creepy Carla (Marzia Zhou). 
Jonathan Powell's "Moving Houses" featured some amazing illustrations and was by far the most visually stimulating play of the night. Exploring political themes of housing and commodity, it featured talking houses and a cute introduction from a cartoon stickman. 
The penultimate play, "Memento Mori" was written by Gregory Miller, starring a wealthy merchant who mistreats his loyal – albeit incompetent – servants. It was sometimes hard to tell two of the characters apart, but it was clearly an ambitious play with a lot of thought behind it.
The final play was "Secret Santa" by Sophie Brawn. This was a humorous parody of the classic friendship group Secret Santa, and all the petty arguments that come with it. This play achieved very naturalistic and relatable comedy, and with hummus, collars and condoms among the gifts presented, it'll make you all the more thankful for that box of Celebrations you got this year. 
Overall, Hatch brings a range of voices, and a large company of student actors, together for a bit of festive fun. Eight different plays in one night was definitely difficult to get our heads around, but with such a diverse line-up, you're bound to find something you fancy in this (non-chocolatey) Christmas selection box!
Rating: 3/5
Featured image credit: Jasper Cresdee-Hyde